Sister Mary Xavier Linz, SSND
Jan. 11, 1920 – Oct. 14, 2020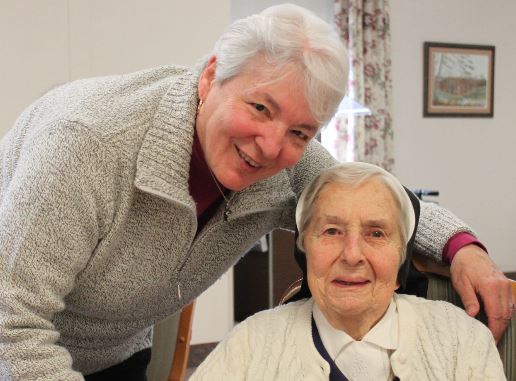 Marie Eva Linz, second of the twelve children of Sebastian J. and Theresa Kresslein Linz, was born on Jan. 11, 1920.  Baptized Marie Eva at Sacred Heart Church, Highlandtown, Baltimore, Md. She was affectionately known in the Linz family as "Sis."
When six years old, Marie Eva began first grade at Sacred Heart School "under the care of the Notre Dame Sisters."  Marie wrote in her autobiography that she "would remain under their care until I, myself, was to become one of them."
Marie Eva received the sacraments of the Eucharist and Confirmation during her elementary school years at Sacred Heart. Upon graduation in 1934, she attended the Institute of Notre Dame for four very happy years.
As a junior at IND, Marie "became conscious of a none-too-welcome urge to the religious life."  The urge persisted, and at the end of her senior year, Marie decided definitely to follow it. After graduation from high school, Marie received the bonnet in the motherhouse chapel on the feast of St. Augustine.
During the two candidature years, Marie completed the first and second year of Normal School. She continued her piano lessons and learned to play the organ. She was "most happy" in the candidature, as she learned to love and be grateful for her vocation. Marie was received into the novitiate with the religious name Mary Xavier on July 26, 1940. She professed her first vows on July 29, 1941.
Sister Mary Xavier's first mission was to St. Joseph School in Garden City, New York, where she was a teacher from 1941 to 1950, advancing through the grades from primary to junior high during those nine years. Most of her later teaching experiences were in the junior-high level, with a touch of administration. After 57 years in the classroom, Sister Xavier became a volunteer in the classroom and in community service. She retired to prayer and presence at Villa Assumpta in 2014.  
Sister Xavier received a Bachelor of Arts in Art and English from the College of Notre Dame of Maryland in 1959.
Soft spoken, petite and full of energy, Sister Xavier was especially talented in art and music.  She was "a big sister" to the youngest of the Linz family, Sister Theresa Mary, SSND. Speaking of her vocation, Sister Xavier said, "I have tried to keep the rules and to progress toward my ideal of a good religious."   
Sister Mary Xavier died quietly at Maria Health Care Center on Oct. 14 at the age of 100 years. Burial took place on Monday, Oct. 19, 2020 at Villa Maria Cemetery, Glen Arm Md. A Memorial Mass to celebrate the life of Sister Mary Xavier will take place at a later date. She is survived by her sisters, Joan A. Linz and Sister Theresa Mary Linz, SSND, nieces, nephews, great nieces and great nephews.
- Jeanne Hildenbrand, SSND