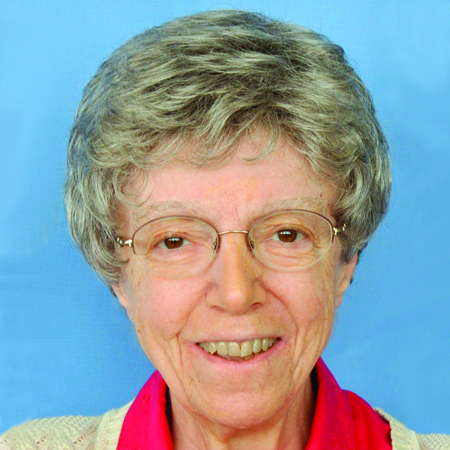 Sister Marylita Friia, SSND
Aug. 12, 1931 – Feb. 11, 2022
It was "a typical Baltimore summer afternoon," August 12, 1931, when a healthy baby girl, Lita Serena, was born to Michael and Nellie Conoscenti Friia.  Joined a few years later by a brother, Anthony, the Friia family lived in St. Ambrose parish.  It was there that Lita attended school and received the sacraments of Holy Eucharist and Confirmation.  
Lita continued her studies under "the providential hand of God" with the School Sisters of Notre Dame at the Institute of Notre Dame.  In her junior year, although she had begun to "think and pray about the possibility of a religious vocation," Lita planned to continue her education at the College of Notre Dame of Maryland (now University).  
At the end of her sophomore year, having "decided that God wanted me to serve Him in the religious life," Lita applied for admission to the School Sisters of Notre Dame.  "With the generosity of God's grace and the guidance of those who influenced me," she was received as Sister Marylita on July 8, 1953 and professed her first vows on July 29, 1954.  
Having completed her studies as a candidate, Lita graduated from Notre Dame of Maryland in June, 1953 with a Bachelor of Arts in Chemistry.  Sister Marylita's additional education included a Master of Science in Physics in 1969 from Notre Dame University, Indiana and a Master of Religious Education from Catholic University, Washington, D.C. in 1980. 
Sister Marylita's teaching career spanned many years as a math and science teacher in high schools as well as administration at Archbishop Keough High School, Baltimore where she was principal.  Marylita became a Director of Religious Education and participated in other forms of pastoral education.  She authored a published article that spoke of "empowering the laity to take its rightful role" in the church. 
Marylita used her abilities in diverse ways.  She was proficient in languages especially Italian and had excellent understanding of French and Spanish. She tutored prisoners at Jessup Correctional Institution to aid them in acquiring a GED certificate equivalent to a high school diploma.  Her math skills enabled her work as a medical claims coordinator for SSND.
Marylita's love of teaching and science attracted students to emulate her.  She had a calm and quiet courage when the situation called for it and she stood for truth in the face of controversy.
A tiny person who walked tall, Marylita was talkative and enjoyed conversation. She liked to laugh and talk about her escapades. Each evening at Villa Assumpta she enjoyed an outdoor walk where she made friends with a local groundhog. 
  
Sister Marylita died at Stella Maris Nursing Center on Feb. 11, 2022.   Marylita is survived by her brother, Anthony Friia, his wife, Beatrice and nephews, Gregory and Michael Friia.
Marylita donated her body to the Anatomy Board of Maryland.  Her cremains will be buried at Villa Maria Cemetery, Glen Arm Rd., Glen Arm, Md. 
Jeanne Hildenbrand  SSND