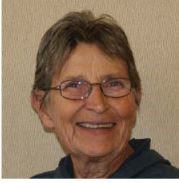 Sister Maureen Michael Byrne, SSND
Dec. 23, 1941 – March 22, 2021
Sister Maureen Michael reflected that she lived "an ordinary life in an extraordinary way." 
 
The oldest of four children born to John Paul and Catherine Wormann Byrne, Catherine Paula began life on Dec. 23, 1941 in Irvington, NJ. She was baptized at St. Rose of Lima Church in Newark, NJ.
 
Paula started school at St. Vincent Academy at the age of four and a half and spent a great deal of time with her great-grandmother, traveling by train to New York, where museum and library excursions influenced her life. Around this time, her father went to work in Venezuela and it was a "particularly hard" separation.
 
Looking back on her high school days at St. Vincent Academy, Paula attributed the seed of her vocation to a teacher, Sister Daniel Margaret, who impressed her as "being so generous, completely Christ centered and a great source of edification."
 
By then, the Byrne family had moved to St. Petersburg, FL, but Paula continued to attend St. Vincent, living with her great-grandmother. She graduated from high school at the age of 16 and began college classes in Florida at St. Petersburg Junior College.  She enjoyed college immensely, staying busy with parties, studies and dating and "ignoring God quietly knocking" until she could "ignore no more."
 
On Sept. 6, 1961, Paula entered the Sisters of Charity. She continued work on her degree but became physically ill and was diagnosed with rheumatic fever. After recuperation, she returned to the community but was advised to leave. She spent the next year regaining health and trusting. Paula knew she needed to "wait patiently and pray" to know what God wanted of her.
 
Declared healthy in September 1963, Paula "found herself on the other side of the desk" teaching fourth grade. She still heard "God's persistent knock," and it was purely by virtue of the Holy Spirit that contacts with the School Sisters of Notre Dame led her to Villa Assumpta as a postulant on Sept. 8, 1964. "With joy and relief," she said, "I felt as though I had come home."
 
Paula was received into the novitiate on July 10, 1965 and was given the name Sister Maureen Michael. As she professed her first vows on July 23, 1966, Sister Maureen Michael resolved wholeheartedly, "God's gift am I and none but God shall have me."  
 
Sister Maureen Michael spent almost 20 years as a teacher and/or principal at Florida schools. After time as a student at the Ringling College of Art and Design in Sarasota, Fla. and a year of renewal at the Shalom Institute for Spirituality in Bethesda MD, Maureen dedicated herself to art and spiritual direction at her Stillpoint Studio Creating Art in Venice, Florida. Her calm, non-threatening manner gave adults and children the opportunity to create art that expressed feeling and developed spiritual growth.
A gifted artist and a dedicated and caring School Sister of Notre Dame, Maureen Michael was smart, quirky and generous to a fault. She was described as being "comfortable as an old shoe," and she took things in stride. Her peaceful demeanor touched students as she inspired and encouraged them to follow their hearts. Moreover, they loved her for who she was.
 
Sister Maureen Michael died on March 22, 2021.  A Memorial Mass in her memory was celebrated on March 27 at the Cathedral of the Epiphany in Venice. Her cremains were placed in the memorial gardens of the Cathedral. Her sister, Mary Ellen Byrne of Sarasota Fla., survives Sister Maureen Michael, as do brothers John (Annice) Byrne of Panama City, Fla., and Michael Byrne, Jacksonville, Fla., cousins, nieces and nephews.