Sister Michaeline Straus
July 23, 1921 – May 15, 2020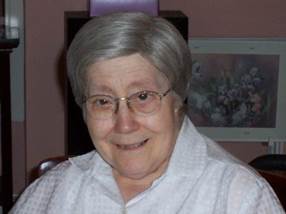 Sister Michaeline died on May 15, 2020 in her 99th year and in her 80th Jubilee year, following a lengthy illness. She died of natural causes.
The birth of Marie on July 23, 1921 gladdened the home of her parents, Michael and Barbara Straus, especially since their first child had died as an infant. Marie was born in the village of Bamberg, Ontario.
Marie attended a one-room rural school. At age seven she made her First Holy Communion at St. Agatha Church. When she returned home, she told her mother that she saw "some real nice ladies." The following Sunday she again repeated this to her mother. When asked how they looked, Marie replied, "They were black from top to bottom." The mother knew she was referring to the nuns. Now, Marie, too, wanted to become one of them. When her family moved to St. Agatha, Marie attended St. Agatha School, taught by the School Sisters of Notre Dame.
After completing Grade 8, Marie stayed at home to help her mother and to care for her younger siblings. Although she expressed her desire to enter Notre Dame, her parents thought she was too young. Finally, at age 14, Marie entered the candidature in Waterdown. She began classes in Grade 9; however, Marie decided to discontinue her studies. As a candidate she worked in the laundry and helped in other departments.
On August 1, 1939 she became Novice Mary Michaeline and professed her vows on August 2, 1940. For 23 years Sister Michaeline worked in the motherhouse laundry and attended to the boarders at Notre Dame Academy.
In 1963 she had a new challenge - cooking for the community at St. Joseph  Convent, Kitchener. Each evening she would study recipes and write out the menu for the next day. Her meals were tasty and attractively presented. Later, she was homemaker in convents in Newmarket, St. Agatha, Waterdown and Waterloo.
Sister Michaeline attended Food Service Seminars at St. Michael's College, Toronto; St. Paul's College, Waterloo; and at St. Louis University, MO. Also, she took a Sewing and Dressmaking Course in Kitchener.
For a time Sister Michaeline took care of her aged mother who was living in St. Agatha. Then, in 1990, she was assigned to the motherhouse in Waterdown where she used her skills in needlework to assist in the Occupational Therapy program for the retired Sisters.
From 1995-1997 Sister Michaeline moved to Wolsley, Saskatchewan as companion to her sister, Sister Mildred, SSND, who served as administrator for the parish in Indian Head. Upon her return to Ontario Sister Michaeline moved to the motherhouse in Waterdown. Here she helped with various tasks and continued to knit lovely sets of baby sweaters and bonnets for local bazaars.
Sister Michaeline was always cheerful and readily assisted others. Whatever she did was done to perfection. She was especially attentive to her spiritual life. The Notre Dame Academy boarders recall that as she supervised them in the evenings, she would be praying the rosary.
The Straus family was blessed with vocations to religious life. Five of seven daughters became nuns. In 1941, Sister Mildred followed Sister Michaeline to SSND. Sisters Caroline, Christina and Lucy entered the Sisters of St. Joseph.
Notre Dame Convent community held a prayer service celebrating the life of Sister Michaeline. Due to the coronavirus pandemic, a memorial liturgy will be held at a later date. Burial has taken place at Gate of Heaven Cemetery, Burlington
Sister Joan Helm