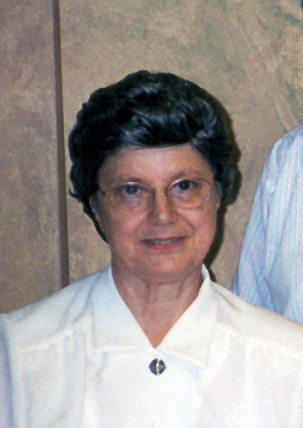 Sister Mildred Straus, SSND (formerly Sister Lucitta)
July 9, 1928 – April 6, 2022
Mildred was born in the rural area of Bamberg on July 9, 1928, the fifth child of Michael and Mary (Ditner) Straus.
She attended a one-room school in Josephsburg. Although it was a public school, due to the large number of Catholic pupils an arrangement was made to hire a Catholic teacher and have religion included in the curriculum. Sacramental preparation was given by our Sisters in St. Agatha.
Mildred and her sister Barbara kept their desire to be nuns a secret. Barbara wanted to be a nurse with the St. Joseph Sisters; Mildred wanted to follow her sister, Sister Michaeline, into Notre Dame. In August 1941, Mildred entered the Juniorate in Waterdown and received her high school diploma from Notre Dame Academy. In July 1945 she became Novice Mary Lucitta and professed her vows on July 29, 1946.
Sister Mildred's childhood dream of being a teacher was realized in 1946, when she started as a primary teacher at St. Mary's School, Cambridge. Other schools included St. Mary's, Owen Sound; St. Louis, Waterloo; Holy Family; St. Eugene's, Hamilton; St Patrick's, Cambridge; and Immaculate Conception, Chepstow. She was principal at St. Anthony's (Bridgeport) Waterloo.
In 1961, Sister Mildred was one of four Canadian SSND pioneers to open the mission in Calacoto, La Paz, Bolivia, where for nine years she was teacher and administrator in schools there. Back in Ontario, she studied at McMaster University, Hamilton before she moved to Saskatoon in 1970, where she was pastoral associate at St. Philip's Parish and taught at St. Charles School. In 1975 she returned to South America for a year as pastoral assistant in Comas, Lima, Peru.
The next year, Sister Mildred attended the Divine Word program in London. She continued her university studies at St Jerome's University, Waterloo, where she attained her B.A. degree in religious studies. From 1978 - 1982 she lived in St. Agatha, where she cared for her elderly mother. Here she was involved in a catechetics program for St. Agatha parish.
In 1982 Sister Mildred moved to Kitchener. She assisted in the catechetical program for the Diocese of Hamilton and was coordinator of the correspondence program and a member of the resource team for the Parish Family Religion program. In 1995 she went to Wolseley, Saskatchewan, where she directed the religious education program in five neighbouring parishes. In 1998 she moved to Notre Dame Convent, Waterdown.
Indeed, Sister Mildred possessed a pioneer spirit, readily accepting new challenges in South America and in her home country. She was an effective educator, enabling those with whom she worked. All her tasks were marked with precision and thoroughness. Addressing social justice issues and helping the needy were other priorities for her.
For many years Sister Mildred was bedridden. Her only form of communication was a tear drop when Sisters prayed with her in Spanish or English and recalled memories of former years. The loving dedication of family and caregivers all helped her to know that she did not walk alone.
To quote Sister Rosemary Sander's reflection at her funeral liturgy, "We will never know the mystery of the world of silence which was Millie's, but we do know that Millie could keep a secret, a secret that sustained her dream and brought her to Notre Dame Convent.
On April 6, Sister Mildred again heard the words to follow for one last journey:
"Arise my beloved and come away
Winter has gone.
The rains have stopped and are over.
Flowers appear in the earth. The time for singing has come.
Arise my beloved and come."
(Song of Songs 2:10-12)
The Straus family was blessed with vocations to religious life. Five of seven girls became nuns. Sisters Caroline, Christina and Lucy entered Sisters of St. Joseph.
Sister Mildred is survived by her siblings, Sister Christina, CSJ, Sister Lucy, CSJ, and Lucille Delisle.
-    Sister Joan Helm, SSND