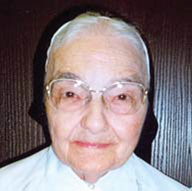 Sister M. Jean Francis Stenger
November 17, 1922 – July 27, 2020
Rita Stenger was born on November 17, 1922, in the small town of Monica, Illinois, fifth of the twelve children of Cecilia Loescher and Charles F. Stenger, both of Kickapoo, Illinois. In her early childhood on the farm, she was accustomed to the lack of electricity and other amenities.
Rita made her first Holy Communion in 1933, and recalled that even then she hoped to become a Sister. She attended St. Mary School in Kickapoo, Illinois, until she graduated from the eighth grade in 1938. At that time, two of her older sisters had married, and she remained at home to help her mother with all the work involved in caring for the large family, as well as the farm.  Her father, always jolly and ready to help others, also needed her help, especially during haying season, to drive the horses. 
Rita entered the Milwaukee Motherhouse as a candidate on September 3, 1939. She was very homesick for much of the year, but she persevered and became a novice on July 22, 1941, receiving the name Sister Mary Jean Francis. She took her final vows there on July 23, 1948.
From 1942 to 1944, Sister Jean Francis served at St. Alphonsus, Chicago, the first year as assistant in the kitchen and laundry; the second year in charge, with one candidate assisting her. At that time, St. Alphonsus' community was very large, with more than 40 Sisters. 
In 1944, she was assigned to St. Anthony, Chicago, as cook and laundress. After one year, she was called to the Motherhouse (Milwaukee) "where I cooked for the sick: I loved the work much, as the sick are God's favorites."
In 1949, Sister Jean Francis was assigned to the new mission in Yona on the island of Guam. The first trip involved several airplane mishaps, including having a goonie bird (a type of albatross) fly into one of the propellers. She wrote later, "God had fulfilled a wish I had before I entered the convent; it was my desire to be a missionary. Guam was poor; we lived in poverty, which I had always longed for. After five years on the island, things were coming in more stateside in the line of food. Island power was given to us in 1950; no more kerosene light and lanterns, which had reminded me of the old farm days when I was young."
After ten happy years on Guam, Jean Francis was recalled to the States to serve in food service, homemaking and housekeeping at Notre Dame Health Care Center in Elm Grove, Wisconsin; in the Juniorate at Mount Mary College in Milwaukee, Wisconsin; at St. Constance in Chicago, Illinois; at St. Stanislaus Kostka Convent in Chicago; and at the Academy of Our Lady Convent in Chicago. At the time she served in the Junior Sisters' kitchen and dining room at Mount Mary, there were three Guamanian Junior Sisters who occasionally helped Sister Jean Francis prepare a typical island meal for all. 
In 1977, Sister moved to the position of receptionist at Highview Nursing Home in Peoria, Illinois, where her mother was a resident. She also served on the staff in a clerical position there until 1986.
From 1987 to 1990, Sister was the coordinator of the house of prayer in Creve Coeur, Illinois, and later the director of the residence of the Rosminian House of Prayer in Peoria. In 1989, she was privileged to return to Guam for the celebration of 40 years of SSND presence there.
In 1994, Sister Jean Francis retired from full-time work but continued as clerical staff at Notre Dame High School in Peoria. From 1995 to 2017, she was fully retired and in prayer and presence in a private home in Peoria, and later as a full-time resident at St. John Nursing Home in Lacon, Illinois.
Sister Jean Francis died on July 27, 2020, in the nursing home in Lacon. On the previous day, Jean Francis was surrounded by her family, her sister Ceil, and her devoted nieces and nephew. Ceil was with her when she died.
The funeral liturgy for Sister Jean Francis Stenger was celebrated at Holy Family Church in Peoria IL  on July 30. Visitation was held before the Liturgy
By Sister Charlaine Fill, SSND