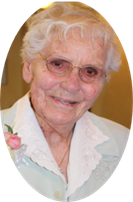 Sister Rita White, SSND (formerly Sister Gabriella)
September 2, 1922 – December 2, 2021

Sister Rita died on December 2, 2021 at Notre Dame Convent, Waterdown, Ontario. She was 99 years of age and in her 80th year as a School Sister of Notre Dame.
Rita was born the first child of Murray and Julia (Busch) White in a small mountain village of Revelstoke, British Columbia.  Four days later she was baptized and by a solemn consecration was placed under the protection of the Blessed Mother Mary.
Her father was an engineer with Central Pacific Rail. When she was four years old, Rita noticed that her father did not seem well. Yet, she was often put to sleep by her father playing the fiddle, her mother on the organ and her uncle playing his mouth organ. When her mother took her brother Jack, age 4, with her to Vancouver where her father was in the hospital, Rita stayed with her cousins in Revelstoke. Her father died from cancer in September 1928.
In November 1928, Rita's mother took her and Jack to St. Clements, Ontario to visit her mother. There, Rita attended Grade 1 for a few months along with her cousin. Sister Anselm Hartleib was her teacher.
On Rita's return home she continued her elementary education at the village public school.
Religion was conscientiously provided by her mother, who was taught by the Notre Dames in St. Clements. Rita went to daily Mass, which meant she had to run back home for breakfast and back to school on time. She attended Saturday morning religion class taught by the pastor.
Rita loved sports. From Central Pacific Rail they received YMCA tickets to their gym and pool during the winter months. In the summer she hiked to William's Lake at the foot of Mount McKenzie, where the water was fresh and cold.
For Grade 9 her mother sent her to the boarding school at Leipzig Convent School, Saskatchewan. During that year Rita was impressed with the Notre Dame sisters. Although her mother preferred that she enter a religious order nearby, Rita decided to enter SSND. In August 1937 she entered the candidature in Waterdown and continued her high school studies at the Academy.
On July 29, 1940 Rita was received as Novice Mary Gabriella, and she professed her vows on July 30,1941.
Having graduated from Hamilton Teacher's College in 1943, Sister Rita taught at the following schools: Basilica, Hamilton; Sacred Heart, St. Leo and St. Joseph, Kitchener; Sacred Heart, Ladner and Cloverdale, British Columbia; and St. Charles, Mearns, Alberta.
Sister Rita felt honoured when she was asked to go to Bolivia. Language school was difficult for her. From 1968 – 1973 Sister Rita was principal in schools in Calacota, La Paz, Bolivia. 
On her return to Canada, Sister Rita studied at St. Paul University, Ottawa, where she attained her M.A. degree in pastoral studies. In 1977 she was a member of the parish team at St. Patrick Parish, Burlington. Her studies in Ottawa prepared her to focus on the family. Sister Rita organized a group of divorced, separated and widowed parishioners who met regularly. In spite of the challenges of each person, they helped one another.
In 1982 she was missioned to Villa El Salvador, Lima, Peru. For many years she was involved in the religious education program of the parishes. This meant meetings with children, adults, catechists and giving them hours of instruction and presence.
When asked to minister to HIV-AIDS persons, Sister Rita eagerly accepted the invitation. For 12 years she visited them in hospitals and in their homes, brought them food, medicine and clothing, accompanied them to medical appointments, organized self-help groups and advocated the government for free medication. Assured by her friends that her work would continue, Sister Rita returned to Notre Dame Convent in 2002. For several years she communicated with her HIV friends in Peru by email.
Always eager to assist others, she joined the "Square Ladies," a group of seniors who sewed squares together knitted by cancer patients waiting for appointments. Often the squares were poorly knit. Sister Rita enlisted Sisters to unravel the squares and roll the wool back into balls for cancer patients to reknit squares. The fixed blankets were given to new cancer patients.
Sister Rita focussed her attention on others, not on herself. A former colleague recalls that when Rita was in Lima she would leave the house in the morning, walking to her destination and spending time greeting the neighbours. The children loved her to pass by because she usually had something in her pocket for them. For the adults she had a word of hope, concern or consolation for them.
Sister Rita's compassion, sensitivity and thoughtfulness were her endearing qualities. 
Before being anointed, she said to the group in her room, "I am Sister Rita White and I thank you all for everything." On one of her last days, when asked if she wanted anything, she replied, 'Heaven.' "
Mass of Christian Burial was celebrated by Rev. Pablito Labado, chaplain of Notre Dame Convent. Interment at Gate of Heaven Cemetery, Burlington followed.