Sister Joyce Lorentz, SSND
February 10, 1951 -  May 21, 2020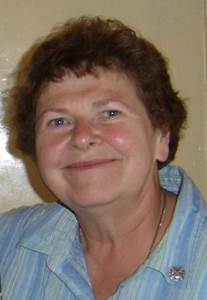 Sister Joyce died suddenly and unexpectedly on May 21, 2020. She was 69 and in her 48th year as a SSND.
On February 10, 1951 Albert and Lucy (Boegel) Lorentz welcomed their sixth child, Joyce, into their family. The family lived on a farm outside of the village of St. Clements. Joyce attended St. Clements School, where she was taught by the Notre Dame Sisters. The Sisters were well respected and loved by the local community. Joyce was attracted by their way of living and loving.
After graduating from St. Mary's High School, Kitchener, Joyce entered the postulancy at Notre Dame Convent in Waterdown in September 1968. The postulants were sent home the following summer due to a change in the formation program. Joyce was readmitted to the postulancy on August  31, 1969. On August 28, 1970 she entered the novitiate. During her second year as a novice, she attended Hamilton Teachers College. On July 28, 1972 she took her promises and professed her final vows on August 6, 1978.
 
Sister Joyce began her teaching career in 1972 at St. Joseph School, Kitchener. Her next three assignments were St. Peter School, Unity, Saskatchewan; Sacred Heart School, Ladner, British Columbia; and St Stephen School, Valleyview, Alberta.
On returning to Ontario in 1986 she taught at Holy Family School, Hanover. For a few years Sister Joyce was involved in various ministries in Toronto and Waterdown.
Sister Joyce received her B.A degree from St. Jerome's College, University of Waterloo in 1989. In 1994 she received a Diploma as Human Services Counsellor from George Brown College, Toronto.
Sister Joyce moved to Regina, Saskatchewan in 1995, where for the next several years she was involved in early childhood education and assisted in a program addressing the needs of children at risk due to poverty and neglect. During this time she also studied at the University of Regina and attained her M. Ed degree in 1999.
Sister Joyce also took a Spiritual Direction Training Program and began journeying in prayer with individuals and groups and facilitating retreats.
In 2010 she became an EAL (English as an Alternative Language) instructor at Regina Open Door Society. She was deeply committed to teaching immigrants and refugees.
While in Regina, she was director of the Associates in Saskatchewan and facilitated their meetings and retreats. They sent a floral arrangement with this message, "We will always remember you and your loving care for us".
Sister Joyce enjoyed entertaining as a clown at bazaars, school events and other parties. Children were amazed at the animals she quickly formed with balloons and were delighted when they could keep the animals.
When Sister Joyce returned to Ontario in 2018 she continued teaching ESL
(English as a Second Language) at St. Louis Adult Learning Centre, Kitchener. When her principal learned of her death, he sent an email to the 450 staff members asking for prayers for SSND and her bereaved family.
In 2018 she became the delegate for the Scattered Seeds Dialogue Group for the Provincial Assembly.
Sister Joyce's interests and concerns were far-reaching. In the summer of 2007 she participated in the Canadian Jesuits International Zambia program learning about sustainable agriculture and the devastating effects of HIV/AIDS in that country.
As was mentioned at her Ritual of Remembrance, the quote from the Directional Statement of the 24th General Chapter, Love Gives Everything, was lived by Sister Joyce. She loved God and enjoyed a deep relationship with God, devoting herself to her own spiritual growth. A few years ago she wrote, "As a SSND I find strength and courage to live my vows from day-to-day in union with my faithful companions and friends, Jesus and Mary, through listening and openness in prayer."
Sister Aelred, OSB, Minster Abbey, England, who was a novice with Joyce, wrote, "I received occasional emails from Joyce about her work with vulnerable women. I saw a beautiful aspect about her heart coming to birth. I believe that her life was deeply transformed by these women. She seemed to be so full of joy and this was rooted in her deep trust in the loving mercy of God and her love for her SSND vocation."
Mourning her sudden death are her siblings, Mildred Eckert, Marilyn Schleimer, Patricia Gohl, Bonnie Lidstone, Judy Nickl, and Albert and Carl Sherer.
A memorial liturgy will be celebrated sometime in the future.
Interment has taken place at Gate of Heaven Cemetery, Burlington.
Sister Joan Helm