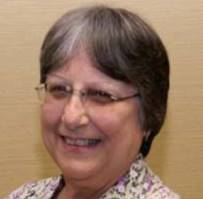 Sister Theresa Torsone, SSND  
April 1, 1940 – October 14, 2021  
Sister Theresa Torsone was called home to God on October 14, 2021, just two months after she had moved with the VND community to The Watermark in Bridgeport, Connecticut. She was surrounded by the loving support of her close family, especially her sisters Johnna, Anita, and Michele, and her beloved SSNDs, some with whom she had spent many years in community.
Theresa Joanna was born in Poughkeepsie, New York, on April 1, 1940, the first child of Antoinette Palmietto from Croton-on-Hudson, NY, and John Torsone from Amsterdam, NY. Later the family was completed by her sisters and one brother, Michael.  On May 5, she was baptized at Our Lady of Mt. Carmel Church. SSNDs taught at the parish school, and Theresa was enrolled there as a third grader in 1948. Her father was director at the Michael Torsone Funeral Home. He believed that everyone should know some music, so Theresa began piano lessons in the 4th grade; many years later she was able to use this skill with the Folk Group at her first mission. 
During her high school years at Mount Saint Mary, a Dominican Academy in Newburgh, NY, she started to study the organ. She participated in the Athletic Association, the Mission Club, the Caecilian Chorus, and Yearbook Staff. She was also active in her parish C.Y.O., becoming an officer there in her senior year.
In her autobiography written just before she entered the novitiate, Theresa wrote, "Although my parents didn't give full approval, a new life opened for me when I entered the SSND Candidature in Baltimore on September 7, 1958." She had been deeply impressed by Sister Annunciata Christalli, one of her teachers at Mt. Carmel School.
At Reception on July 11, 1959, Theresa received the name Sister Johnette; first vows followed on July 30, 1960, in Baltimore. She and her "crowd" made final profession at the Motherhouse in Wilton, on July 27, 1966.
Sister Johnette spent 20 years, 1960 to 1980, at her first mission, St. Anthony, in Passaic, New Jersey, teaching grades 3, 7, and 8.  The people of the parish and her students always remained very close to her heart.  She was awarded a B.S. in Education at Seton Hall University in 1970.
Theresa spent the next 36 years at her second mission, St. Matthias in Ridgewood, Queens, New York; 30 years teaching 8th grade and the last six as tutor of math. In 2016 she came to Villa Notre Dame with the rest of the community when the convent in Queens closed.
Theresa was an excellent teacher and member of the school staff, but by all accounts, "a master math teacher."  Her former students, responding to her death notice on the Internet, are saying over and over¸ "She taught me all the math I ever knew" and, "I already knew high school math." A colleague said, "She could teach math to anyone."
The School's Math League Team, quoted in the SSND Weavings in 1990, explained how "they practiced math before school and during lunch hour, and how they were encouraged by their moderator, Sister Theresa."  They won numerous prizes in competition with 70 other schools.  When asked what they'd remember most about the school, two boys said, "The 8th grade nuns, (Theresa and Sister Earl Mary Moores). They are tough in their expectations, but it's really nice—a warm environment." Theresa also contributed by being a great organizer of perfectly-run events like Ring Day and Graduation.
In community, Theresa lived a quiet, faithful, always busy, quintessential SSND life. She was faithful to daily Mass and prayer, to the thousand and one small household tasks she took on, to hospitality to all, but especially the families of her Sisters. She supported the Wilton Province as treasurer of the Sister Education Board, gave years and years of dedicated work for the annual Octoberfest, and recently worked in the VND finance office.
A lifelong Yankees fan, Theresa was honored at her golden Jubilee by "Sister Theresa Torsone Day" at Yankee Stadium, organized by Derek Jeter and the Yankee Organization.  During the "Subway" World Series in 2000, Mets vs. Yankees, St. Matthias students were assigned essays praising the team they didn't favor. The story in the NY Times on October 27, 2000, said, ". . . this produced some feats of imaginative flexibility." Theresa is quoted as saying, "What's great about the Yankees this year is that there are no real superstars. They're a team, and a group of individuals, even if they're great players, will never beat a team."
Theresa was also just as loving, faithful, and depended upon by her family and sisters Johnna, Anita, and Michele. Their children and grandchildren named her "The Leader of the Lake" because of her presence at the many, many wonderful times the family had together at their camps on Galway Lake, NY.  Theresa sometimes invited Sisters who didn't have any place for vacation to be there with her.
Visitation and a Wake Service were held at VND's former parish church, Our Lady of Fatima in Wilton, on October 22, conducted by Sisters Celeste Reinhardt and John Vianney Zullo. It was attended by her sisters, Joanna Torsone, Anita Freer, and Michele Valentino, and brothers-in-law John McKeon and David Freer and their families, many other relatives, and many parishioners from St. Matthias. The community came from The Watermark in Bridgeport; the funeral liturgy was later live-streamed there for less-mobile Sisters by Sister Sue Czaplicki.
The Liturgy of Christian Burial was concelebrated on October 23 by Father Reginald Norman, Our Lady of Fatima Pastor, and Msgr. Anthony Sherman, homilist and former Pastor of St. Matthias. Johnna, calling Theresa her "second mother," offered 'Words of Comfort' after Communion. Her loving memories concluded with Theresa's own description of her life from a booklet she had compiled with her family. Years before, Theresa had written, "All I ever wanted was to be a good Sister and a good teacher."  And she was. 
After burial at St. Mary Cemetery in Bethel, Connecticut, the Torsone family hosted a luncheon at a nearby restaurant.
Sister Kay O'Connell with Sister Shawn Kavanagh