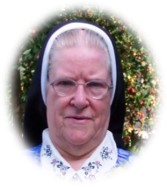 Sister Thomasine Ryan, SSND
June 12, 1926- July 19, 2023
Anne Marie was born in Hamilton, Ontario, Canada. Her parents Daniel and Gertrude (Buckingham) Ryan were born in England. She recalls as a young child that she knelt with her parents to say night prayers.
She attended Holy Family School and was taught by SSNDs. On returning from school on the first day, she declared she was afraid of the Sisters and would not want to be one of them. Later, Anne Marie changed her mind, especially when she met her cousin, who was a sister.
She attended Notre Dame Academy for Grade 9 and then entered the candidature. She was received as Novice Mary Thomasine on July 19, 1943, and the following year pronounced her vows on July 31.
Sister Thomasine was a devoted and caring homemaker for communities in Elora, Kitchener, Waterloo and Hamilton. At St. Agatha Orphanage she gave motherly attention to the older boys from 1950-1956.
For 16 years she was in charge of the laundry in the motherhouse. She did the general laundry for 30 Sisters, including 40 boarders at the Academy. There was no air conditioning to off-set the heat from the industrial machines and large mangler.
In 1984 Sister Thomasine moved to Newmarket where she enjoyed visiting the sick and elderly. In 1987 she returned to the motherhouse and assisted in the infirmary.
In 1994 she moved to Kenora, where she volunteered at Knox Church Agape table and visited the senior residents at Birchwood Terrance and Pinecrest Homes. Seniors in apartments appreciated her visits. When Sister Thomasine and her companion sister left Kenora in 2005, the parish community expressed gratitude with a farewell party. Sister Thomasine responded, "I have made countless friends in Kenora and have experienced an outpouring of love and affection for which I am truly grateful." 
Volunteers of Agape Table and Pinecrest Homes treated them to a luncheon and presented them with beautiful mohair throws. To quote from an article published in the local paper: "Their gentle showing of kindness, compassion and love of the Lord shone through their interaction with seniors."
On her return to Notre Dame Convent, she was a member of the catechetical correspondence team for the Hamilton Diocese. Sister Thomasine was an avid reader and interested in world events.
Although Sister Thomasine did not continue studies at Notre Dame Academy, she took correspondence courses in Geography. She attended a 10 week course on sewing. Also, she took the Christopher course on public speaking. In 1984 Sister Thomasine participated in the Interprovincial Renewal Program in Chatawa, Mississippi.
Mass of Christian Burial was celebrated by Rev. Pablito Labado on July 22. Interment followed at Gate of Heaven Cemetery, Burlington, Ontario. Many relatives attended the funeral.
She is survived by her sister, Sister Colette, SSND and devoted nieces and nephews. Her brother Patrick and sister Theresa Creechan predeceased her.