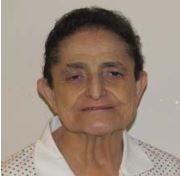 Sister Vincenza Gagliostro, SSND
January 27, 1941 – April 3, 2021
Mary Concetta Gagliostro was born in Englewood Hospital, New Jersey, on January 27, 1941, and baptized at Madonna Church the following May.  Her parents, Vincenzo and Vincenza Arfuso Gagliostro, were Italian immigrants who had settled in Fort Lee in 1936. Mother and baby were both hospitalized for months. Later Concetta wrote, "Every morning before my Dad went to work, he came to the hospital to massage my body. I believe his healing touch kept me alive." 
The only girl among four older brothers, Rosario (called Sal), Anthony, Charles and Dominick, she was five before she met Sal, who was a soldier in Europe during World War II. He had not known about his baby sister until he returned, but soon he was carrying her everywhere on his shoulders. When the family did not know where he was during the war, Concetta had walked hand-in-hand with her Mother across the George Washington Bridge every Sunday to pray at Mother Cabrini's Shrine for his safe return. 
                 
In 1946, Concetta started at Madonna School, which was named Our Lady of Fatima, where she received First Communion in 1948, and Confirmation from Bishop McNulty in 1951. Her father died in 1948 when she was in 2nd grade.  After graduation in 1955, Concetta, after discussion with her confessor, entered the SSND Aspiranture at Holy Angels Academy in Fort Lee. Her mother became ill with rheumatoid arthritis and was bedridden in Concetta's junior year. In order to care for her, she commuted from school to home, always there by 3 pm. She graduated as an Aspirant on May 31, 1959.
In Our Lady of Fatima Chapel, on September 8, Concetta received the Candidate's veil. Of her first year in Baltimore at 6401 North Charles Street, she wrote, "I came to know and appreciate the Order to which God was calling me, and am looking forward to Reception morning when I can smooth my guimpe and secure the pin in my veil and know that I am part of the Order of SSND." At Reception, on July 15, 1960, she received the name Mary Vincenza for her parents, and was afterwards usually called Vinnie by her Sisters. Her final profession was made in the Wilton Motherhouse, on July 27, 1966.
For the first ten years of her apostolic life, Vincenza taught in Rochester, NY at Philip Neri and Holy Ghost Schools; at St. Anthony, in Passaic, NJ; and at St. Matthias, Ridgewood, NY. She believed that her health was permanently affected by the trauma of the 1967 fire at Philip Neri in which Sister Lillian Marie died. At Holy Ghost, Coldwater, she bonded with the "always in trouble" 7th graders and formed a rock group comprised of 6th, 7th and 8th graders.
As a student at Seton Hall University, Vincenza studied full-time to earn a Bachelor of Science degree in Religious Education between 1971 and 1973.  At St. John's University in Jamaica, NY, the degree of Master of Arts in Theology and Catechetics was conferred upon her in 1978.
From 1973, Catechetics became the sole focus and love of Vinnie's apostolic life. She especially loved working with teenagers and families. She was, at first, Director of Religious Education at St. Ann Parish in Hornell, NY, and St. Patrick in Mount Morris, NY. Later she served in this role at St. Francis in Utica, NY, and St. Catherine in Ringwood, NJ, St. Lawrence in Chester, NJ, and St. Mary in East Islip, NY. In between these parish ministries, she served the Archdiocese of Hartford, CT as Education Consultant and Coordinator of Religious Education and Youth Ministry for a total of 11 years. In this last role, Vincenza gave faculty retreat days for Catholic Schools, helped parishes set up religious ed and youth ministry programs, and, with peer ministers, gave youth retreats.  Youth Congresses in 1989, 1991 and 1992, which she helped plan and lead, drew 1200 kids of the diocese. 
Grolier Publishing Company in Kettering, Ohio employed her a Writer and Consultant for Religious books. She traveled to promote her own books, Creative Religion Involvement Programs, and Am I OK if I Feel the Way I Do? In 1979, she wrote the Introduction to Teaching Religion in the 80s, which included 14 essays by "leading Religious Educators," including Monica Hellwig and Kieran Sawyer, SSND.
In the Wilton Communiscope of October 1987, Vinnie wrote, "I've been fighting to keep myself going. For you see, for the past 17 years I've been struggling with Addison's Disease, which periodically puts me in a comatose situation. This year I've been hospitalized twice for this." In 1998, Vinnie retired and came to Wilton; she became a resident of Lourdes Health Care Center in 2003. In 2019, she declined to go to Ozanam Hall in Queens with the other residents of Lourdes and instead went to Sunrise Senior Living in Cresskill, NJ. She died a non-COVID related death at Pascack Valley Hospital on Holy Saturday, April 3.
The Villa Notre Dame community gathered at the front door to sing its farewell blessing to Vinnie near the hearse on April 10. Sister Theresa Lamy led the prayers. Masked and mingling with them were many members of her family, former students, staff, and nurses who had worked at Lourdes--all mourning, greeting, chatting and reminiscing with the community. The Sisters said that this was the first outdoor wake service they'd ever had, and the first wake in over a year. 
Burial took place a short while later at St. Mary Cemetery, Bethel, CT.
- Sister Kay O'Connell