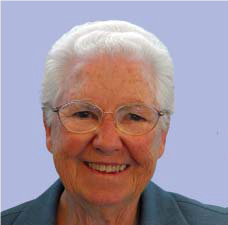 Sister Zita Gilles
October 6, 1926 to December 11, 2020
Dorothy Clementine Gilles was born in Peoria, Illinois, on October 6, 1926, the older of two children of Carl Francis Gilles and Margaret Ellen King, both born in Edwards, Illinois, near Peoria.  Her brother Robert (Bob) was born five years later.  Though named Dorothy, she was soon nicknamed "Dollies," to distinguish her from her aunt Dorothy.
Dorothy received her grade school education at St. Mary School in Kickapoo, Illinois.  "It was during my third year of school that, through the reading of a story book, I became acquainted with the life of St. Zita.  It seems that at that time she must have adopted me as her special protégé, because that seems to be the explanation for the fact that I received the religious name of Sister Mary Zita," she wrote in her autobiography.
In 1940, Dorothy entered the Juniorate (aspiranture) at the Academy of Our Lady in Chicago.  In 1943, she entered the Candidature in the Milwaukee motherhouse.  She was received into the novitiate there in 1945.
The following September, her brother entered the Salvatorian Seminary, and was later ordained to the priesthood.  Her parents commented that, "We have none to give for the service of our country, but we have two to give to the service of God."
In 1946, Zita took her first vows, and in 1952 took her final vows, both in the Milwaukee motherhouse. 
Zita then served as a primary teacher in several schools: St. Michael, Milwaukee; St. James, Mukwonago, Wisconsin; and Holy Rosary, Darlington, Wisconsin.  In 1956, she earned a Bachelor of Science degree in Education from Mt. Mary College.  When the DeKalb (later Chicago) province was formed, she taught at Blessed Sacrament, Morton, Illinois; St. Bernadette, Rockford, Illinois; and intermediate grades at Sacre Coeur School in Peoria, Illinois.
From 1973 to 1975, Zita worked as librarian at St. Francis Hospital in Peoria.  She then returned to teaching at Sacre Coeur, where she later became the principal. 
In 1983, Zita participated in the sabbatical of personal renewal in Chatawa, Mississippi, after which she gave a semester of service as receptionist at Notre Dame Health Care Center in Elm  Grove, Wisconsin.
In 1984, Zita returned to teaching intermediate grades at St. Columba in Chicago.  Then, in 1986, she became a staff member in the finance department at the Academy of Our Lady, Chicago, a position she held for ten years.  After two years, she became the director of the department, of which she wrote:  "My task is to manage all the financial affairs of the Academy of Our Lady as efficiently as possible.  In our office, we try to maintain a deep concern for the needs of those we serve.  We also strive to keep a positive attitude, a friendly and welcoming office.  All this is done in a spirit of living faith, hope, and love of God expressed in a courteous regard for all."    In these few words, Zita summarized the attitude which she had lived out in all her various ministries.
In 1996, Pastoral Care for our elder Sisters became the focus of Zita's ministry, first as Local Leader at St. Stanislaus Kostka Convent, Chicago, and then at Resurrection Life Center, while living in the Foster Avenue community, Chicago.
From 2002 to 2014, Zita continued to live at Foster Avenue, first during a sabbatical time, and then in prayer and presence.  In 2014, she joined the community at Marian Village in Homer Glen, Illinois, and in 2017 at Resurrection Life Center, in Chicago.  She died at Resurrection Life Center on December 11, 2020.
Sister Zita's body was cremated, as per her request, and the burial took place on December 21 at Holy Sepulchre Cemetery, Alsip, Illinois.  Because of restrictions due to COVID-19, participation was limited to ten people, but others participated by means of the service found on the province website.
There will be a Memorial Mass for Sister Zita at a later date.
By Sister Charlaine Fill, SSND