By Ellen Norton Cullen, Class of 1958
Trepidation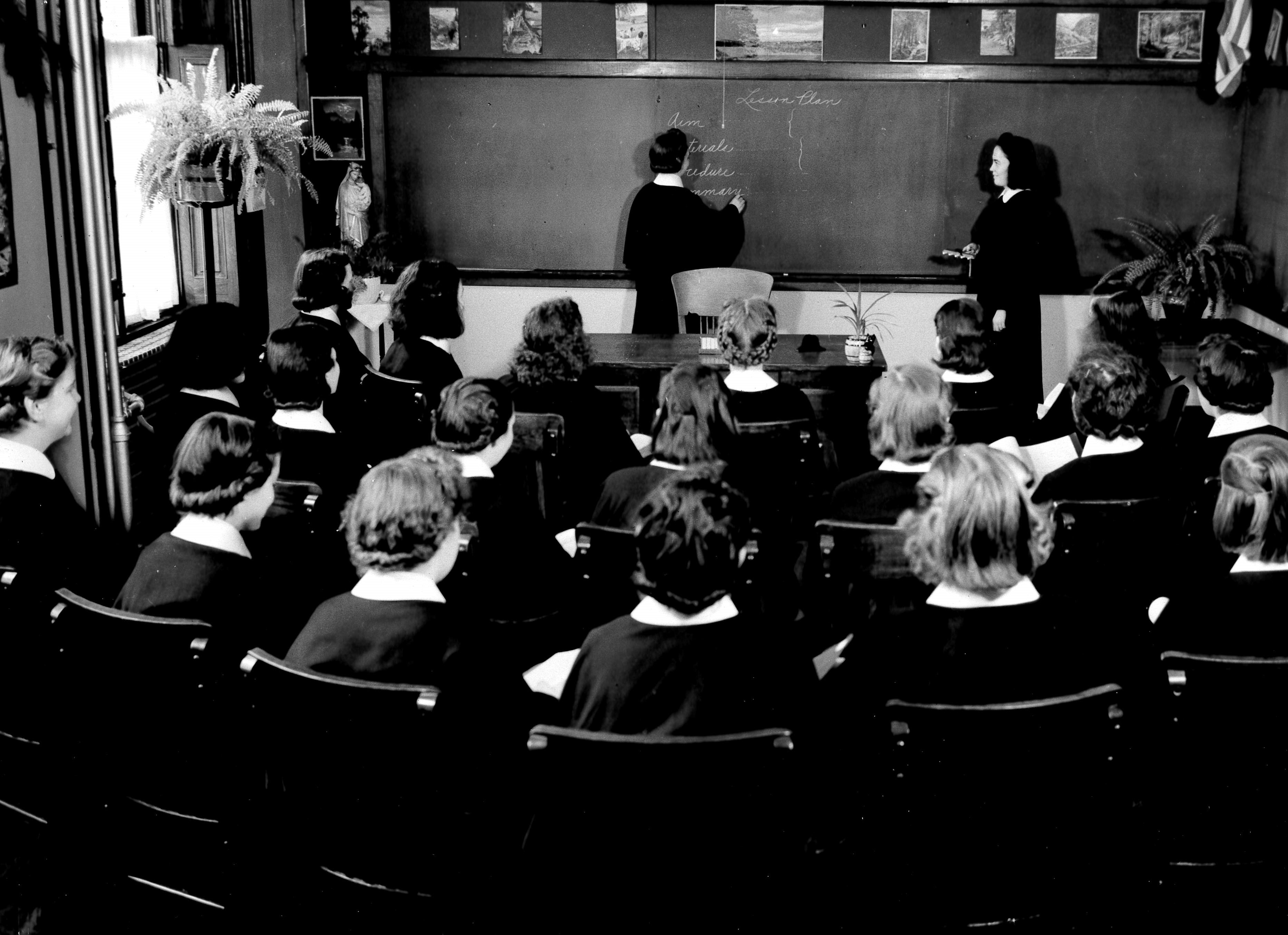 I remember how nervous I was when it came time for my interview with Sister Lenore. I can't remember any of the questions that were asked, but my answers must have been sufficient because I was accepted! The first hurdle was over, but I only knew of one other girl who was going to be in my class, so I was little apprehensive. The students who had attended IND's lower school already had established friendships. I thought I might be lonely. However, after about a week, I was astute enough to recognize that there were quite a few girls dressed exactly as I was who rode the Number 8 streetcar every school day! That was the beginning of many beautiful friendships.
Still, there were adjustments to be made. Coming from a small grade school, IND was so much larger, with many more rooms, a lot more rules, and more and heavier books! (Seniors were very happy to ease some of the naïve freshmen's book burdens and offered to sell us elevator passes.) Between classes, you walked only on the right side of the corridor, and no talking was permitted. Student Advisory Board members carried detention pads, and scofflaws would find themselves staying after school. (I think a Middle States Committee who visited IND in the 1960s suggested the hall monitors be disbanded.) Religion was central to our education. We went to chapel every day before we went to lunch. During Lent, and I think also during Advent, we went to daily Mass at Saint James Church every morning. There was a yearly retreat, and we were expected to keep silence (this definitely was not observed).
Initiation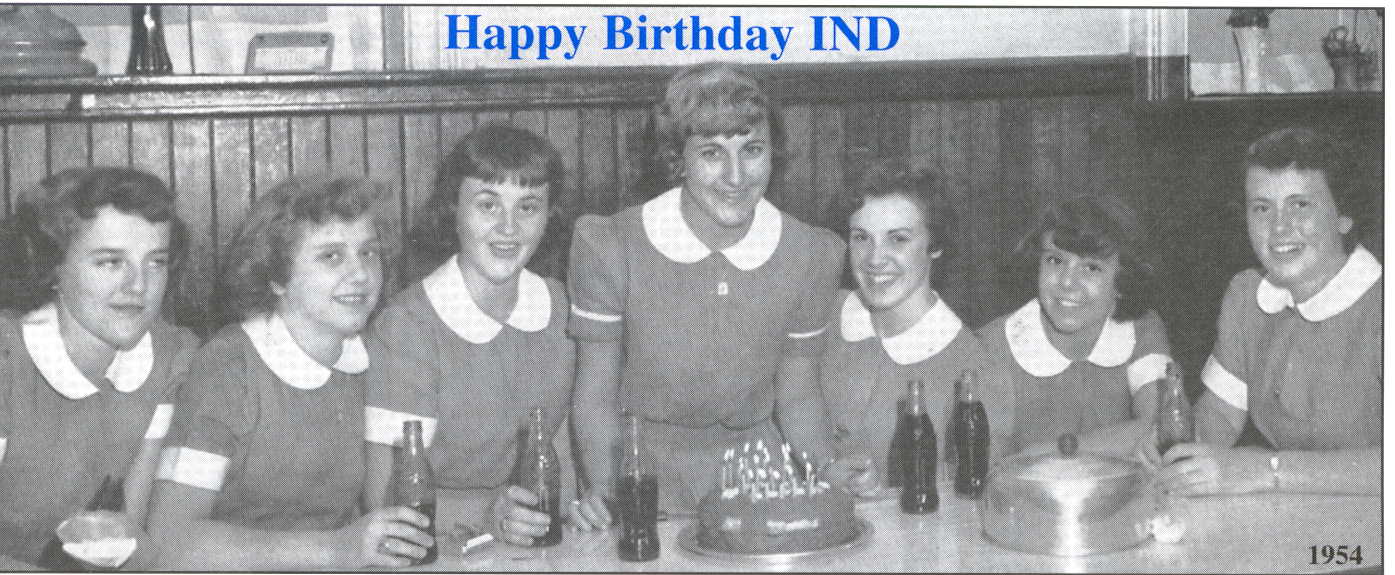 We were dreading our official initiation into the community and worried about what voodoo tricks might be played on the freshmen zombies! However, the greasy hair and makeup were worth it, and for the first time we felt a part of everything! It was easy to feel that you belonged, because there were so many opportunities to be part of something. There were a number clubs and activities to enjoy. Our student athletes were very successful, and if you were not an athlete you could be a cheerleader. If you weren't a cheerleader, you could always support your team by attending their games. I was a big "attender" of games. Every language teacher offered a club for her subject. Many of the clubs were service oriented, and there were offerings for every interest. There were three school publications, an IND orchestra, a band, A Cappella Choir and Glee Club. We even had a Library Club. I was so honored when Catherine "Cassie" Mackin asked me to join the school newspaper. She went on to a career in journalism, and in 1976 she became the first woman to regularly anchor an evening television show!
The Saint Patrick's Day celebration was sponsored by The Mission Crusade Club, and we not only made a great deal of money for the missions, we had a great time, too. And there were no classes that day!
        
Humiliation
There were assemblies at least once week, and almost every student had a chance to appear on stage. One year there was a Shakespeare assembly, and half of our class was in the play "Julius Caesar" and the other half was supposed to sing two songs from Shakespeare's works. The thespians went first and covered themselves in glory with their part of the production.
The problem with the singers was that we were all standing on risers in front of the stage, and the senior class always sat in the first rows. Before we even sang a note they were making funny faces at us. The faces got much more expressive as we began to sing. The first song began "Who is Sylvia. What is she that all our swains commend her?" The seniors found this more than slightly amusing!
However, it was our second effort that made both the singers, the seniors and eventually the entire school lose complete control. When we started "Where, the Bee Suck There suck I" there was an immediate uproar, and we were never able to finish the song! Students were literally rolling in the aisles, laughing so hard they were crying. You can imagine that the performance was not hailed a success by the faculty. The "bee song" happens to be from Shakespeare's play "The Tempest," and there was certainly a tempest! It was fortunate that it was close to the end of the school year, because our teacher never wanted to hear from us again!
Excitation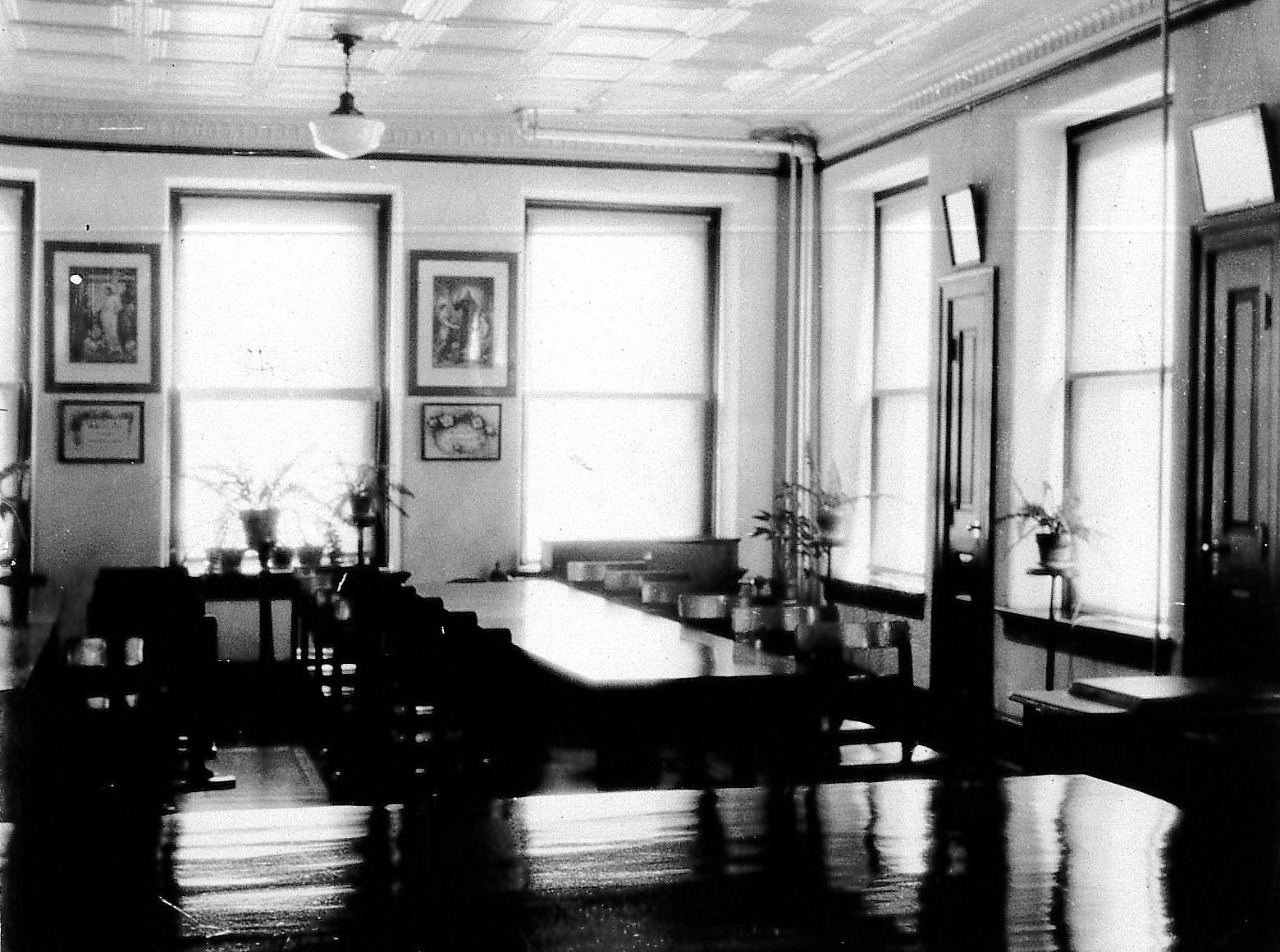 Every year there was a competition among the classes, and Gym Meet was the EVENT of the year. We were graded on Songs, March, Dance and Exercise. The Exercise group wore their gym uniforms, but we needed to make costumes for the rest of the class. There was a strict budget of $2 per person. Our junior theme was "In a Swiss Swirl." We bought fabric for approximately 100 students, and we rounded up some willing souls to do the sewing (pictured to the right is the sewing room). Our team found an old warehouse in Downtown Baltimore where they sold everything you could imagine and very few things you would want. By chance, we found some dusty hats that looked like they would be perfect for our Alpine skiers. After a great deal of pleading, we talked the owner into selling us the hats for 50 cents each. The Alpine skiers never knew that the hats had signs in the labels that read "90% unknown material"! The other costumes were more creative and definitely more sanitary. To this day, I wonder if there wasn't some magic in those hats, because it was the first and only time in IND history that the seniors didn't win Gym Meet.
The morning of Gym Meet, I had asked my mother if I could invite the class to our house if we won. My mother said I could but thought we might not have enough room for 30 girls.  She was thinking of my homeroom, not my entire class! To the chagrin of our neighbors, about 130 girls arrived that evening. I don't think my mother had any idea what Gym Meet was, but when she saw all those happy faces she went along with everything. We rolled up the rugs, moved furniture, sat any place we could find, and sang our songs until we were hoarse.
Graduation
The years at IND were wonderful, but we all looked to forward to Graduation Day. We thought we were mature, well-educated and sophisticated young ladies ready for anything! Except for the maturity aspect, in many ways we were right. We had a fine, rigorous education, we learned to work with and care for others, and to always strive to do the right thing. We were encouraged to do our best in all our endeavors, and I think for the most part we have been successful.
I am forever grateful for my IND education and hope the school will continue its mission to educate young women for at least another 185 years!