By Harold Diamond, Jr.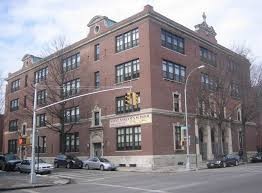 In the 1950s, I was one of 55 children in a class at St. Anselm's School, Brooklyn, N.Y. I was one of the smarter kids, but there were average kids and a few slow kids in the class. Our teachers were nuns from the School Sisters of Notre Dame. Each nun wore a formidable habit of white and black. Each nun insisted on discipline and quiet – or else!
Each day I trudged off to school wearing a uniform. As a boy my uniform was green pants, tan shirt, and green tie. Girls in the class wore a green jumper, tan blouse, and a green hat when we went to Mass as a class.
We studied the usual elementary school topics and some topics I believe now dropped from elementary schools: cursive handwriting and diagraming sentences. In the former we had to use Esterbrook fountain pens with fine points: #2550 or #9550. No sloppy handwriting was allowed. No ball point pens! And you had to be careful with the fountain pens to avoid an ink blotch.
Diagraming sentences gave a revealing visual picture of the parts of each sentence. That topic aided me for many years in writing all sorts of essays. If one misbehaved, there was after-school "jug" with the principal. And remember it was spelled with "-pal", not "-ple" because "the principal is your pal."  There were no digital projectors, white boards or PowerPoint - rather, we had slate black boards and chalk, and lots of chalk dust by the end of each school day.
Textbooks were reused from year-to-year. At the start of each year each of us was given a textbook that we had to keep clean and not write in during the school year. At the end of the school year, any marks on the pages or bindings had to be cleaned off and a new book cover had to be put on the book. There were no tablet computers at that time. I learned the art of book covering.
Of special note was our way of studying Religion. We used the "Baltimore Catechism" with its unique question and answer format. There was very little text on each topic, just questions and answers. We had to memorize both the questions and the answers and be able to recite these in class. I recall one of the questions to this day: "What are the five effects of Sanctifying Grace?" Regrettably, after six decades I have forgotten all five effects.
After I graduated, I attended Xaverian High School in Brooklyn. There I was one of 40 boys in a class. What a change! Soon the world started to change rapidly, and Vatican II changes swept through the Catholic Church. After a stint in the Army and a corporate career in Accounting, I downshifted before retirement to be a teacher in a CFA exam prep organization. Suddenly I was on the other side of the teacher's desk. I was the teacher now, using lots of current teaching gadgets, including my favorite, a laser pointer pen, on my classes of 15 to 20 young adults. I had my hands full with 20 students. How did the Sisters manage 55 in a class? It still boggles my mind.