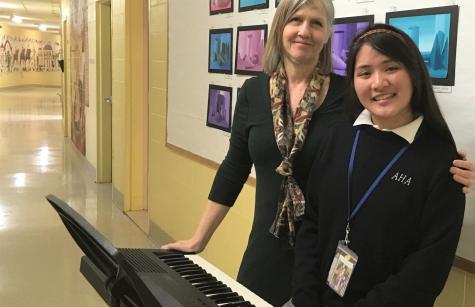 Demarest, NJ: Each March, student musicians from the Academy of the Holy Angels usher in springtime by celebrating Music in Our Schools Month®. Angels present pop-up performances throughout the building, much to the delight of those who happen upon these random acts of music.
Music Our Schools Month® is promoted by the National Association for Music Education and highlights the importance of a high-quality music education. Now an annual event, Music in Our Schools Month® was launched on March 14, 1973 under the sponsorship of the New York State School Music Association. A dozen years later, the celebration had become a month-long observance.
AHA Instrumental Music Director Mariann Annecchino and AHA Choral Director Lisa Marciano welcome musically inclined Angels to join in these AHA interludes throughout the month of March. Performers need not be members of the Academy's multiple ensembles, but many Music in Our Schools Month® musicians are involved in the school's varied music programs, including the Vocal Ensemble (a select, a cappella group), the Academy Concert Choir, the Academy Orchestra, and the AHA Handbell Choir.
Several of the Academy's accomplished musicians and vocalists have earned recognition that spans from the regional level to the international stage. Holy Angels performers have appeared at Carnegie Hall and Alice Tully Hall, and have performed with the acclaimed Young People's Chorus of New York City.