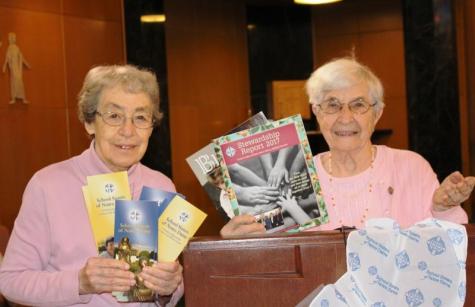 Recognizing the prominence usually given to promoting priestly vocations, the Knights of Columbus from the Immaculate Heart of Mary Parish, Hamilton, ON. Canada, took advantage of "National Catholic Sisters Week" to honor and promote women religious as well. Parishioners invited representatives of several communities of Sisters.
The Knights plus the two deacons with their wives and some young women, their daughters, had formed a parish "NCSW2019 Team" and prepared a March 8th evening celebration.  The agenda included a Lenten supper (vegetable broth soup, bun and glass of water); prayer (Vespers and the Way of the Cross); and the presentation of their carefully prepared PowerPoint featuring the testimony of several women religious.  
Finally, three Sisters in attendance spoke briefly of their experience as women religious.
S. Marty Kimpel, SSND, did us proud as she clearly explained how our ministry in Bolivia, Peru, and Paraguay emphasized the SSND's defense and formation of women.  There in our missions SSNDs saw the needs, and responded by facilitating the work of women - some examples follow:
     NEEDS                                           RESPONSES    
•    childcare for working-mothers        nursery provided; women became involved
•    water, electricity, mobility                marches (11 km to Lima) protesting the injustice 
•    hunger                                            set up kitchens to provide food; women helped
•    education and writing skills            provided an academy and volunteer teachers
•    spirituality                                       formed Basic Christian Communities
•    catechesis                                      leaders taught parents who then taught their children
•    spiritual care of hospitalized patients -    Communion Ministers made hospital visits
•    prisoners jailed and alone               visitation was arranged
•    establishing a relationship with God -    Christian Mediation for children who taught parents.
In closing, all women religious present were called forth for a photo op.  Finally, the Knights apologized for deviating from their original Lenten setting in order to treat everyone to a reception with treats of coffee, goodies and a special gift for each Sister.  We shared more than coffee.  It was obvious that this initiative of the "NCSW2019 Team" provided the parishioners and themselves with a new appreciation and understanding of Women Religious.  The team mentioned that they would make this first event grow in their parish. 
S. Betty, SSND, donated a supply of our vocation pamphlets, now available in the foyer of their church.  The Knights were most appreciative, saying they tried to find something on-line but found nothing specifically Canadian.  I explained that our Congregation is international.  They were open to learning more about SSND.  How important it is to educate!