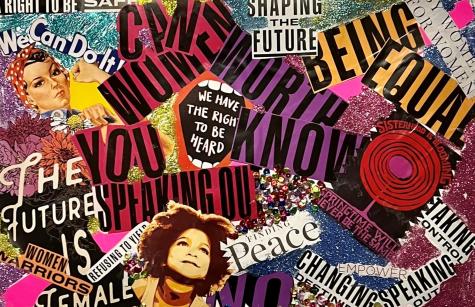 "Life on Hold," an exhibition featuring the artwork of women incarcerated at the Maryland Correctional Institution for Women, will be on display at Notre Dame of Maryland University's Gormley Gallery through March 3.
The exhibition includes 25 collage pieces, 9 paintings, and 9 audio recordings created through a collaboration with NDMU students, faculty, and staff, and with the support of community members. A series of art workshops were held at the institution during the fall of 2022. 
"By committing to something new, challenging, and unfamiliar I gained greater knowledge about the importance of creating a safe space for a diverse population," said Jaylien Washington '25, an art therapy major at NDMU who participated in the collaboration.
"I was also inspired by the women for finding the strength within themselves to take a potentially dire situation and create something beautiful that was full of life and vitality. As an aspiring art therapist, I am grateful to have participated in such a rewarding opportunity."
Read Full Article at NDMU Website including a On the Record interview with curator and art therapy lead Casey McKeel , hosted by Sheilah Kast