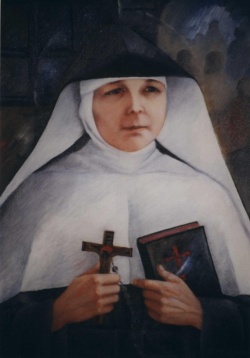 June gives us a chance to remember and pray to Blessed Antonina who is our Shalom patron.  We pray the Novena from June 3 to June 11.  At the Generalate in Rome, we use it for our meal prayer, but it can be used as part of morning or evening prayer.  The days celebrate the qualities that Blessed Antonina lived in her life and death.  
If you don't have copies of the Novena they can be found on the Gerhardinger website - click here
Learn more about Blessed Antonina - click here
Thank you to our sisters in the Polish Province for sharing this with the congregation.
If you want to print the novena to pray it each day, you can download it to your computer. It has been formatted as a booklet.  Print using the booklet setting in the pdf print settings window.
Deutsch (pdf 522 KB) • English (pdf 308 KB) • Español (pdf 290 KB)
Each day during the novena, the reflection and prayer for the day will appear on the Gerhardinger website.