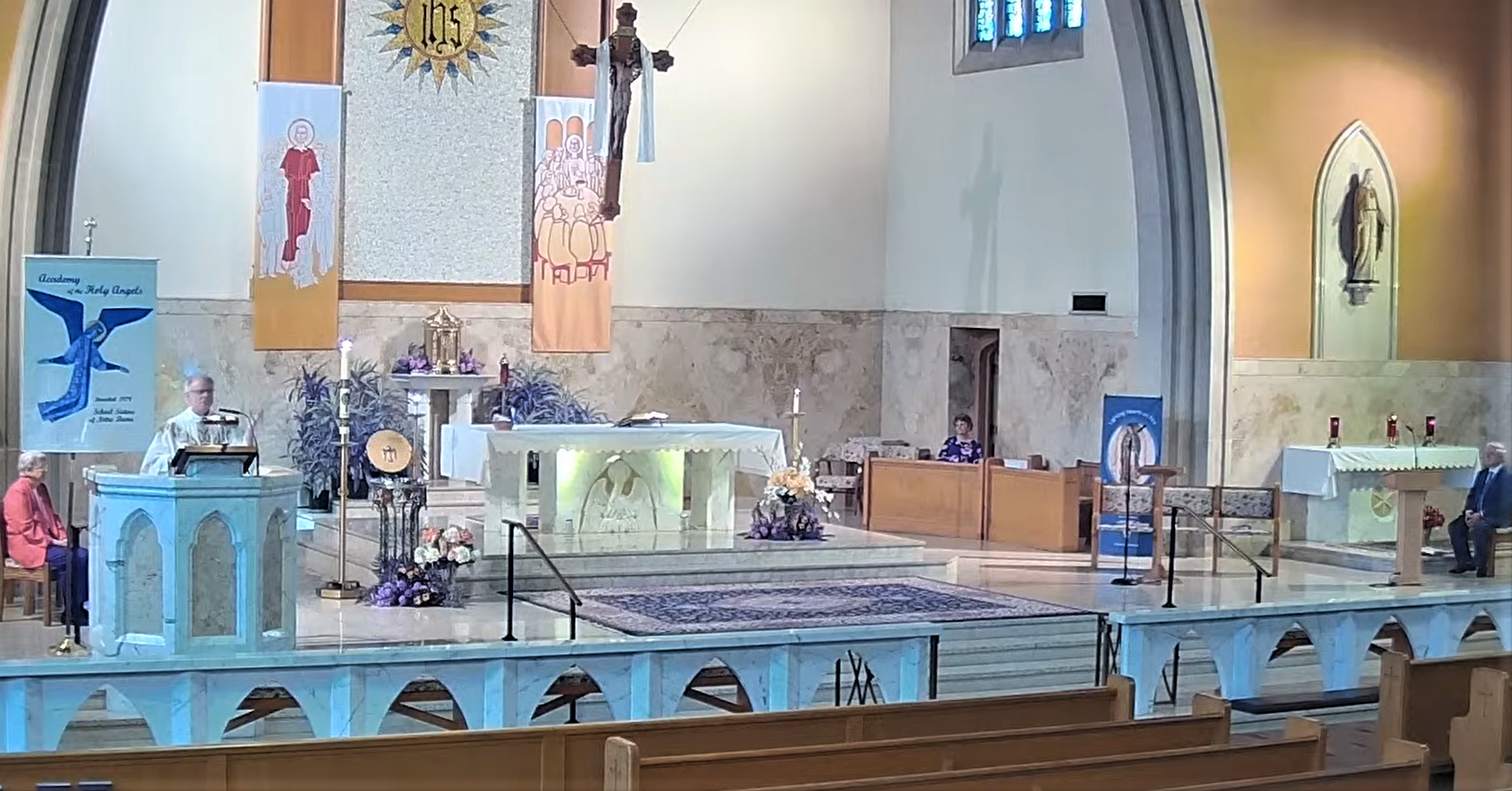 "You will have a story to tell that no one else can tell," Reverend John Alvarado told the Academy of the Holy Angels Class of 2020. These words were a highlight of the Senior Mass Rev. Alvarado celebrated via livestream from the Church of the Sacred Heart in South Plainfield.
AHA President Melinda Hanlon prefaced Mass by praising the seniors for persevering and finishing their coursework despite the COVID-19 pandemic and the rapid shift to distance learning in March. She compared the seniors to Mother Caroline Friess, leader of the School Sisters of Notre Dame's North American congregation, saying, "You are indeed women of your time and women of courage."
Mrs. Hanlon also shared her connection to Sacred Heart. Before she took the reins at AHA, she was principal of Holy Savior Academy, which is located on the Sacred Heart campus.
She also thanked AHA Director of Campus Ministry Kathy Sylvester and AHA Performing Arts Director Dan Mahoney for their work on the celebratory Mass. Mahoney, who is music director at Sacred Heart, led the virtual congregation of 171 in song.
S. Mary Foley, SSND, the Academy's social worker, served as lector. She retold the story of Lydia's baptism from the Acts of the Apostles.
Rev. Alvarado said the seniors have many female role models, and asked them to allow room for Lydia, his mother's namesake. He pointed out that Lydia was a prominent dealer in high-priced purple fabrics. She kept her heart and her mind open so she was ready for what Paul had to share. Lydia also readily offered her hospitality, inviting Paul and his companions into her home.
The celebrant acknowledged that service and ministry are important parts of life at Holy Angels, and said it can be difficult to receive what others have to give.
"Come with open, humble hearts. Trust and believe," he added. "This is your day and it's a bright day. Let your light shine."