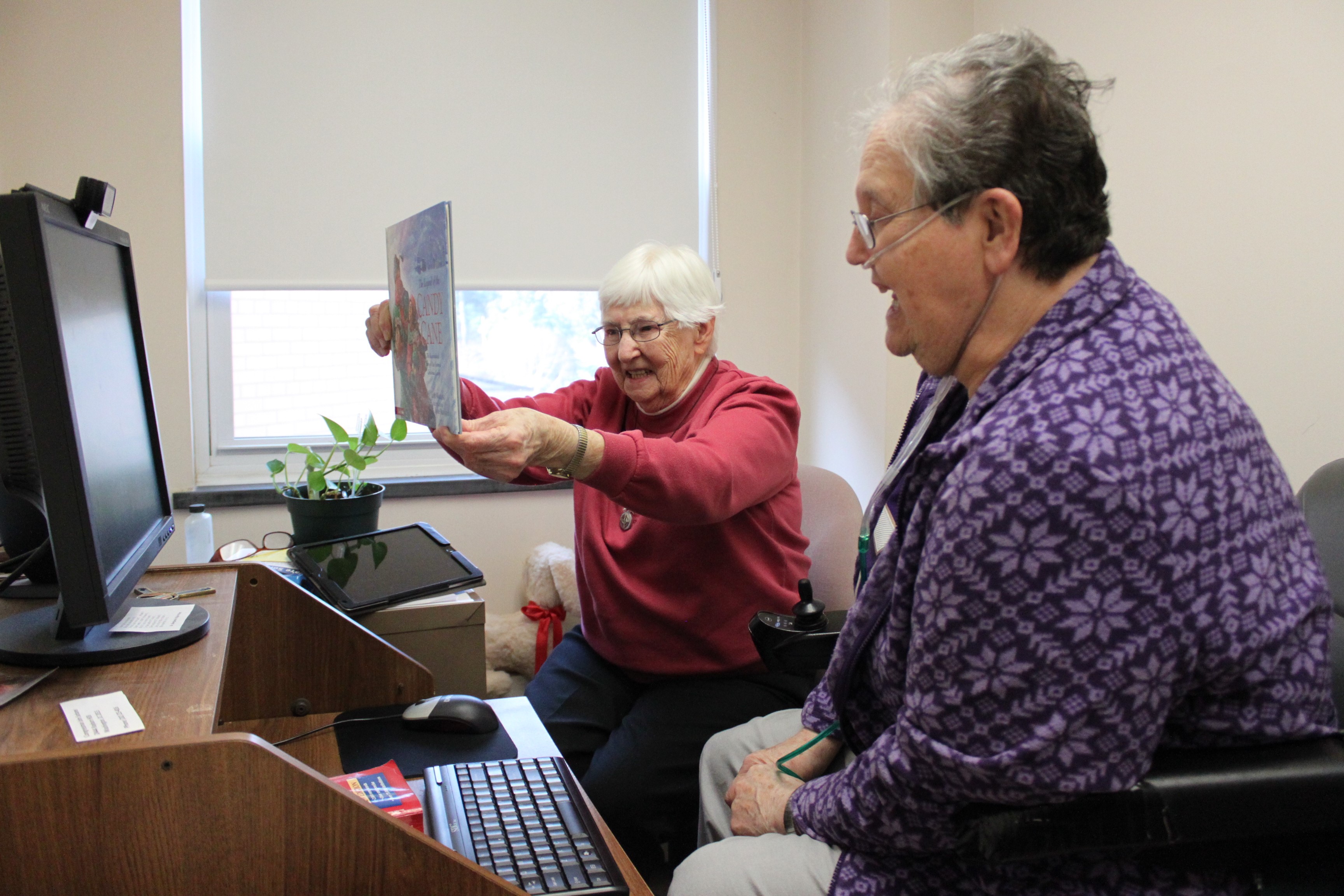 Last month, fourth graders at St. Martha's School in Florida learned that basketball was first played with a volleyball and two peach baskets, and that the game, created by Canadian-born James Naismith, originated in Springfield, Massachusetts in 1891.
Sister Kenneth Maria Botta was delighted to share her knowledge and passion for sports with her students in Florida. A Baltimore native, Sister Kenneth is an avid sports fan - in addition to coaching basketball at Our Lady of Perpetual Help in inner city Washington, D.C. and fourth grade football for newly three decades, she coached SSND aspirants at Villa Assumpta in the 1960s for several years. She also runs the friendly football pool at the motherhouse for sisters, associates, volunteers and even the deliveryman!
Sisters Kenneth Marie Botta,79, and Mary Frances Angermaier, 90, continue their teaching ministry of nearly seven decades from their home office at Villa Assumpta in Baltimore, using 21st century technology. Sister Mary Frances said, "We don't know how to retire." She continued, "We love to do it. It's exciting. I get up early for my 8:10 a.m. class."
Undaunted by the new technology, Sisters Mary Frances and Kenneth Marie have been Skyping regularly with first and second graders and now fourth graders too, at St. Martha's Catholic School in Sarasota, Florida going on four years.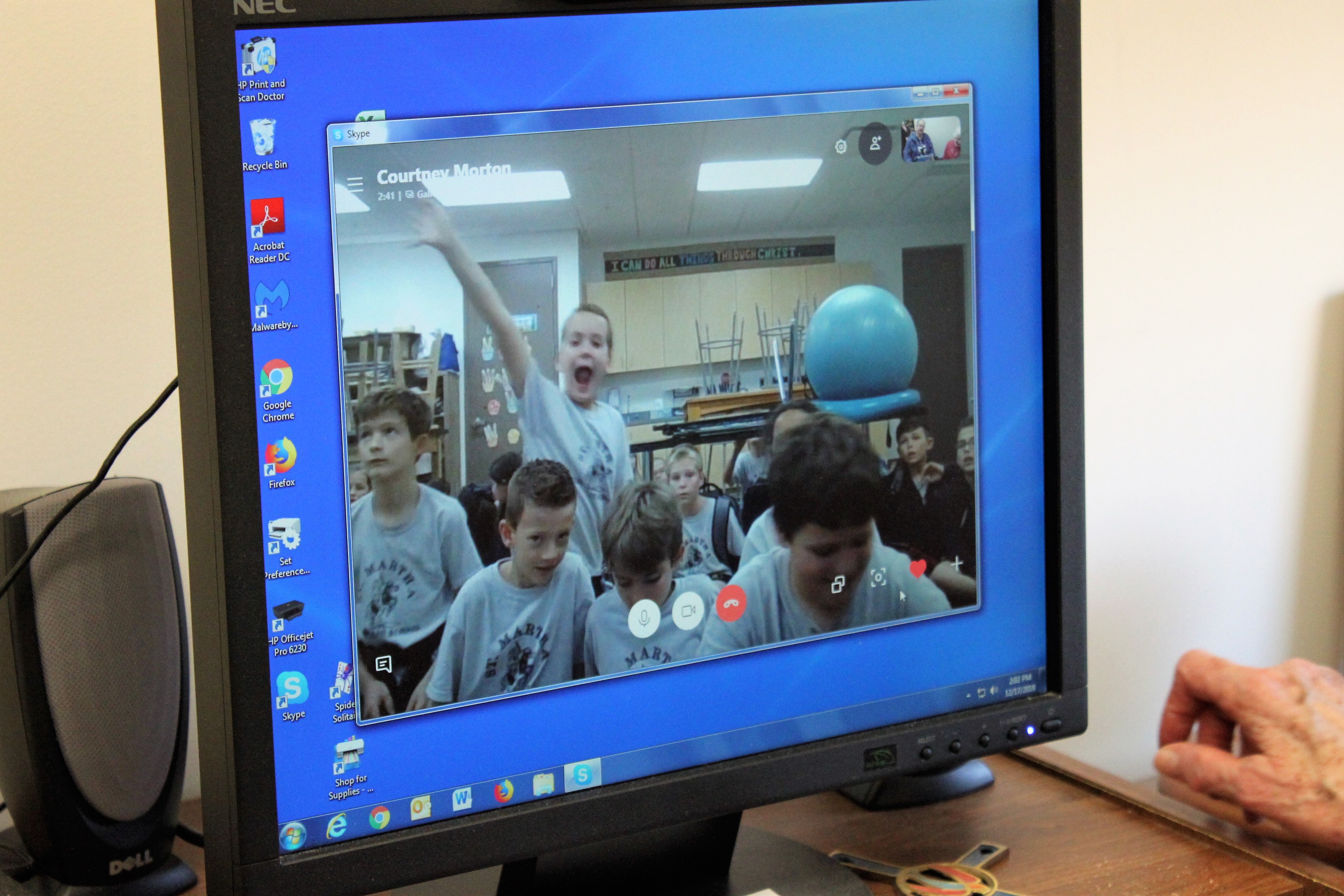 Sister Helen Reilly has joined the group this year. She Skypes with second graders from St. Martha's from her kitchenette at home in Baltimore. She meets with the children two times a month and enjoys the interaction with the students and the friendship she has developed with Ms. Olah, the second grade teacher in Sarasota.
Sister Helen shared her Skype experience with her fellow teachers at St. Mark Catholic School in Catonsville, Md. where she recently retired after 21 years. The teachers were heartened to hear about her new adventure, as previously Sister Helen was known to avoid new technology at all costs. "I'm always so happy when we get through to Ms. Olah's class!"
At a recent Skype session, Sister Kenneth, donning a purple Baltimore Ravens shirt, began her story time by asking the fourth graders if they knew whom the Tampa Bay team had played the day before. The children shouted, "The Ravens!" And then Sister Kenneth asked, "Do you know who won?" In unison they again responded, "The Ravens!"
Once the students had settled into place, scooting close to the monitor, Sister Kenneth began the story. She expertly fell back into her decades of experience teaching, and enthralled and entertained the students with the melodic inflections in her voice as she read. She would pause occasionally to ask questions and received enthusiastic responses throughout their time together. Sister Mary Frances held up the book to the camera for all the children to see and then turned the pages. "The best part is bringing out the lessons of each story and seeing the expressions on the children's faces."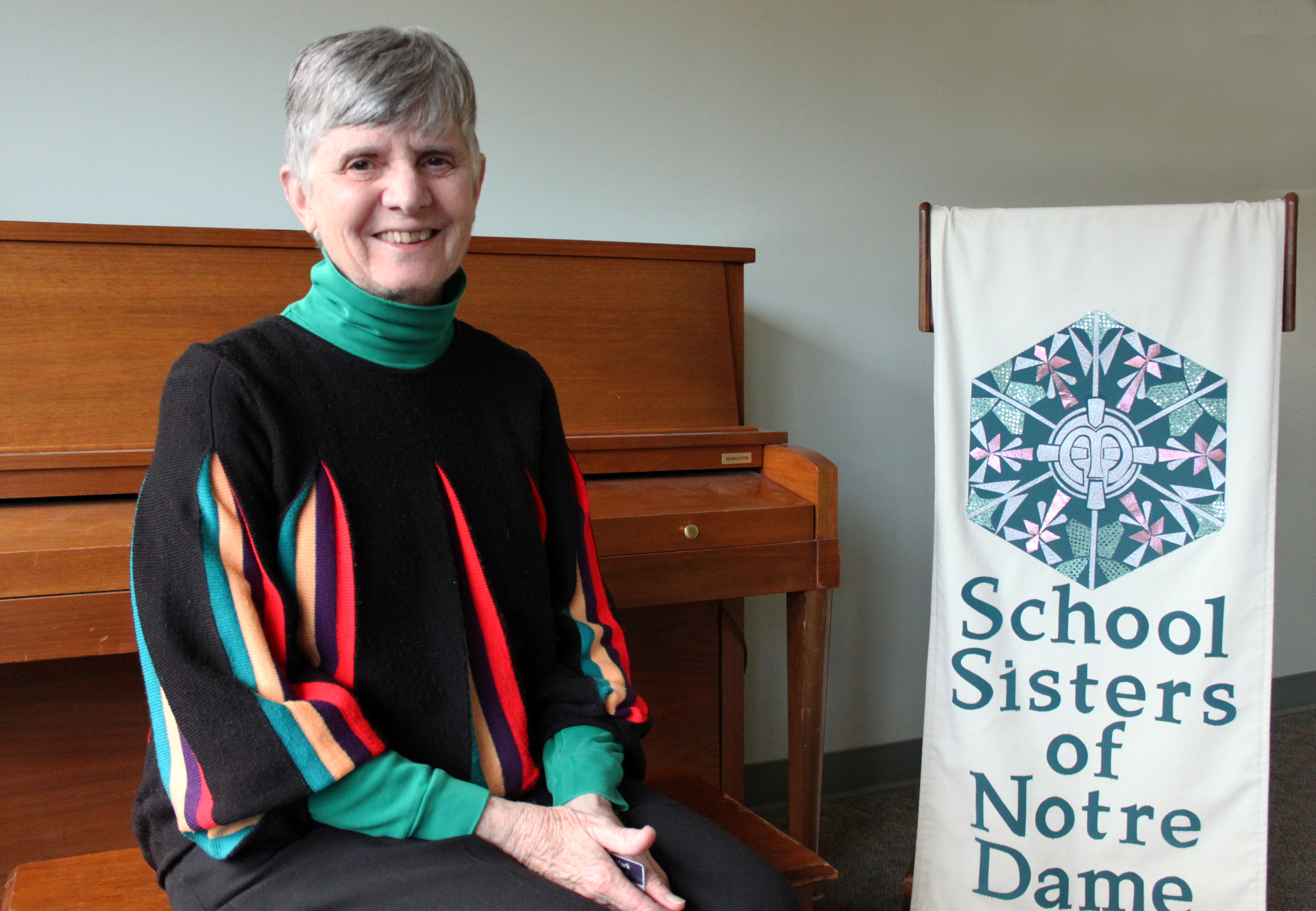 The sisters are creative in their efforts to strengthen the bond with these students. One of the first things Sister Helen did was request the birthdates of each of the children so she could write them personal notes. Sisters Mary Frances and Kenneth coordinated with their counterparts in Florida so that each student received a candy cane after December's reading of "The Legend of the Candy Cane." Sister Mary Frances also shares the joy of Skyping with students with other sisters at the motherhouse. In a previous year, she arranged to have the monitors set up in the community room so that sisters in continuing-care could also participate in the exchange.
The orchestrator behind the Skype initiative is Sister Cathy Bonfield, who celebrated her golden jubilee this year. She has taught at St. Martha's School in Sarasota for 23 of her 50-year teaching career, and had the vision and technical savvy to coordinate the Skype program, linking children from her school, with senior sisters at the motherhouse in Baltimore. Her hope to expand the program to bring light and love to both students and sisters has taken hold.