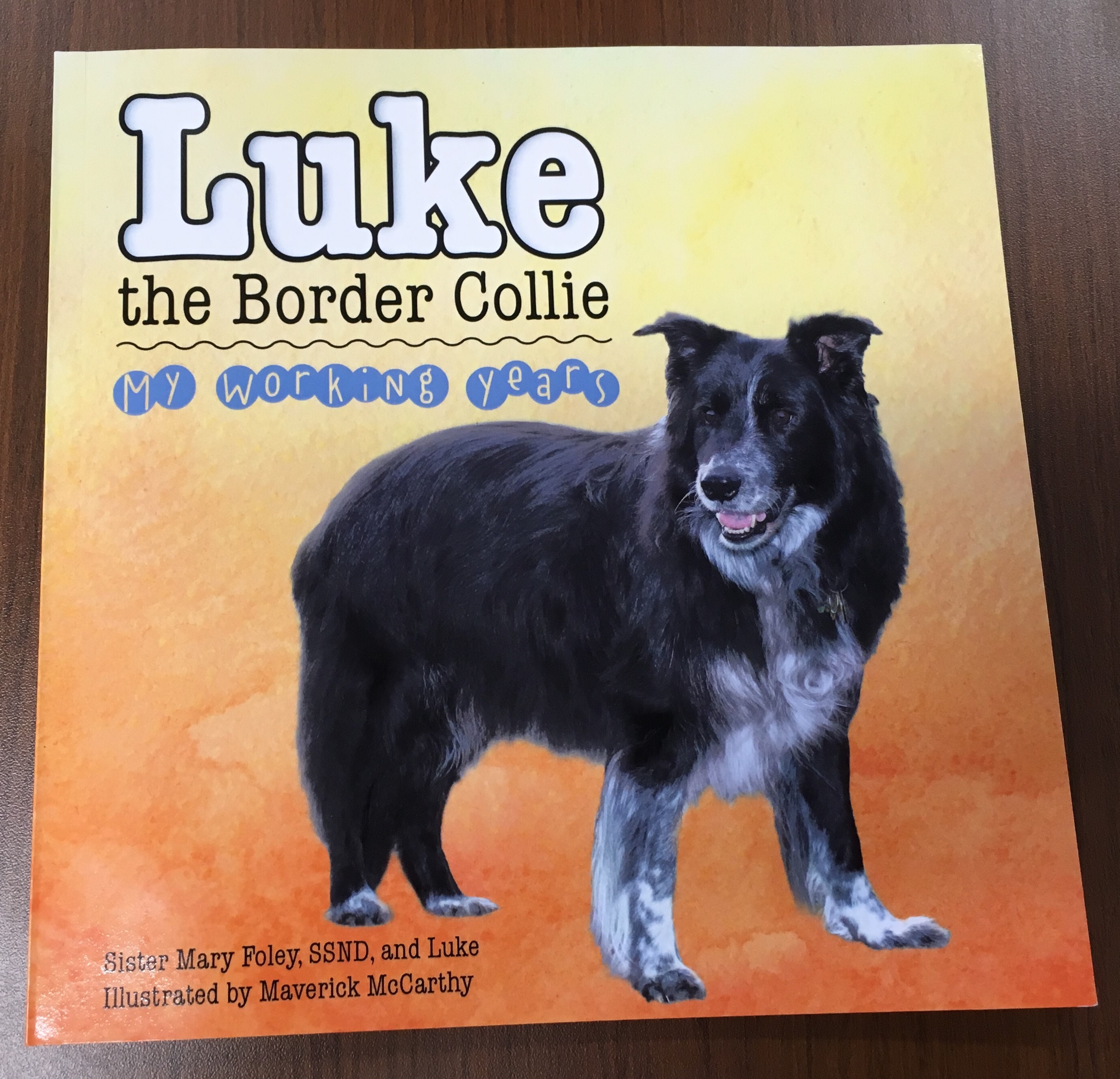 Before he settled into his role as a therapy dog, Luke the border collie was a master at herding geese off the fields at the Academy of the Holy Angels. Now, readers can hear about Luke's avian adventures in his own words in "Luke the Border Collie: My Working Years."
AHA Social Worker Sister Mary Foley's charming new book is written from Luke's perspective and details his contributions to keeping geese away from Holy Angels, where Luke worked and played until his passing in April 2017. He was 15!
S. Mary, a School Sister of Notre Dame, announced that proceeds from her book will benefit the AHA Scholarship Fund. The colorful, evocative illustrations for the latest "Luke" book were created by Mahwah artist Maverick McCarthy. McCarthy is a 2016 graduate of AHA, and is currently pursuing a degree in illustration with a concentration in publication design at Savanna College of Art and Design.
S. Mary and McCarthy previously teamed up to bring readers "Luke the Border Collie: My Early Years." This first volume covers Luke's journey from his birthplace in North Carolina to his forever home in New Jersey.
During the 13 years they lived and worked together, Luke and S. Mary brought comfort to those at AHA, and in several other parts of the country. Luke was also a fixture at several libraries, where he served as a non-judgmental listener for children practicing their reading skills.
"The school purchased Luke in 2004 as a trained 'goose herder.' We had a terrible problem with geese all over the property.  It took him over 18 months of multiple trips to the fields and other areas of the property each day to get the geese to mostly stay away," S. Mary explained.
Two years after he began his work at the Academy, S. Mary noticed just how gentle and sensitive Luke was. "We had him tested with Therapy Dogs International. He already had the obedience part of the test down cold. The rest of it; he was a natural," she recalled. 
When a series of tornadoes tore through Alabama, S. Mary and Luke traveled to Tuscaloosa as part of a Disaster Stress Relief Team of Therapy Dogs International. They also spent time in Boston after the marathon bombing, and made multiple visits to Newtown, Connecticut, following the Sandy Hook Elementary School shooting.
In Connecticut, a child who had stopped talking after her brother's death began to speak while she was petting Luke. Another survivor who was reluctant to enter church after attending the funerals of her teacher and friends agreed to go into the building in Luke's company.
"We were in countless local schools visiting elementary children and high school students," S. Mary said. "We went to nursing homes and private homes when requested. For a number of years, we went once a week to Rockland Children's Psychiatric Center and High Focus' Adolescent Outpatient Psych Program."
Touching a dog (and other animals) raises levels of oxytocin, a calming hormone, and lowers levels of cortisol, a stress-related hormone, S. Mary explained. With Luke, there seemed to be much more than a basic chemical reaction. His gentle nature made him beloved everywhere he went.
S. Mary and Luke's teamwork was appreciated far and wide, and their commitment to mental health led to their receipt of the Courage Award from Care Plus, NJ, in April 2014.
When Luke was not working, he loved to dig holes, play fetch with a tennis ball, and enjoy treats from his many friends at Holy Angels.
"Luke was a very fun-loving dog. He was always doing something to make me laugh," S. Mary added. "Dogs aren't supposed to understand human language, but Luke seemed to always know what we were talking about."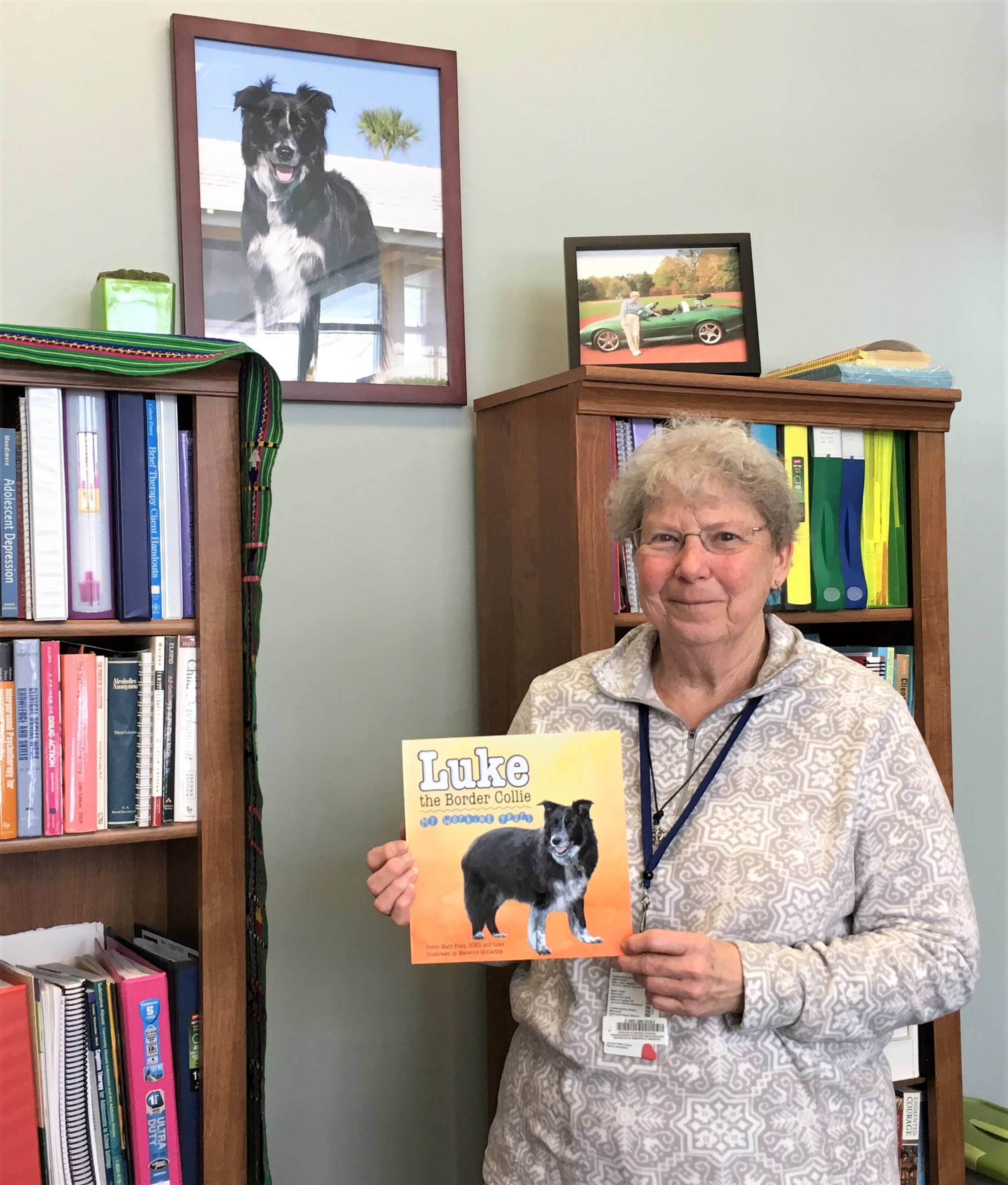 Copies of "Luke the Border Collie: My Working Years" are currently available via store.holyangels.org and Lulu.com. The book will also be offered on the Amazon and Barnes & Noble websites. Be sure to check for the e-book!