It was 1983 and I was in retreat preparing for my Silver Jubilee 
My retreat director invited me to pray with Leviticus 25 in the Old Testament because it focused on the theme of Jubilee. Leviticus 25 emphasizes the theme of justice in the redistribution of land during each Jubilee year and also the theme of home.
---

"In the year of Jubilee, return to your ancestral home."

---
Both of these themes stayed with me in my retreat prayer time.  I realized that I could deepen my commitment to justice anywhere I served as a School Sister of Notre Dame. But my "ancestral home" was Lithuania, which was still an occupied country under Soviet rule. It was not possible to literally go there, especially as a Catholic religious. And yet, the call to my ancestral home would not leave me and I kept praying to understand what it meant.
My prayer was answered in 1990 when I, along with the other SSND provincials, was invited by our General Leadership to attend the meeting of SSND provincials in Hungary. We were encouraged to journey to Hungary by way of other countries in Eastern Europe to learn about the realities there after the Berlin Wall had come down. By that time, Lithuania had become the first of the Soviet Republics to declare independence, making it possible to not only go there but to look for relatives, although I had no names or addresses.  But God kept opening doors, and I kept walking through them in amazement. 
On my first morning in Lithuania, our tour guide came to the hotel where I was staying, since convents had been confiscated during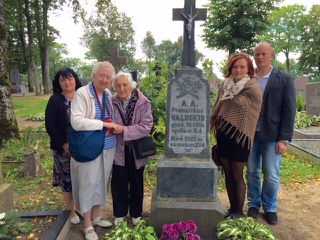 the occupation. Our tour guide had a surprise announcement. While at her home that morning, she was listening to a presentation about health care in Lithuania given by the newly appointed administrator of pharmacies. At the end of the interview, the announcer said, "You have been listening to Jonas Voluckis. If you have any questions, call the station at the following number." Recognizing my last name, the tour guide rushed to the phone before she could forget the number and told Jonas that someone with the same family name was in Lithuania looking for relatives. That was another door that opened - and led me to a meeting with Jonas and his family and, through him, to other relatives.
Jonas Voluckis subsequently invited me to accompany him to the first Congress of Lithuanian Physicians being held in Lithuania since the beginning of the Soviet occupation fifty years earlier. To my surprise, Jonas invited me to give a short greeting at the Congress. In it, I revealed that I was a Catholic sister. Later, during a break in the program, the leader of the underground Catholic sisters approached me and begged me to come to Lithuania to help the sisters, because they had been prevented from knowing what had happened in the Church and world during the years of occupation. Another door opened, and I had only just arrived in Lithuania! The next door I encountered was an inner, spiritual one.
---

Jonas took me to the famous Hill of Crosses in Lithuania, a sacred space where Lithuanians had come over the years to bring their sorrows and their joys.

So many Lithuanians placed homemade crosses there that the hill was covered with thousands of them.

---
During the occupation, the Soviets tore the crosses down many times. Yet, under the cover of night, the crosses were resurrected by brave Lithuanians who did this as an act of faith and of resistance. As I prayed before these crosses, I felt a powerful sense of sorrow for the Lithuanian people and all that they had suffered during the 50 years of occupation and deportation to Siberia. I felt the presence of the suffering Jesus in their suffering, and I felt a call to return there to do what I could to help. This interior door opened my heart deeply.
Eventually, as I was coming to the end of my term as provincial, I began thinking about sabbatical time. While in Washington, D.C. on community business, I met with Monsignor Sarauskas of the NCCB Office to Aid Eastern and Central Europe. He was looking for volunteer religious to help the sisters in the many countries where sisters were emerging from underground life. Upon learning that I had experience in educational television, he promptly invited me to consider serving as a consultant to the newly established Catholic Television Studio in Lithuania. I spent six months of my sabbatical year in Lithuania, during which time further doors kept opening, and I kept walking through them in trust.
And, suddenly, it was 2008. I was a Golden Jubilarian and had been spending some weeks in Lithuania each year for 15 years.
With the help of grants from the NCCB, the Hilton Fund for Sisters, LCWR, SSND, and some of the congregations with which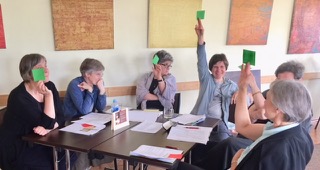 I had worked as a facilitator, several initiatives had evolved in response to needs expressed to me.
•    Helping the Lithuanian Catholic TV develop an "above ground" mission statement expressed in public programming;
•    Teaching English lessons on national TV;
•    Bringing teams of sisters from the U.S. to offer theological updating to the Lithuanian sisters, including formation personnel;
•    Providing the Lithuanian sisters with their first computers, computer training, and their first internet access, making a connection to the world beyond Lithuania possible;
•    Evaluating the newly established catechetical centers in each Diocese;
•    Developing a training program for spiritual directors in support of the retreat centers that were just beginning to function;
•    Introducing one Lithuanian congregation to the process of communal discernment through facilitation of two of their Chapters;
•    Encouraging and advising "Moters Pagalba Moterims," Women Helping Women, founded by Lithuanian women who had been abused or abandoned by their husbands to help other women in that situation.
---

I felt as if I were living theologian Bernard Lee's definition of charism as the "explosion of grace" that happens when the Deep Story of a congregation meets critical needs.

---
And now, it is 2018 and I am a Diamond Jubilarian.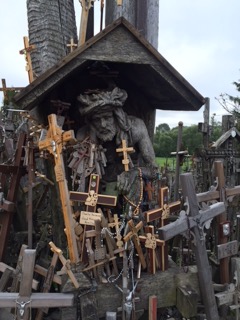 My journey to Lithuania this year may well be my last one. There is much to be grateful for. The most important doors that opened were the ones that led into my own heart and into the hearts of individual people in Lithuania. Yet, the country as a whole is still suffering from the spiritual, social and economic effects of the occupation. Young people are leaving to search for employment opportunities elsewhere. Many fall prey to human traffickers. A member of Parliament had to flee the country because of threats she received after attempting to expose a pedophilia ring in Lithuania.
The crosses multiply on the Hill of Crosses. 
After returning to my ancestral home many times, I continue to discover that the challenges of Leviticus 25 remain relevant.