Sister Jacqueline Glessner was born in Locust Gap, Pennsylvania. She professed first vows with the School Sisters of Notre Dame in 1962 in Wilton, Connecticut. Sister Jacci reflects on her mission work in Puerto Rico, where she ministered as an educator for nine years from 1968 – 1977, and on her 18 years of pastoral ministry in Peru, from where she has recently returned.
Puerto Rico
I had volunteered for Puerto Rico when I was in the novitiate in Wilton in 1961, but I was not asked to go there until the summer of 1968.
I was studying math that summer in Northern New York State on an NSF grant and was surprised to receive a letter from Sister John Gualbert (Madeline Conway), who was Superior at St. Saviour's, Brooklyn, where I had been stationed for only a year.  I remember well her words about recalling with joy her years in Puerto Rico when she received a call from Mother Paschal asking her to contact me about going to Puerto Rico.
I was so happy about going to the Isla del Encanto, but at the same time I was scared.  Would I learn Spanish? (My knowledge of the language was nil at that time!) Would I be able to stand the tropical heat?  Would I like the food?  But somehow my joy at going to Puerto Rico overcame my fears, and I soon found myself sitting in Kennedy Airport waiting for my flight. It was delayed about three or four hours, but the Sisters from St Saviour's were faithful in staying there with me. While we waiting, a Puerto Rican family who was sending their three grandchildren (who spoke only Spanish) back to PR asked me if I would take care of the children on the flight.  Of course I said yes, but then I began to worry.  What if they had to go to the bathroom on the plane and I did not understand what they were saying. So one of the Sisters taught me my first sentence in Spanish.  "I have to go to the bathroom."  I repeated the sentence many times out loud, trying to learn it, until I noticed the people around me who understood Spanish were beginning to laugh.
That was the first of many funny experiences as I slowly learned Spanish. But I found that all were very eager to help me, even the shoeshine man on the street. He greeted me daily and tried to teach me a word a day. He did not always succeed.  But what I did learn, without the benefit of many words, was his concern for a sister who had been there the previous year but had returned to the USA because of illness. He was so concerned that he wanted to send her money to pay her doctor bills! My students were always very helpful and never laughed when I made a mistake in Spanish. They even clapped when I said my first full sentence in Spanish in class. They also frequently brought me tropical fruits which were new to me and insisted that I eat them in front of them. I always hoped that I would like what I was eating.  And I did!
The warmth of the air was nothing in comparison with the warmth of the people.  I always felt so welcomed!  I was so surprised when the high school students whom I was teaching greeted me at the beginning of class with a kiss. That might not be so surprising if you are thinking that it was just the girl students who would kiss me, but it was the boys also!
Life, of course, was not all rosy.  It was difficult to adapt to a new culture, new language, new climate, to be so far from home.  But in my memories, these difficulties fade alongside the love with which I was received into their lives.  It was with a heavy heart that I left after just nine years there.
But luckily for me, I was able to continue my relationship with this culture through my contact with the  Puerto Ricans with whom I lived and worked for many years on the Lower East Side of Manhattan.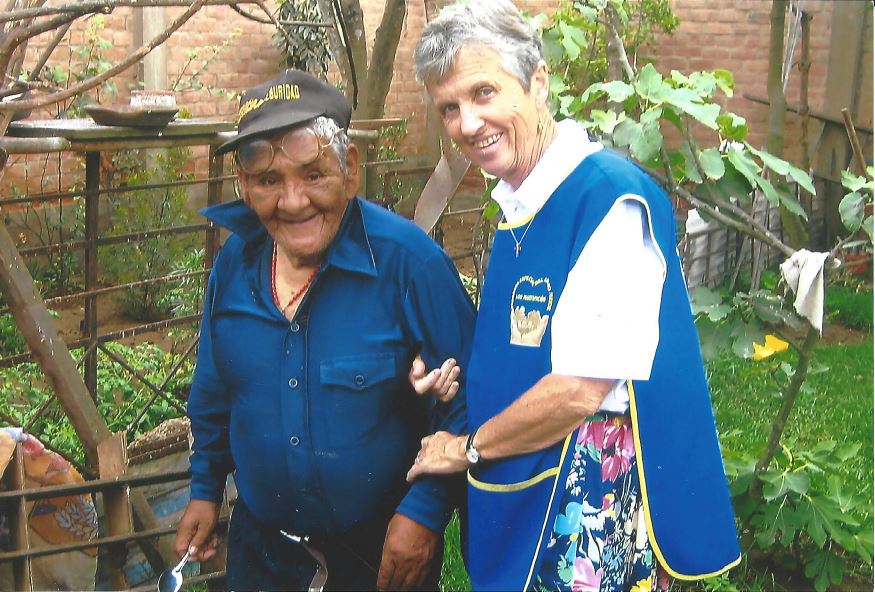 Peru
For 18 years, I ministered in the "Pueblo Jovenes" outside of Lima, Peru. Twelve of these years, I was in Villa El Salvador, and my main ministry was to accompany the people who belonged to the Senior Citizens group called Los Martincitos. This is a program for 145 seniors who are, for the most part, abandoned or almost abandoned. It is still functioning.
The "abuelos" as we affectionately called the seniors (It means grandparents) came three days a week from 8 a.m. to 2 p.m.  During their stay, they received a hot breakfast, hot dinner, medical attention, literacy classes for those who requested them, physical therapy, assistance with personal hygiene (some do not have running water in their homes), and the opportunity to participate in games, arts and crafts and similar activities.
There are many of these abuelos that I would like to present to you, but I will only mention one.  Her name was Judit, and she was learning to read at her advanced age. She asked me one day if I would hold some money for her. She gave me small coins over a long period of time. At last, I asked her what the money was for. She told me she wanted to buy a Bible, because she wanted the Bible to be the first book that she would read when she learned to read. Judit was a stroke victim and walked and talked with difficulty, but this was not going to hold her back.
These people gave me so much love. They were always so grateful for the little that we were able to do for them.
Sister Jacqueline Glessner returned to the U.S. in August 2015. She has been a professed member of the School Sisters of Notre Dame for 56 years.