By Kristin Leigh Balbuena (nee Glinowiecki)
IND Class of 1998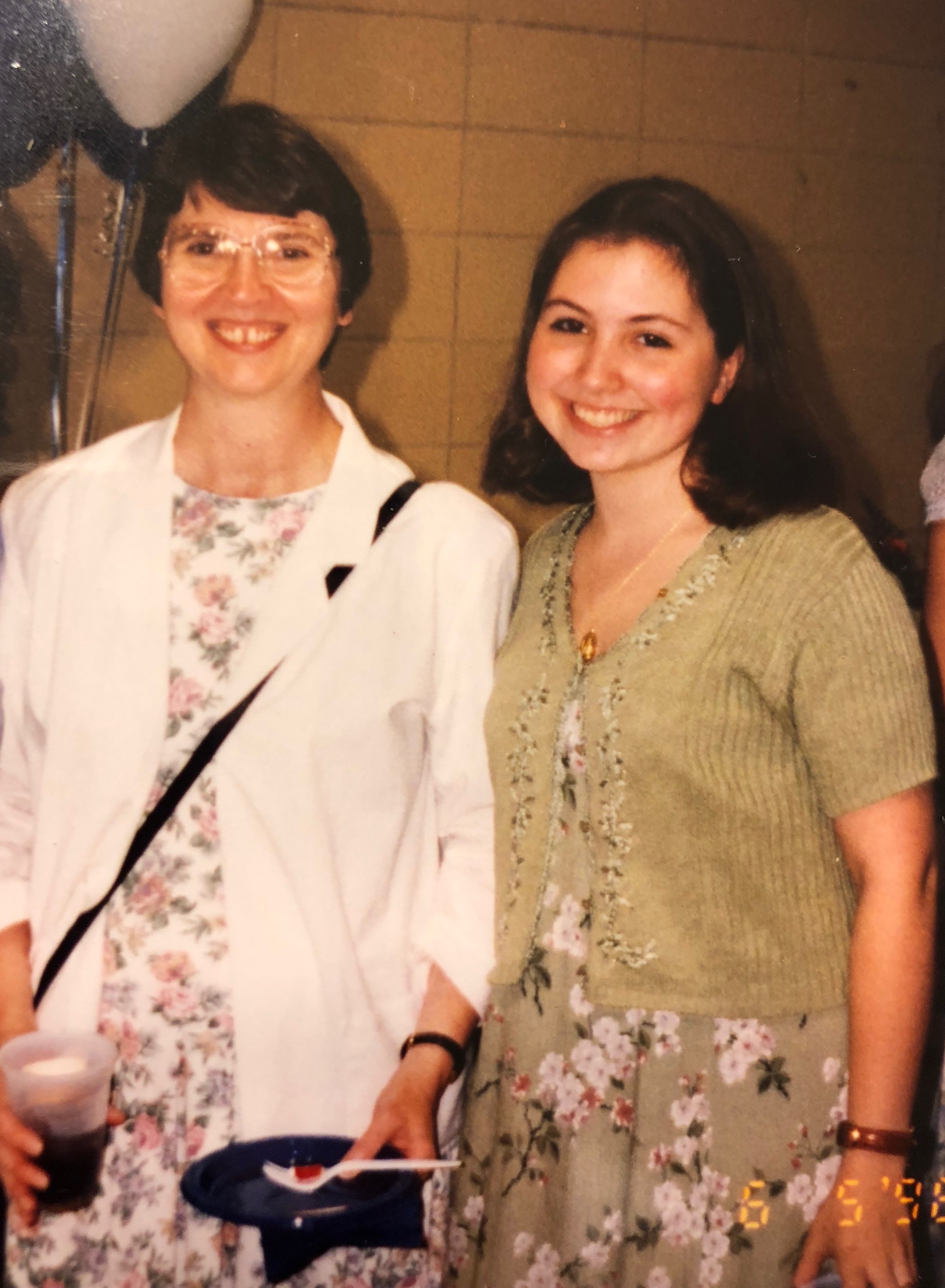 I met Sister Jane Cayer my freshman year at the Institute of Notre Dame. She was my homeroom teacher and really made all of us feel part of the IND family immediately. Our homeroom rules may not have been as lax as others, but homeroom was fun, as we bonded together because Sister Jane took the time to really invest in each of us. Through my four years at IND, she helped me build my self-confidence at a time when many girls struggle to gain it.
I took Junior British Literature, Senior AP English, and Creative Writing with Sister Jane. Her passion for interpreting texts made writers like Bronte, Joyce, Shakespeare, and Milton seem not only accessible but also relevant to 16-year-old girls. She pushed my classmates and me to not just go for the easy answer but to look at literature through a variety of lens and what lies below the surface. She approached literature as a secret door to understand humanity. Sister Jane had us searching not for a good word but for the perfect word in our creative writing assignments. She encouraged us when we discovered something new and did not allow us to give up when we struggled. Her class was one that I always looked forward to, even when it fell directly after lunch.
I will never forget the look on her face when I figured out the Christian undertones in Waiting for Godot before she pointed them out to us. It was a look of pride and wonder, as if I was able to pull together everything that she had been trying to teach me over the years.
Sister Jane is the reason I majored in English with a focus on British literature as an undergraduate. I've come a long way from throwing Tess of the D'Urbervilles across the room during my junior summer reading assignment. While many of my college peers shied away from the longer texts, Sister Jane's teachings helped me to fall in love with the Victorian and post-modern writers. The writings I did for her high school classes helped me to breeze through college. One essay even earned me a scholarship to study at Exeter College at the University of Oxford. That essay, which examined the many faces of Jesus in art and literature through the ages and their relevancy to the political and historical issues of that time, was based on my revelation about Waiting for Godot in Sister Jane's class.
I ended up with a Master's degree in Literature and Language and working at a community college. The SSNDs believe that everyone should receive an education, and I feel that my work at the community college helps me live out their mission and spirit. Sister Jane is still my inspiration each time I teach a course. I pray before each semester that I can be as inspiring to my students as she was to me.