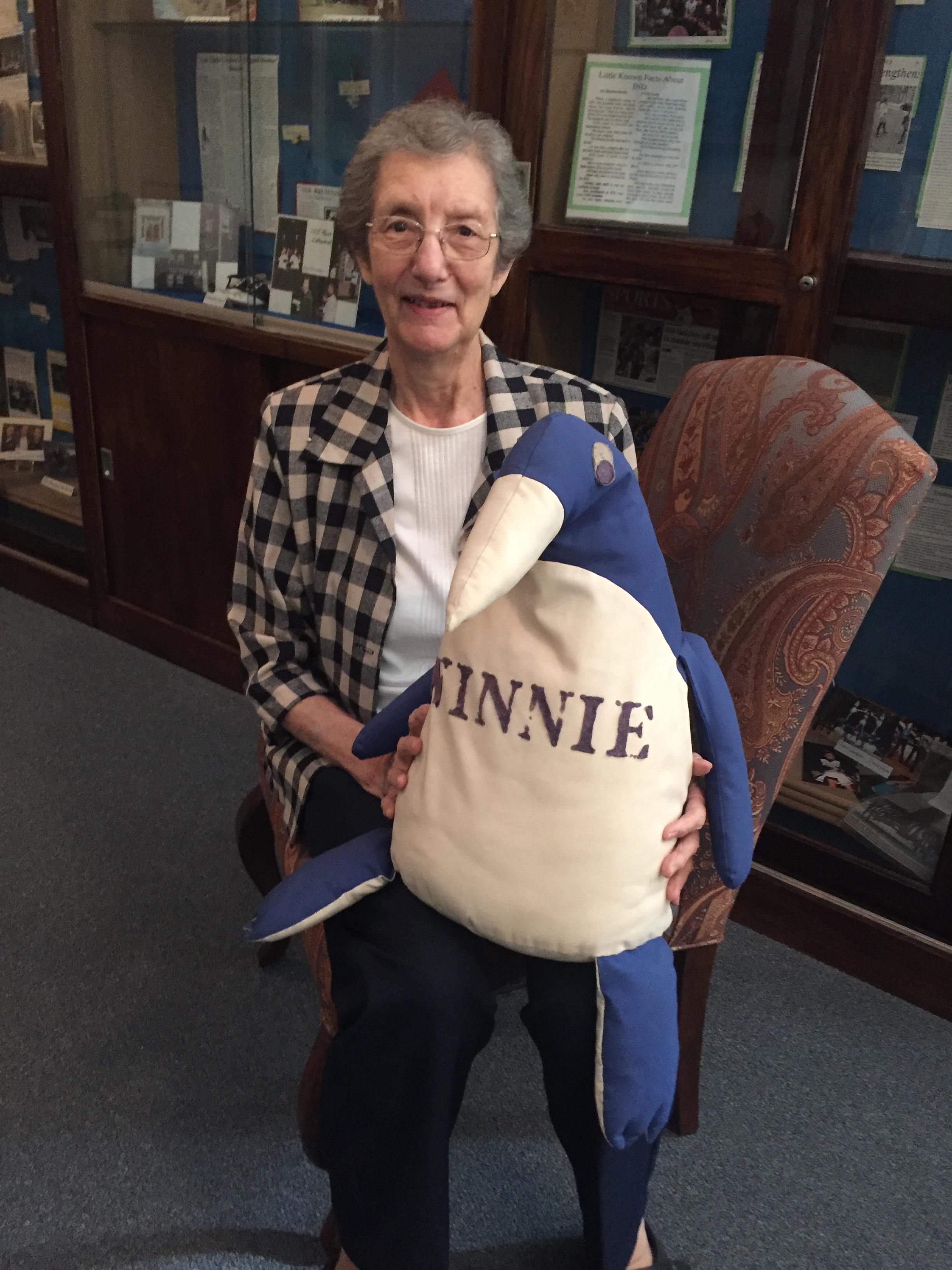 Sister Joan Minella has been serving as the volunteer archivist for the Institute of Notre Dame going on ten years now. She and Sister Jeanne Hildenbrand were invited to make sense of the many big boxes of photos, newsletters, news clippings, posters and memorabilia that documented the history of the school and life of the students and sisters. It was a daunting task but Sister Joan knew if the two of them worked together on the project, it could be done. 
Sister Joan was born in Rochester, New York on May 28, 1935. She entered the School Sisters of Notre Dame in Rochester in 1953 and completed the novitiate at Villa Assumpta in Baltimore. In 1955, she professed first vows. As a vowed member of SSND for 64 years, Sister Joan has been a teacher, administrator, pastoral life director and even served at the Generalate in Rome for three years.
Sister Joan has shown an enthusiastic capacity to try new things throughout her life. In her "retirement," although she never expected it, Sister Joan is putting her minor in history to good use.  She saw the opportunity to create an exhibit in the high school Heritage Room that she completed last year. The continuously updated display depicts IND's place in SSND history.  Over the course of her archival work, she has become the keeper of many special memories and histories of IND traditions. She can tell you when students began carrying red roses at graduation; or why the penguin was selected as the school mascot in 1949. Sister Joan smiles, "It was because at that time sisters could not go off campus for games. The thought was that the penguin, in some ways, resembled the black and white habit that the sisters wore. Winnie the penguin then was selected to represent the presence of sisters at games. Later, the color was changed to the blue and white school colors."
Sister Joan talks about the talented students, teachers and staff and has noticed how the school has changed over time. From school uniforms to topics in the school newspaper, Sister Joan is witness to the ever-evolving, ever-current student body. She enjoys connecting with IND students - at the very first SSND motherhouse and school in the U.S. Thousands of young women, many graduates of IND, began their SSND formation in this holy place.
Sister Joan has another talent she shares with the larger community – crocheting. It is something she learned how to do when she was eight years old. Her neighbor would sit on her front porch and young Joan developed a friendship and a new skill that has stayed with her throughout her life. "As long as you know the stitch, anyone can make a scarf." Sister enjoys crocheting in the community room in the evenings, making hats, scarves, baby blankets, lap throws and even afghans. She has become known for her lovely pieces and has had to limit her crochet items for fundraisers only. Sister Joan has made several full-size afghans and donates them to the SSND-sponsored ministries in Baltimore. The ministries raffle them off at special events to raise funds for their work. She also makes hats and scarves for a Villa Assumpta staff member who leads outreach in Baltimore City for people who are homeless. It is clear that Sister Joan whole-heartedly continues her life's work and continues to reflect God by her very being.