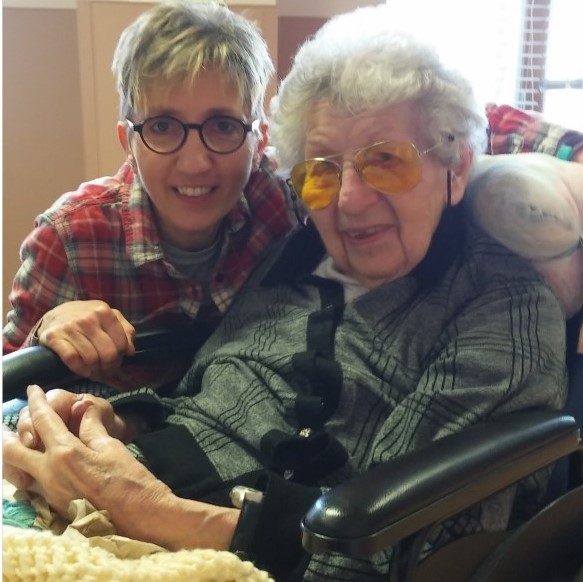 Sister Julita Jelen celebrated her 102nd birthday with her family on April 22 this year. Her niece, Kathy - described as "the niece we all wish we will have someday when we are living in a nursing home" - reflects on her life with her aunt.
"I remember as a child going with my parents to visit Sister Julita. She would always show us her classrooms and walk us proudly through the schools where she ministered. She was so enthusiastic about the students she taught and cared for. Today, when we reminisce, my aunt expresses her undying love for teaching and for her students. She keeps a notebook with all of their names on her nightstand."
Sister Julita was born on April 27, 1916 in Chicago. She professed her first vows in 1935 at the age of 19. She has been a member of the School Sisters of Notre Dame for 83 years. Sister Julita taught and served as principal in Catholic schools around Chicago and across Wisconsin for nearly 60 years. Upon her retirement, Sister Julita continued to volunteer for an additional ten years following her first decade at St. Columbia School in Chicago. 
Sister Carol Brunner, medical advocate for SSND at Resurrection Life Center in Chicago shared a few words about Sister Julita. "Julita is quite a great woman - who has a pretty sharp mind!  She can recite the 50 states in alphabetical order and she remembers so much of her early years of teaching and serving as a principal at St. Columbia and St. Michael School. Her rosary is in her hand all day long. She loves grilled-cheese sandwiches and chocolate marshmallow cookies. She attends Mass daily, and three times a week she participates the best she can in group exercise. She loves to talk and tell stories. Her favorite words are 'May God reward you' and she waits for you to answer 'God bless you.'"