SPIRITUAL DIRECTOR AS LEARNER
Forty years ago a sister in my religious community asked me, "Why is it that people who are always talking about prayer and spiritual matters show no interest in social justice?"
I wanted to ask her, just as pointedly, "Why is it that people who are always talking about justice causes show no interest in prayer or spiritual matters?" But I did not. Instead, I became enlisted in one of her causes. This has changed my way of seeing the world and myself in the world. It also influenced the way I view spiritual direction.
At the time of this conversation, I was a novice spiritual director in my religious congregation, working with women who wanted to join us in our way of life. I was living in Chicago, Illinois, USA. My friend was an activist who had been in the front line of the African-American civil rights march from Selma to Montgomery, Alabama, USA, in 1965 and every other just cause since then, especially those pertaining to women and to race. In the 1970s, when this conversation took place, she was heavily into ministry to women in prison. An effective leader and organizer with a personal charisma that people found difficult to resist, she made use of every resource at her disposal. Her credibility with women's religious communities in the United States was remarkably high. And so, from Mississippi to Maine [USA], she tapped the talents of sisters for various prisons and jails. I was one of those sisters. In the fall of 1977, I agreed to teach creative writing to women once a week for six weeks at the Cook County jail in Chicago; I knew nothing of what that would mean in my life. I said yes because I thought it would be a good thing to do, and I knew that I had the skills to do it. It was also something I wanted to do. I did not know, however, what I did not know. I did not even know that I did not know.
Somewhere early on, however, I became aware of the transformation that was occurring in me because I was with prisoners. First of all, I was no longer able to see stereotypes. Second, I was no longer comfortable with absolutes. And third, I was redefining justice, coming to see it as something that we know from within, something we claim for ourselves and for others, something once we know we know it, we will proclaim not only by what we do but also by who we are. Like inner peace, it will speak for itself.
Doing Away with Stereotypes
One of my early lessons in prison stemmed from a criminal event that happened near the University of Chicago in 1977. During a robbery, a university student was pushed or fell from a window to his death. A man and a woman, admitting to the robbery, were also charged with murder. Both were convicted. The woman, Dee, was one of the first women I encountered in prison. During the long months she awaited trial, Dee participated in one of the first creative writing workshops I conducted at the Cook County jail. Later I taught her at the women's correctional center in Dwight, Illinois, where she did her time. From her I learned, early on, some fundamental lessons about prison and the imprisoned.
In his book The Dean's December, Jewish American novelist Saul Bellow uses the criminal event as a part of his story. He creates out of Dee the character Riggie Hines. The fictional Dean is an academic administrator at the university where the murdered victim in the novel was a student. Dean says of Riggie, the woman accused of the crime: "I suppose ... if you could get into that tight skull of hers, you'd find it packed with grotesque ideas, deeds, or pictures." This assessment evolves in the novel as substantial to the character of Riggie Hines. Bellow presents a solid stereotype of a female criminal, remorseless and dangerously resilient.
Dee, the real-life Riggie Hines, may have had a skull "packed with grotesque ideas," but she also had a good mind and an imagination packed with dreams as well as dreads. In the Cook County jail, she wrote of herself, stagnant in a jail cell: "My mind drifts / like a dented Bud can / on a polluted lake." She also described herself: "I am a thief, a mugger, a hooker / a woman, a mother, a lover / I am real. I am me." She was many things.
Pending trial, Dee was energetic and assertive. In preliminary hearings, she admitted to the robbery but insisted the death was an accident. Ultimately she plead guilty to both charges. Through the initial incarceration in the Cook County jail in Chicago to her time in the women's prison in Dwight, I had her in class. I was conscious of her unpredictability, watching her swing from high energy to lethargy. I was to learn that her contrition about her crimes had its contin­gencies. The only constant about her was that she would return to jails and prisons with some regularity. Dee was more - much more - than Bellow's Riggie Hines.
Facts are often the enemy of truth. That is one of the early lessons I learned from people like Dee - thieves, muggers, hookers, mothers, and lovers. The longer I taught in jails and prisons, the better I understood that women and men who do bad things are often not bad people. The truth about them is seldom the sum of the facts. Essentially they are not different from the rest of us. It is the content of their lives that is different.
Letting Go of Absolutes
As I came to understand the personality of prisoners, I realized that being with prisoners effectively as a teacher was not a matter of discipline or control, but rather one of flexible and open presence. Eventually, I discovered that I had let go of the image I had of myself as "teacher." I was simply another learner. With that change came inner freedom. I was not constrained by the "rules" (many of my own making) of classroom protocol. I was guided by intuition.
I was also able to look around me, to see prison as a place of contradictions. I no longer thought of prison simply as a place where criminals were housed. Nor did I any longer think of the women and men in prison simply as criminals. Their ability to hope in the midst of despair, to transcend the futility around them, to insist, quietly, on learning, was a source of wonder. Many of them found something to believe in.
Many of the women and men whom I taught were articulate, well-read people. They were also quite savvy. Their street sense and personal histories of survival shaped creative views of society and reality that were foreign to me. Whether I agreed with them or not, I learned from them. Nothing in their surroundings encouraged creative thinking. Yet they thought creatively.
I once heard a Jesuit theologian say that the most important word in theology was nevertheless. My work with prisoners was making a nevertheless person of me.
Concomitant with the diminishment of absolutes in my thinking was an increased awareness of justice. I had always thought of justice as an abstract - something to do with systems or even categories of people. My interactions in the prison, however, forced me to acknowledge it in the here and now.
I learned experientially that justice is not an abstract concept. It exists in relation to the lives of people. Their lives are shaped by our practice of justice as well as by our failure to practice it.
In the book Doing Life: Reflections of Men and Women Serving Life Sentences, author and Professor of Restorative Justice at Eastern Mennonite University's Center for Justice and Peace-Building, Howard Zehr, discusses in the essay at the end of his book the distorted focus of justice in the United States. He says, "Stated simplistically, justice can be summarized in three questions: What laws were broken? Who did it? What punishment do 'they' deserve?" He continues, "The central questions of justice ought to be: Who was hurt? What are their needs? Whose obligations are they?"
Justice is not something we do, but something we are. It is part of the fiber of our existence. We do not segment our lives into social justice ministry and "other" activities. Rather, we live holistically, responding to people and their lives holistically. With those marginalized by poverty, or displacement, or imprisonment, or any other isolating factor, we are aware, first of all, that they are persons, with the same dynamics of life and death, suffering and pain, that everyone experiences. They are our sisters and brothers. We care for them, before we care about the cause that they - as part of a generic group - might generate.
Connection to Spiritual Direction
In retrospect, I also realize that what I learned from being with women and men in prison has served me well in spiritual direction. I was not really there to teach them anything. Rather, I was there to provide the gift of unencumbered space in which they could see beyond the confines of their circumstances to the goodness they brought to those circumstances and the unique calls within that goodness. They came to this largely through writing.
As a teacher of writing, my role was mostly to encourage others, to empower them to come to grips, through language, with what they were discovering and to clarify that for themselves and for their readers. As spiritual director, my primary responsibility is that of prayerful presence, accompanying others as they explore what they are given to see. Some of my prison classes might well have been spiritual direction sessions.
I began offering spiritual direction at approximately the same time I began teaching in prisons. It is not surprising then that there is a connection between the two. What I learned by being with prisoners affected me as a spiritual director.
First of all, there is no stereotypical spiritual directee, regardless of appearances to the contrary. Therefore there can be no "canned" sessions. The only way I can approach spiritual directees is through close listening, interjected with spare and incisive questions. I am there to assist them in their search for clarity.  I, therefore, need to be clear about my role: I am not a judge, nor a problem-solver, nor a decision-maker. Through careful listening, I can come to know the spiritual directees and consequently ask some pertinent questions that, in turn, may help them to come closer to knowing themselves. Each spiritual directee is different. Each will deepen and grow in God accordingly.
Secondly, there cannot be absolutes attached to spiritual direction, no "musts." Some spiritual directees find it helpful to meet for spiritual direction on a regular basis. Others prefer to come when they feel that the need is upon them. Some spiritual directees have a great deal to say; others very little. Some spiritual directees find it helpful to deal with details; others prefer to stick to the basics of their lives and interactions. It is my place as spiritual director to sort all of this out, not simply to redirect them into a format that will make it easier for me. I must take them as they are. If they are sincere about the process, grace will lead them. Often they must hear themselves speaking before they can hear God.
Third, justice is inherent in everything. As spiritual directees extend themselves more and more to others, they will see the world around them as a place to love, and this will bring them to a sense of compassion for those who do not experience it as such. For compassion is a natural fruit of genuine spirituality. It is also a necessary prelude to just action. Compassion leads to just action.
In prison, each class I taught was a lesson for me. Similarly, each person who comes to me for spiritual direction knows something about life and about God that I do not know. Thus my position is not only one of companion but also of learner.
Spiritual Director in Process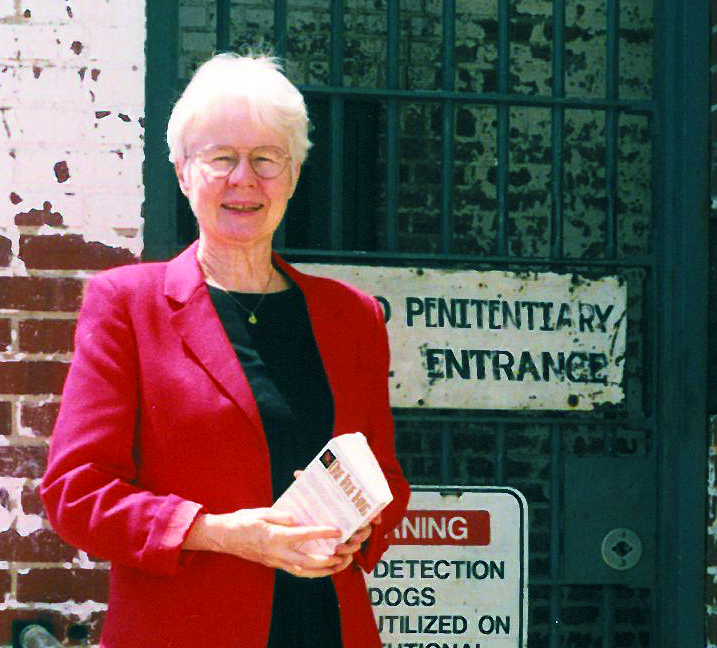 The Jesuit who mentored me, along with four other sisters, in giving Ignatian-directed retreats reminded us frequently that God was the spiritual director. We were simply God's instrument. Nevertheless, he insisted, we should not underestimate the importance of an instrument. It had to be precise and fine-tuned, focused and steady. Over the years, I have come to see the truth of this observation. When we as spiritual directors travel with others on their sacred journeys, we are at the same time learning our own paths to God. This requires awareness, the ability to listen, and the courage to change.
Awareness comes from being attentive to the spiritual nuances in and around us, from noticing. It requires a capacity for solitude, for prayerful presence to ourselves and to others. It comes from a contemplative place within us, a place not of logic but of intuition. And it needs nurturing.
Awareness is accompanied by a deep capacity for listening. Living in a state of awareness, we are less preoccupied with our individual egoistic needs. We learn that the "I" that has preoccupied us so much of our time is an illusion. We begin to hear from within a voice other than our own. God speaks in us. What we hear is a call to change, to conversion. To respond to that call takes courage.
Conversion is never easy. It involves, first of all, purification. That seldom comes in the form we expected. It is often in the daily things, the unheroic challenges that call for ordinary gestures of surrender, that purification comes. Whatever the source, if we are aware and able to listen, we will submit. And we will experience in the accumulation of submissions the grace to change.
This inner work is necessary for us as spiritual directors. It conditions us to be fully present to spiritual directees, to their struggles and to their hopes. We cannot give what we do not have.
Spiritual direction, as we know, is primarily God's work. Nevertheless, it is a grave responsibility for the persons who agree to assume the role of spiritual director. Often enough, we will do it on our knees. The best spiritual directors are probably people who live their lives fully and joyfully, integrating into their lives not only their role as spiritual directors but also their awareness of human needs around them. They are people of faith who know experientially that, as Julian of Norwich says, "God made us, God loves us, God keeps us." And spiritual directors are always learners.
Bellow, Saul. The Dean's December: A Novel. New York: Harper and Row, 1982.
Zehr, Howard. Doing Life: Reflections of Men and Women Serving Life Sentences. Intercourse, PA: Good Books, 1996.