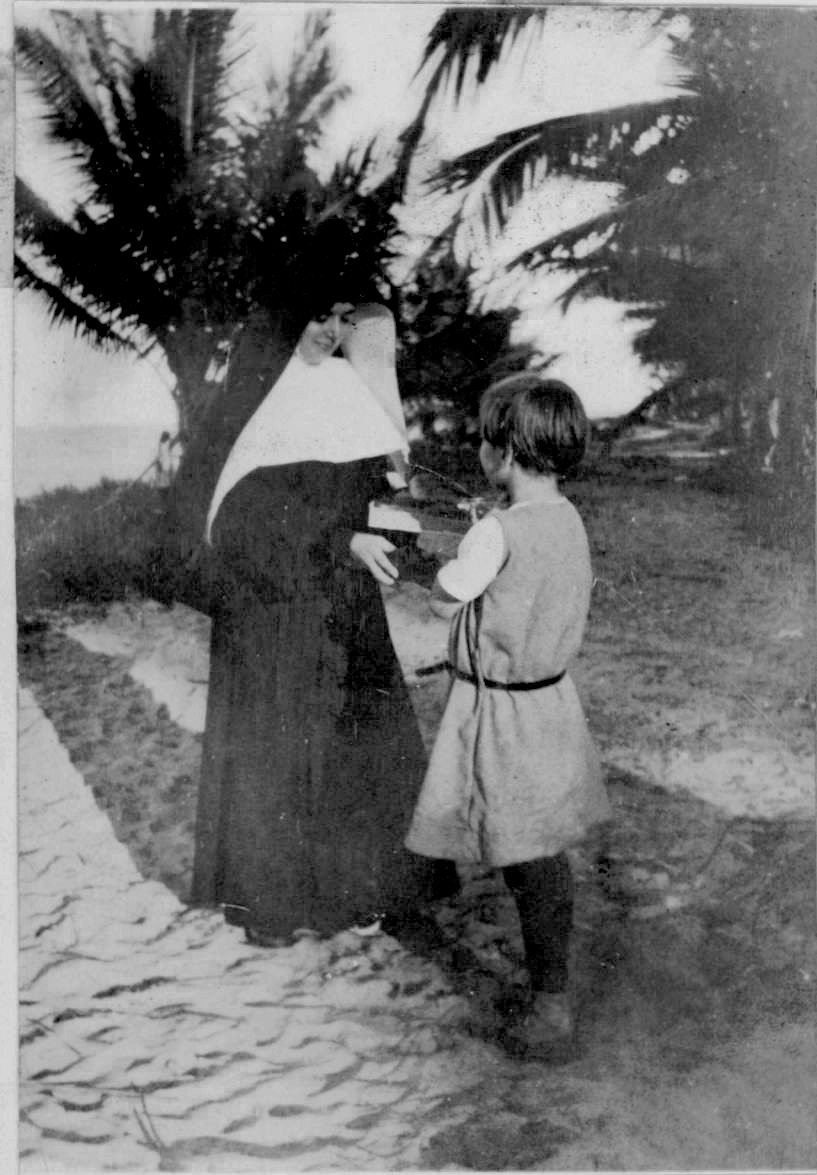 Sister Mary Etto Staab was born on All Souls Day, November 2, 1891 in Baltimore. She was the second girl of three children, to her German parents, Mary Buseh and Hugo Staab. As she writes in her autobiography, "At the early age of five, I was taken by my saintly mother to St. James School where I learned to love and admire the good sisters. This love and admiration grew with the years and my only desire was 'to be a sister'. On the day of my First Holy Communion I begged our dear Lord to give me the grace of a religious vocation and I felt He had answered my prayers."
Sister Mary Etto professed her first vows with the School Sisters of Notre Dame on July 22, 1912. She was first missioned to St. Joseph's on 87th Street in New York. At the time of her final vows in 1919, Sister Etto volunteered for ministry in Puerto Rico. "Zeal for souls and a desire of missionary work prompted me to volunteer for our mission in Puerto Rico. Rev. Mother Agnes willingly accepted me and on August 30, 1919, with several other Sisters I set sail for the Isle of Enchantment where I have spent twelve years so far, and with the Grace of God hope to spend more, until the dear Lord, the Friend of the Poor, calls me to a happy reunion with the dear ones I left for His name's sake."
In all, Sister Etto spent twelve years as teacher of boys at San Agustin, Puerta de Tierra, three years as superior and principal at Perpetuo Soccoro in Miramar and three as Mother Superior of a community known as the Sisters of the Buen Pastor. During her years of service in Maryland, Sister Etto ministered at the Cathedral and St. Ann's Baltimore, St. John's Frederick, St. Mary's Bryantown and St. John's Westminster. At the Institute of Notre Dame, Sister Etto ministered for 15 years from 1959 – 1977 and taught Latin, Religion and German. 
Sister Etto was an educator for 67 years. She was known for her unlimited energy, endurance and organization. In the homily delivered by Sister Louis Marie Koesters at the funeral of Sister Mary Etto, she said, "Despite her long history of accomplishments, her ability to do things quickly and graciously, her straightforwardness in dealing with others, and her host of friends, Sister Etto had a modesty and reserve that sent her hurrying to the switchboard, the pantry, the needlecraft corner so as not to be in the limelight at the time of recognition and celebration. While Sister could accept a compliment with humility, she more often than not, waived it aside with her pretended rebuff in the familiar words: 'You old kukululu.'"
Sister Louis Marie was sure Sister Etto smiled broadly that afternoon when she heard the beatitudes as they apply to her. She went on to paraphrase that modern day sermon on the mount.
Blessed are you in your poverty; for you were not concerned with what you would eat or drink or what you would put on. You did not ask for human security but in your poverty, you brought to the community your aspirations, your talents, your ideas, and your limitations.
Blessed are you because you were gentle; you allowed yourself to be led by the Spirit and formed according to His Word. 
Blessed are you because youhungered for justice; you did not accept compromise and would not tolerate mediocrity.
Blessed are you because your heart was pure; you gave yourself to a more profound understanding of your commitment to the incarnate Son of God.
Blessed are you because you were merciful; now you will receive mercy and no one will remember your faults.
Blessed are you because you wanted to be an instrument of peace; you became attentive to the little people, the sick, the wounded and lonely people.
Blessed are you because you were not swayed by public opinion. You strove to be loving and encouraging and always honest.
Blessed are you because you did not fear to speak the truth in love.
Blessed, blessed are you. Enter into the Joy of your Lord.