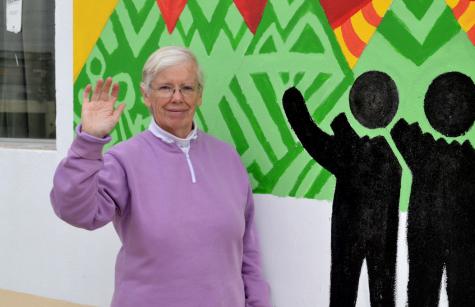 As a pre-teen, Sister Patricia Ferrick, SSND, envisioned her future as a jet pilot or possibly a Maryknoll missionary doctor in some remote area. 
However, after meeting School Sisters of Notre Dame for the first time at St. Saviour High School in Brooklyn, New York, she recalls being so inspired that she decided in her junior year to enter the congregation after graduation. It would be more than 20 years before she would realize her childhood dream for missionary work and ministering to the sick, although not in the way she had envisioned. 
At first, she taught. A stint as a sixth grade teacher was followed by assignments teaching history, religion and English in schools in New York, New Jersey and Massachusetts. She also served in pastoral ministry in New Jersey and New York City. 
"Even though I had volunteered in the novitiate to go to Chile, it was more than 20 years later that I received the assignment to go to Santiago," she said. "My first months there were spent learning Spanish and helping out in the parish with the ministers of the sick. Helping the sick in a faraway place is when my childhood aspirations first came together." 
She began working in the social action department in St. George's College in Santiago, Chile, and continued working with the formation of ministers of the sick in two parishes. For six years, she worked in various projects involving high school students, teachers and parents. Her next ministry was in a church movement, New World Foundations, where she became a member of the council and was responsible for member formation. 
Her ministry expanded into a volunteer role within an interdisciplinary, hospital-based project accompanying individuals and families with HIV/AIDS. Once again, her ministry of helping the sick and living in another part of the world had come together. 
"After a six-month sabbatical studying at the Latin American Theological and Pastoral Institute in Bogota, Colombia, and four months in a hermitage, I responded to a need in Pedro Juan Caballero, Paraguay, for an SSND to work with young women interested in a religious vocation," she said. 
Returning to Chile in 2000, she went to Los Andes, where the sisters who had been in Santiago had moved. She worked in pastoral ministry in Santa Rosa Parish, accompanying prayer groups, visiting the sick and in the formation of parish missionaries. In 2004, the bishop asked her to assume responsibility for the diocesan "Infancia Misionera" (Holy Childhood) program and to provide for the continual formation of the young monitors who worked with the children in the schools and parishes of the diocese.
"For me, three of the characteristics necessary for people who work in other cultures – as well as for people who work in their own culture – are prayerful confidence in the power of God who works in us; the respectful acceptance of people as they are; and a good sense of humor," said Sister Patricia, who recently returned to the United States and now lives in Douglas, Arizona..
Her current ministry has a central focus on migrants and those seeking a better life in the United States. Along with several other sisters, S. Patricia helps run a migrant shelter and carpentry workshop in Aqua Prieta, Mexico. There she is able to provide support and teach life and job skills to people along the US/Mexico border.
"I believe that my greatest contribution to the people with whom and for whom I ministered was assuring them that they were loved by God and by me as they are, to try to see the good and the potential in each person, and to encourage them to use their God-given gifts and talents for their own happiness and that of others."