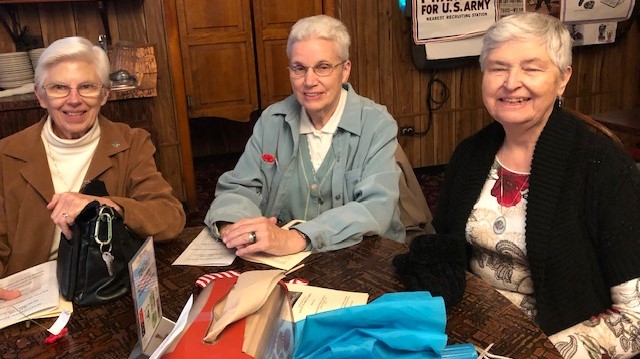 Sister Shirley Stockus was honored on Sunday, November 4 as part of the "17th Annual Salute To American Heroes," presented by the Veterans Committee in Mayfair, on the northwest side of Chicago. The Salute honored men and women who have served in the armed services, first responders, and educational and civic leaders from the Mayfair community. Honorable Margaret Laurino, Alderwoman, was the presenter. Sister Shirley received a Resolution from the City of Chicago City Council and an American Flag that had flown over our Nation's Capitol on October 5, 2018. Other SSNDs in the Chicago area attended the celebration in order to support Sister Shirley and to celebrate with her.  
The program for the event had the following to say about Sister Shirley:
For fifty-one years, Sister Shirley Stockus is been the kind of teacher every child should have. Gen­erations of students became better, and happier, adults because of her. For the past twenty years, Sister Shirley has taught Third Grade at St. Ed­ward Grammar School, a Blue Ribbon school, where she is also Assistant Principal and Chair of the Prayer Committee. Her work contributed to St. Ed's achieving national recognition as a Blue Rib­bon School. She has taught Third Grade for forty of her fifty-one years of teaching. Her peers de­scribe her dedication and devotion to her students and school as boundless and inspiring. Her stu­dents adore her.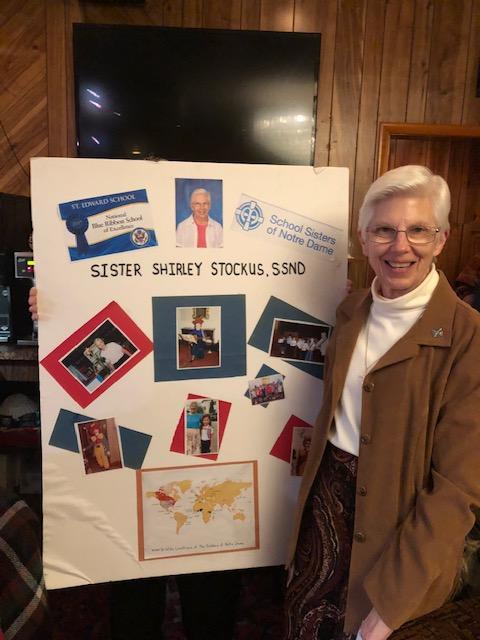 As Sister Carol Brunner said of Sister Shirley, "She's creative. She's compassionate. She inspires me, and I know she inspires all of her students here at St. Edward School. They know she loves them and cares about them and has their best interests in her heart."
Sister Shirley is known as a performer, who engages her students with her energy, especially with her love of mu­sic. She took piano and organ lessons, was the director of children's choirs at these schools for thirty years, and has directed and staged seven grammar school musicals. She has sung in adult choirs for twenty-seven years, including the Sunday Mass choir at Loyola University. She was a parish organist for seven years, and she has played guitar for School Sisters of Notre Dame services for fifty-two years. She was the Postulant Director for the Chicago Province of SSND for ten years where she was in charge of assisting and helping in the spiritual formation of wom­en who aspired to join the order.
In 1979, Sister Shirley was profiled in The New York Times, because she was a nun who also worked as a pro­fessional clown. As she told the Times, "Bringing joy to people and lifting their burdens is not unbecoming of a Christian." While she accepted fees to clown at birthday parties and business functions, Sister Shirley spent much of her time giving volunteer performances at hospitals, schools and senior centers.
For her decades of service, Sister Shirley has earned the Archdiocese of Chicago's Distinguished Service Award, and she has been named an "Early Morning Hero" by WON. And today she is recognized as one of Mayfair's American Heroes.
Congratulations to Sister Shirley for this well-deserved honor!