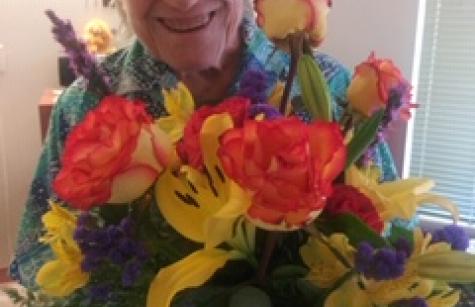 Sister Carol Brunner, local leader at Resurrection Life Center (RLC) in Chicago, updated us about the Jubilee celebration for Sister Patricia Ostdick, whom Sister Carol once had as a teacher while growing up in SSND schools:
Today (July 20) was Sister Patricia Ostdick's 70th Jubilee. She actually took her vows on this day 70 years ago.
I am not able to go into Resurrection Life Center yet, so we celebrated from the outside. Pat received a "Congratulations" balloon, a beautiful bouquet of fresh and colorful flowers, posters for her room and window, cupcakes for all of the Sisters in RLC, and a special "70" cupcake for Sister Pat, along with cards and a few other "goodies." Sister Pat was very happy and grateful despite all of the restrictions at this time at RLC. Some of Pat's family members called her, and two of our Sisters, Julice and Marcianne, visited outside of Pat's window in the afternoon. We are so fortunate to be able to still celebrate these special days in some way in spite of COVID-19 restrictions.