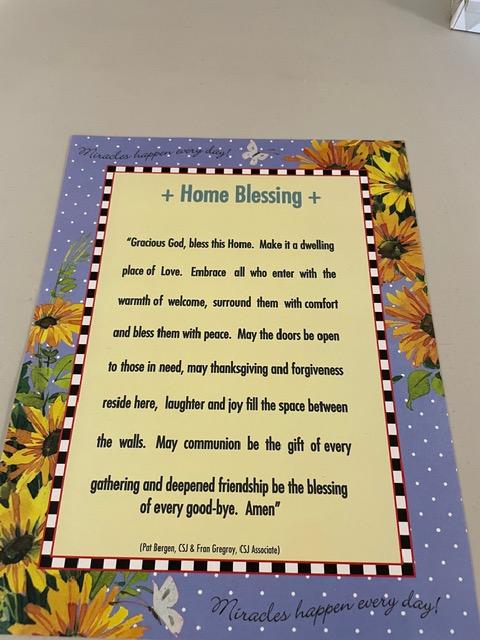 Dear Sisters, Associates and Colleagues,
This note comes to you as an update on the move of 58 of our sisters from Villa Notre Dame in Wilton to The Watermark in Bridgeport, CT. With the reality of the closing of Villa Notre Dame, many beautiful and "bittersweet" rituals were celebrated and livestreamed from the VND chapel, the heart of the pentagon. Last week, 18 sisters made the transition to their new home. They spent the days and the weekend unpacking their personal belongings, getting familiar with their surroundings and meeting the Watermark residents and administration.
Each day this week, we will move about 7 sisters per day. We expect that all sisters will be moved by the end of this week. Once the sisters have moved and have had time to settle in, the Community Leadership Team (CLT) will begin to dialogue with the sisters to determine how they will want to live SSND community life at The Watermark. The Implementation Work Group will begin to focus on securing the closure and the sale of Villa Notre Dame.  We will still have staff on the property to assist with the ongoing care of the property. The Development Staff, which operates out of the stone building, Our Lady of Perpetual Help (OLPH), will continue to occupy their current offices until notified otherwise. Eventually, the JPIC office and Technology offices will join the Development Staff at OLPH.
While Sister Roxanne, our General Superior, is doing visitation with the Central Pacific Province, she has agreed to include visiting the "new homes" of the sisters in our province who are living at Stella Maris, Ozanam and The Watermark. We are grateful to Roxanne for being available to our province in this way while she is here in the States.
Please keep all of our Sisters in your prayers as they make these transitions and embrace this new moment in their lives.
Sister Charmaine Krohe, Provincial Leader