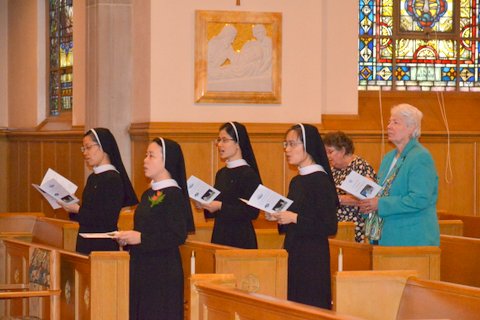 Four Vietnamese Daughter of Our Lady of the Holy Rosary Sisters who are living in community with our Sisters at Villa Notre Dame in Baltimore while they attend Notre Dame of Maryland University renewed their vows in a special ceremony on August 29. Sister Charmaine Krohe, Provincial Leader of the Atlantic-Midwest Province, accepted the vow renewals of these beloved young Sisters on behalf of their Superior General, Sister Mary Ignatius Nga Thi Nguyen.
The Sisters prepared the liturgy, read the readings in English, sang the responsorial psalm in Vietnamese, and prepared the flower arrangements for the altar. Sister Hoa also delivered the following thank-you message on behalf of the four Sisters at the ceremony.
Dear Father Peter Bao, Father Ed, Sister Charmaine and Sisters,
First of all, I give thanks to Almighty God and the Blessed Virgin Mary for choosing me as a Daughter of Our Lady of the Holy Rosary to serve Him and the Church.  It has been 11 years since I entered the Convent in Bui Chu, Vietnam, and thankfully I am renewing my temporary vows for another three years.
I also take this opportunity to thank my Superior General, Sister Mary Ignatius Nga Thi Nguyen, and all the Sisters of the Holy Rosary for their great, constant, and never-ending love and support that they have given me through the years.
I thank Father Ed, who is celebrating Mass with us, and Father Peter Bao Quoc Nguyen, who celebrated this mass of Thanksgiving of my vow renewal today. Father Peter also helped me to come to the United States of America to further my education, something for which I am extremely grateful.
Additionally, I thank Sister Charmaine, the Provincial of the AM Province of the School Sisters of Notre Dame. Thank you so much for representing my Superior General Sister Mary Ignatius Nga Thi Nguyen by accepting the renewal of my vows today.
I also thank Sister Marianne, the Local leader of Villa Assumpta, and all the other Sisters living in Villa Assumpta, who have welcomed me and Sisters Nga, Theu and Len with open arms during our studies here in the United States. Your hospitality, guidance, and teaching for us are much appreciated.
Last but not least, I would like to thank all the Sisters of the AM Province of the School Sisters of Notre Dame for their love and great example of dedication to serve God and His church. Every day I learn lessons from you that inspire me to be a better Sister. Since the four of us are away from our Vietnam motherhouse, we feel that this community is our second family, so I ask for your continuing prayers, help, understanding and love during the rest of our stay in this wonderful community.  Please be assured of my prayers and love for all of you always.
Thank you so very much!