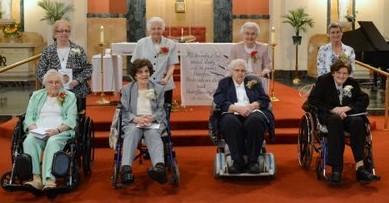 June 6, 2020 was a day of joyful celebration for our eight Jubilarians at Maria Health Care Center, Rosary Community and Villa Assumpta in Baltimore. Sisters Margaret Bauer (80 years); M. Trinitas Bochini, Margaret Mary Glick, Elizabeth Orr and Elizabeth Sokel (70 years); Elizabeth Marie Kelly, Iris Marie McGann (60 years); and M. Yvette Trentler (50 years) were honored at Mass and enjoyed a festive meal afterwards. The celebration was small and heartfelt, with Sisters who reside at VA in the chapel and those in Rosary and MHCC viewing on the closed-circuit television feed from the chapel. No local SSND, family or friends could attend due to COVID-19 restrictions.
Comments from a few Jubilarians:
Jubilee 2020 was a SPIRITUAL BEAUTY. All Jubilarians were able to take part in the liturgy. It was wonderful to be present with the sisters and in chapel for the Eucharistic celebration.  What a joy to listen to our Vietnamese sisters. It was a super day, and thanks to all who made it happen. - Sister Margaret Mary Glick (Gold and Ruby – 70 yr. Jubilarian)
Despite this unique year, my experience of this celebration was exquisite. My heart sings a melody of gratefulness for all who participated. - Sister Iris Marie McGann (Diamond – 60 yr. Jubilarian)
In his homily, our celebrant, Father Paul Zaborowski, OFM, Cap., noted ministries and/or blessings of each Jubilarian individually. When it was my turn, I was thrilled that he said I served in a number of ministries and "loved each and put her whole heart and soul into each." - Sister M. Yvette Trentler (Golden – 50 yr. Jubilarian)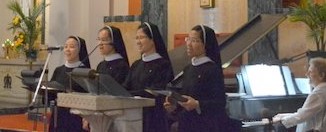 In March 2019, four Franciscan Missionaries of the Holy Rosary from Vietnam joined our community at Villa Assumpta. The Sisters are students in the English Language Institute at Notre Dame of Maryland University and are fully engaged with life at VA. They shared their gifts most generously: arranging the flowers in chapel, singing a meditation hymn after Communion as well as two songs during the meal, and adding to the joy and beauty of the day.