Recently, General Superior Sister Roxanne Schares and Provincial Leader Sister Charmaine Krohe began a journey to visit our Sisters who have transitioned to their new homes. Sister Charmaine recently shared details of their travels.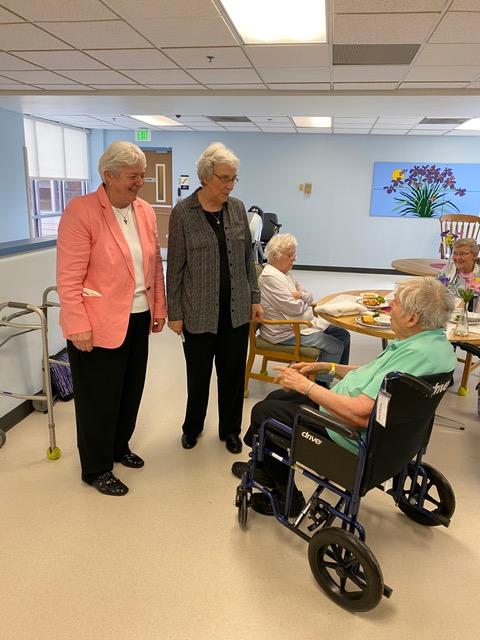 On Monday, we visited our 12 Sisters at Stella Maris in Baltimore, where the morning began with prayer prepared by Sister Paula Dukehart of their Community Leadership Team. Each Sister shared information about herself with Sister Roxanne and she, in turn, shared news about the congregation with them. Our time ended with lunch together, followed by the drive to visit our sisters in Ozanam in Bayside, NY.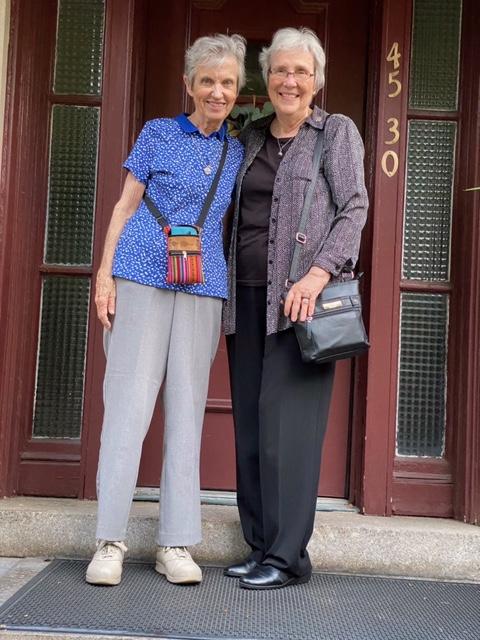 We arrived at St. Kevin's Convent in Flushing, NY, where we met Sister Jacci Glessner, Local Leader, enjoyed a relaxing meal at Jacci's favorite restaurant and spent the night. The next morning began with a visit with Sister Phillip Ann, Carmelite administrator, to learn about Ozanam and to hear how Ozanam was coping with the pandemic. We received special permission to visit our 28 sisters. Twenty-eight times we gowned, goggled and masked up. The Sisters were delighted when they saw each of us and especially when they heard that our General Superior had come to visit them. Jacci followed behind us to bring the Eucharist to each one. We left each Sister smiling and asking to be remembered in prayer.
Late afternoon on August 31, we arrived at Watermark in Bridgeport, CT, where we were met by the administration of Watermark and our Sisters. Roxanne met with the administration to learn about Watermark and to tour the facility. We then shared a wonderful "dining experience" with our S isters in the large and attractive dining area.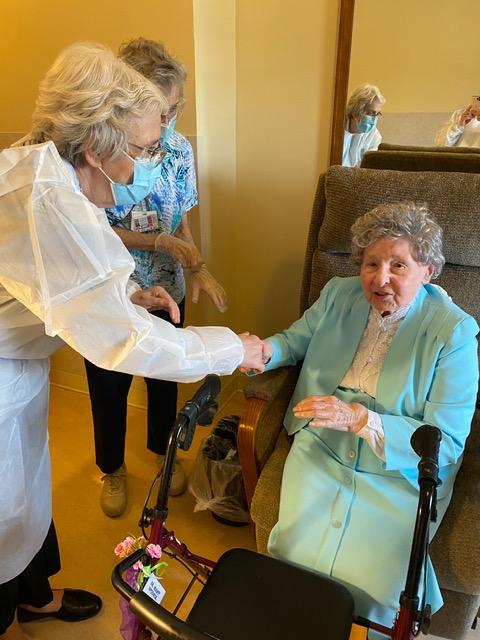 We began the next morning in the auditorium, where we prayed together and spent time with Roxanne, hearing about the congregation and having time for comments and questions. During our two days and nights at Watermark, both of us were able to visit many of the apartments of our Sisters and to hear about their personal transitions.
As we departed Watermark on September 3, we stopped at VND to see how the remaining staff were doing and to get a sense of the work that is being done there. We are grateful to Sister Roxanne for spending this time with us during her time in the US having visitation with the Central Pacific Province and in the midst of her own family visits. We wish Sister Roxanne safe travels on her return to the Generalate in Rome. Many blessings.