By Sister Mary Benilda Dix, Milwaukee, Wisconsin
This piece was first published in 1986, soon after Blessed Theresa Gerhardinger was beatified by the Catholic Church.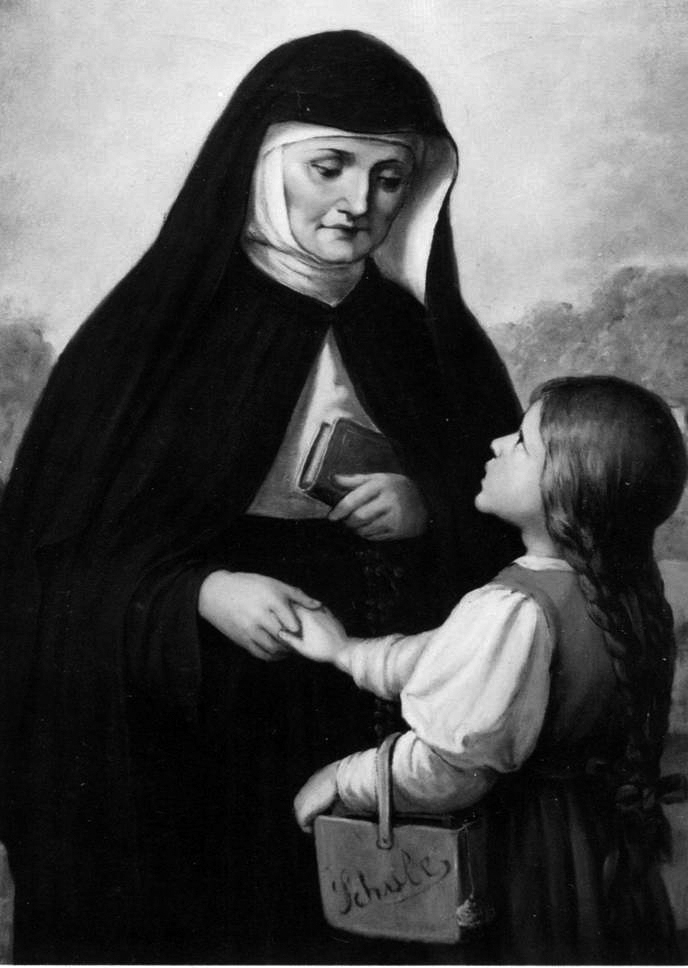 Who is this woman with "Blessed"  before  her name - the subject of invocations, press releases, homilies and an image on medals and holy cards? Called by many names - foundress, educator, woman of vision, searcher for God's will - she herself chose only one: Mary Theresa of Jesus, the name she took when she pronounced her vows as the first School Sister of Notre Dame.
Her baptismal name, Caroline Elizabeth Frances, was a gift from her parents Willibald and Frances (nee Huber) Gerhardinger who were married less than two years when she was born to them on June 20, 1797, in Stadtamhof, Bavaria.
Five years later, a shadow fell on the area. To repay losses suffered in the Napoleonic campaigns, the German princes confiscated Church property, and many religious lost their institutions. Because the sisters in the local school were educating village girls, deemed "a useful work," they were permitted to remain.
Thus it was that, at the age of six, Caroline had a sisters' school to attend. An apt pupil, she was preparing to "graduate" at the age of twelve when the last weeks of her elementary schooling were darkened by the suppression of her loved cloister-school. Although the sisters, Canonesses of St. Augustine, had weathered the earlier storm of secularization, they could no longer withstand the hardships of war taxes and other assessments, and the government's interference with their schools, methods of education, and even their convent life.
Distressed by the sisters' departure on September 1, 1809, Father Michael Wittmann, the pastor, put his assistant in charge of the school with 120 pupils in one room. Nine days later, Caroline received a certificate stating that she had successfully completed her work and was "dismissed from the elementary class."
Her "dismissal" was not to be as final, as she had imagined. Although she had hoped to be able to help her mother manage the household and assist her shipmaster father in his business, Father Wittmann had other plans. Would Caroline consider teaching? The pastor was asking her help, her parents were encouraging - she agreed and went back to the class­ room. This openness to the Lord's call was to remain a characteristic of her long and fruitful life.
In three years she had her teaching certificate and eventually became director of the Royal Girls School at Stadtamhof, a teacher approved by the king and deeply loved by her pupils. Through these years, Father Wittmann had been sharing with her his concern for the poor, his gift for teaching, and his vision of education.
At the same time, Caroline began to experience an irresistible urge to give herself to God entirely. When she shared her desire for religious life with Father Wittmann, he admitted that a convent of religious teachers had been his hope and prayer for many years.
Despite several false starts, painful turnovers of personnel, opposition from townspeople and clergy, and the death of Bishop Wittmann, Caroline continued to believe in his dream. In 1833, with the help of another dedicated priest-friend, Father Francis Sebastian Job, Caroline's search for the will of God led her from her familiar hometown, with its well-established school, to Neunburg vorm Wald. There, on October 24, she and two companions came together in religious formation. With her companions she was respectful but firm in dealing with church and civil authorities; she exhibited unusual business and financial sense, as well as maintenance and building skills.
Through it all, she clung to the belief that her community was the work of God, and she did all she could to assure its future. When she finally secured the approval of the king and the bishop, the latter also appointed "Miss Gerhardinger" as superior of the new religious institute.
By the beginning of the 1835 school year, the community was settled, and Caroline took time to pronounce the religious vows she had been preparing for through a twenty­-year "novitiate" filled with trying tests of her resolve. On November 16, sobbing in happiness, she prayed: "I, Mary Theresa of Jesus, vow and promise God Almighty.. . to live in obedience, poverty, and chastity, and to instruct female youth."
Poor as the sisters were, postulants applied for admission in such numbers that the community quickly outgrew its quarters. In 1843, Mother Theresa moved the motherhouse to Munich, a site that provided more space, as well as the academic and cultural opportunities that she considered essential to the training of future teachers.
She encouraged the sisters to note the trends, test innovative methods, and adopt whatever was useful, even as she reminded them that who they were as Christian women was more important than how and what they taught in the classroom. The School Sisters rapidly became pioneers in the development of the nineteenth century education system in Germany, as they were later to make an essential contribution to the parochial school system in America.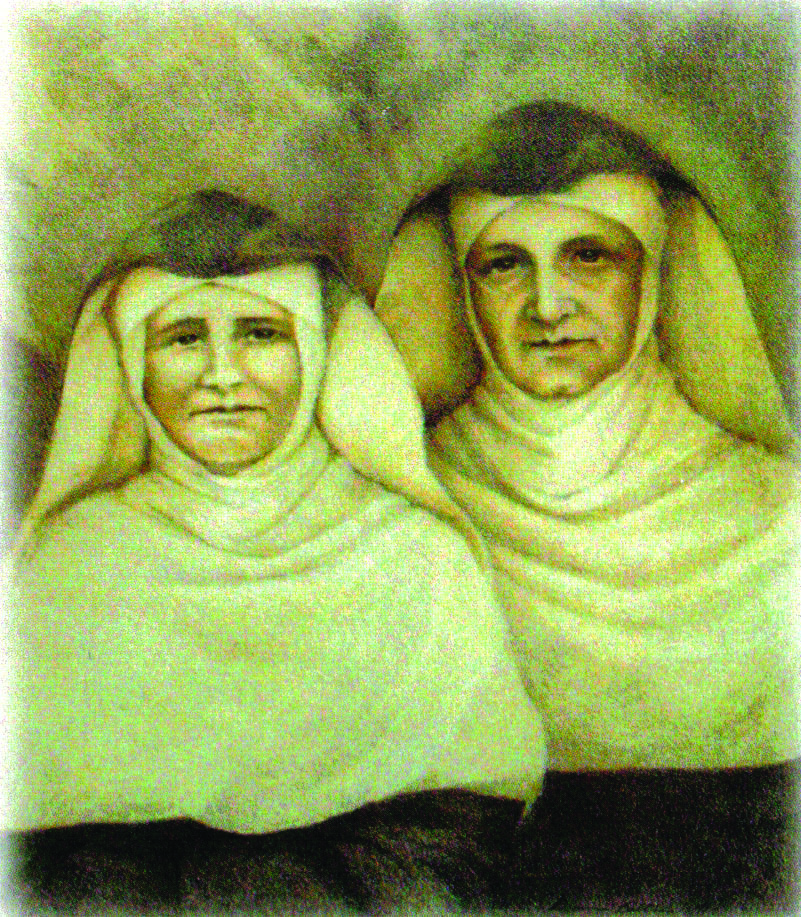 The congregation was only fourteen years old when Mother Theresa came to the United States with her first five missionaries. Lack of pre-­arrival communication led to misunderstanding and a rather disheartening reception when the little band arrived in New York on July 31, 1847. In a long letter home, Mother shared her misgivings and her hindsight realization that maybe she should have come alone to explore possibilities before bringing a community. "God has wanted it this way, however, I am sure," she wrote.
By the end of September, undaunted by the freely given advice to return to Europe, the sisters, including Mother Theresa herself, were teaching in four schools and being approached by young women in­terested in joining them. Bishops and priests began to reconsider their acceptance of the sisters.
To further assess the needs and possible ministry of her sisters in this new country, Mother Theresa, Sister Caroline Friess, and Father (now-Saint) John Neumann traveled nearly 2,600 miles by land and lake. They went as far west as Milwaukee, Wisconsin. Despite the brevity of her stay in North America (less than a year), Mother Theresa succeeded in rooting SSND so deeply that it continued to flourish sturdily under the leadership of Sister (later Mother) Caroline, who served as North American vicar from 1850-1892.
The years of continued growth on both continents and approval of the congregation's rule in 1865 were not without struggle. Mother Theresa had to be constant in maintaining the necessity of a centralized government, which made possible the collaboration and support upon which the unity of the congregation rested. She held, also, in the face of episcopal opposition, that women could and should be governed by a woman.
No matter how involved she was in leadership responsibilities, Blessed Theresa always had time to listen to and be concerned about her sisters - their spiritual life, their health, their education, their families. They, in turn, returned her great love by loyally standing beside her in adversity, leaving their native countries rather than the congregation when it was suppressed, and writing to the Holy Father in her support when she was misjudged.
In times of war, she agonized for the safety of her sisters on both sides of conflicts, called them to fidelity when she could reach them, and sent them whatever help they needed.
Finally, worn out by a life of care for others, self-sacrifice, illness, and extensive travel - and yearning for union with God - her last words were "I pray for the sisters." On May 9, 1879, at the age of 81, she died in Munich, mourned by 2,300 sisters to whom she had left a legacy of love, unity, and zeal for the will of God.