By Sister Mary Leone, SSND
(This story was originally published in "The Notre Dame Sister, Baltimore Province," Winter, 1961 edition.)
It is n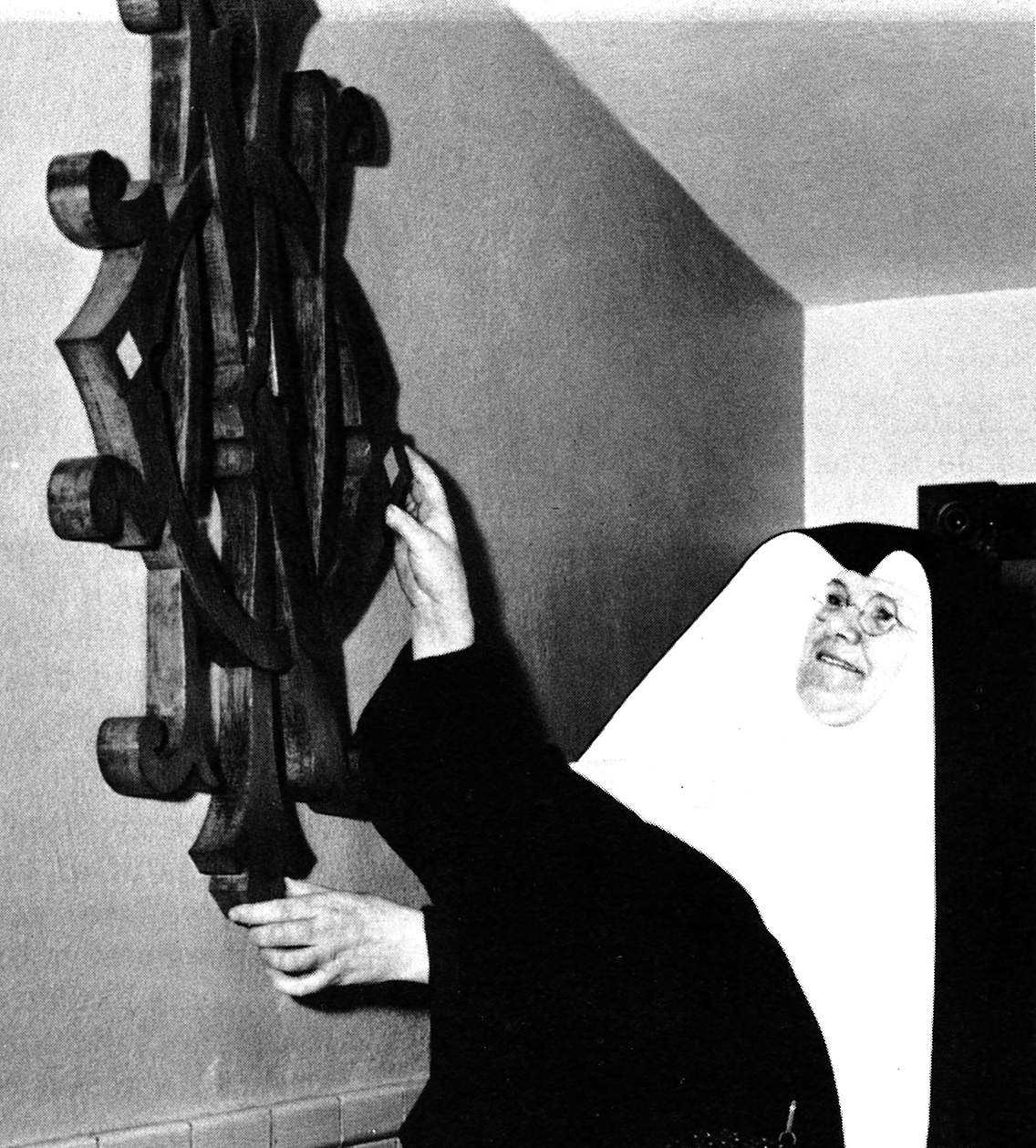 ot to the Fire Department nor to the Rescue Squad that people turn to when calamity strikes at IND. Whether it is a mop or a shovel, or the elevator key that is needed, students and teachers alike go to Sister M. Notburga. Sister's wry humor and her calm matter-of-factness are as helpful as the implements she provides. More than once she has been called "Sister Hamburger" in a hurried plea for help.
Sister Notburga was the youngest of sixteen children born to John and Mary Zatek in Kalna near Bielsko, Poland. She was baptized "Franciszka." "My family owned a ten-acre farm; we kept a few cows and chickens, and raised many kinds of vegetables for marketing," said Sister.
Prevented from attending high school by the first World War, Franciszka remained at home and kept house for her father after her mother's death. She was twenty-four years old when her father died and she was free to follow her vocation.
"I used to visit my sister in a convent in Warsaw," Sister recalled. "The peaceful life there attracted me, but I did not feel at home. When I told my sister that I did not feel that her congregation was right for me, she was very disappointed."
She first heard of the School Sisters of Notre Dame from a friend who had entered the order but had returned home. Her parish priest advised her to visit the School Sisters at their convent in Bielsko. The Sisters there agreed to give her a two-week trial. Three weeks later, on July 22, 1927, Franciszka entered the convent and remained there three years as a candidate.
 "When I entered there I thought that the Sisters were Polish. Many were, but they spoke German, so I learned German. Then, when Mother General sent me to America, she said I would be with German Sisters. There were some, but they spoke English. Now that I know English, I hope that St. Peter will understand that, or German, or Polish." Sister added mischievously, "I hope I don't have to learn Hebrew in Heaven."
Sister Notburga spent her novitiate year and one year as a professed Sister at the Motherhouse in Lvov. With Sister M. Brigitta, Sister M. Donata, and Sister M. Veronica, she sailed for the United States on the S.S. Pulaski on November 23, 1931.
Aboard the ship, the Sisters had been intrigued by the cornflakes they were served. "It sounded like hay when we ate it," she explained. She saw her first bananas, peaches and grapefruit after she landed in America.
Sometimes homesickness overcame her, but a look at the heavens was reassuring. "The stars are the same; the moon is the same; only the sun is different – it is too hot."
After nineteen years' service in the chicken houses at Notch Cliff, Sister Notburga came to IND, where for ten years she has supervised the custodial staff and endeared herself to half a generation of INDians. Although Sister's weekly entry in the crossword puzzle has not yet won for her the "jackpot," she has won a greater reward in the scores of friends she has attracted by her warmth and generosity.