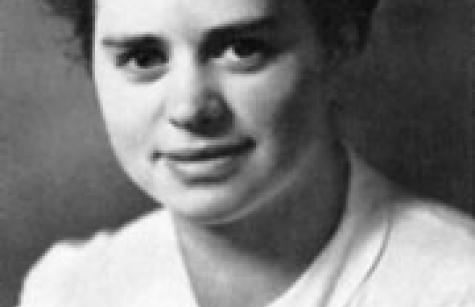 By Sister Carol Marie Wildt, SSND, Central Pacific Province
As a candidate to become a School Sister of Notre Dame, Sister Imma, at the age of 20, visited the Dachau concentration camp weekly for 11 months prior to its liberation in April 1945. She risked her life to help the prisoners, trusting in God's protection, the support of her family and sisters in community, along with a network of collaborators.
Sister Mary Imma Mack was born in Mockenlohe, Germany, February 10, 1924, and baptized as Josefa. She was only nine when Hitler came into power. At the age of 14, Josefa expressed a desire to be a School Sister of Notre Dame. She was accustomed to the School Sisters because her aunt was a needlework teacher at the convent in Pfaffenhofen.
Josefa spent the winter of 1937 with her aunt learning how to cook and shop. During this time, she learned about the School Sisters and their political views toward the Third Reich. As she stated in her memoir, the sisters were, "explicit, [with] absolute rejection," of the Third Reich. According to Sister Imma, as early as 1937, "Religious teachers were banished from almost all the elementary schools, and the teachers' training schools belonging to religious communities were closed." Since Josefa showed an interest in becoming a School Sister of Notre Dame, she was sent to a convent boarding school and then entered the candidature in Munich in 1940. In April 1942, Josefa was missioned to an orphanage in Freising, Germany.
In May 1944, Josefa was asked to make the journey to Dachau to help a friend take bread to the men suffering in the camp. At the time, Josefa did not know what to expect. She was told, "You don't need to be afraid, and you won't see much of the concentration camp." On Tuesday, May 16, 1944, Josefa traveled by train to Munich, Germany, then transferred to the train for Dachau. In the 11 months that followed, every week she would take the train to Munich and Dachau and then walk, bicycle or sled to the concentration camp. The trip varied from 21 miles to 35 miles based on her mode of transportation.
Josefa's contact at Dachau was Father Schonwalder, a younger prisoner who sold flowers, plants and seeds. It took him a while to trust Josefa, but once he did he asked her to bring in food, medicine, mail and the hosts and wine for the secret celebration of Mass for prisoners. He even suggested she change her name to Madi in an effort to keep her identity safe. Josefa reflected on what she was being asked to do, "What's happening now in Dachau is just like the times of the early church. This is a real persecution of Christians. I became more and more certain that the time had come for my childhood longing to be fulfilled, that I was being challenged by the present circumstances to act with total selflessness."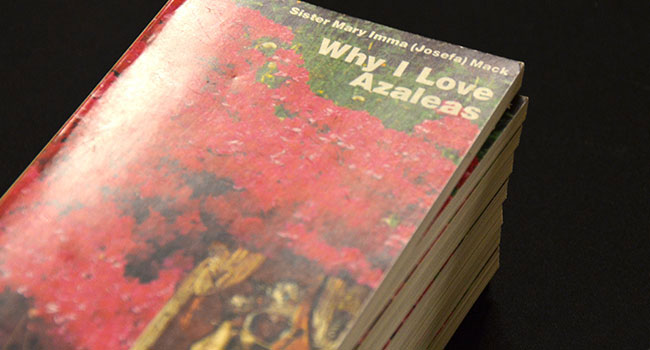 Josefa's memoir is titled "Why I Love Azaleas" because of one small act of kindness from the prisoners. Josefa was given permission to visit her parents for two weeks. Her parents had overheard she was making frequent visits to Dachau and they were very worried. On Josefa's last trip to Dachau before heading home to visit her parents, prisoners gave her azaleas. "Wanting to give my parents some happiness, [they] gave me four pink azalea plants to take to them, a moving gesture from these poor men. Until then, I had hardly ever seen azaleas with such beautiful blossoms, and I was enormously happy to be able to surprise my parents with them," recalled Sister Imma. In August 1945, Josefa was received into the novitiate and given the name Sister Mary Imma. She professed her first vows in 1946 and final vows in 1952.
The School Sisters of Notre Dame (SSND) were in Bavaria for more than 100 years before Hitler became Chancellor of Germany. SSND had previously expanded rapidly in Europe (Austria, Poland, Silesia, Romania, Czechoslovakia, Italy, Yugoslavia, Hungary and Sweden) after the formation of the congregation in 1833.