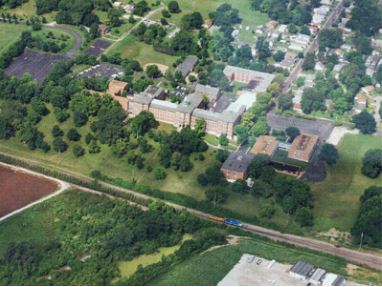 In 1858, Mother Caroline Friess, who established the School Sisters of Notre Dame (SSND) in North America, visited Archbishop Peter R. Kenrick. He expressed a desire for a novitiate to be built in the St. Louis diocese. Blessed Theresa Gerhardinger, foundress of the SSND, also recognized the need for a motherhouse. In 1863, she wrote Mother Caroline that the distance between the north and south, as well as the differences in climate, would point to establishing a motherhouse in the south. (Blessed Theresa Gerhardinger, Letter #3614)
Mother Caroline again visited Archbishop Kenrick in May 1882. He reminded her of her first visit 24 years before and his desire for a motherhouse. To ensure that his successor would raise no objection, he gave her written permission, "The undersigned will gladly see a novitiate of the School Sisters (of Notre Dame) of Milwaukee established in this diocese whenever it may appear to the Superior of the Community that such a measure is desirable." (Peter Richard Kenrick, Abp., St. Louis, 29 May 1882).
Read the rest of this lovely story by Sister Carol Marie Wildt, Local Archive Contact in St Louis.