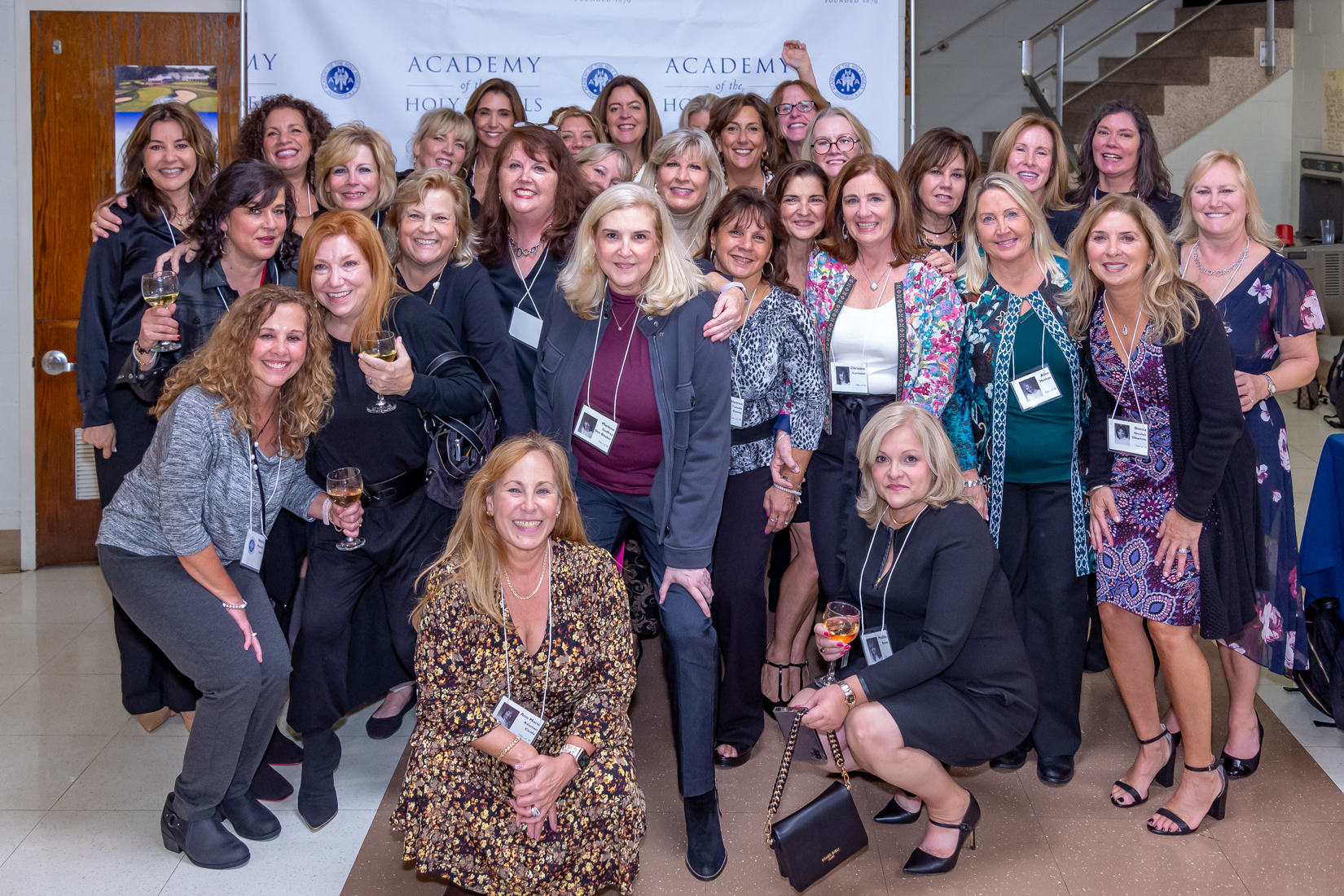 On Alumnae Weekend 2023, the Academy of the Holy Angels' Classes of 1948, 1968, 1973, 1978, and 1983 reunited for landmark anniversaries. The two-day celebration also drew enthusiastic alumnae from many different classes and several states.  
"Welcome home, Angels!" AHA Director of Advancement and Alumnae Relations Patricia Brussel said in her greeting. "I am excited to see so many of you, and especially those who have traveled from Connecticut, Florida, Georgia, Maryland, North Carolina, Pennsylvania, Texas, Virginia, Washington, and Washington, D.C. Angels are truly everywhere and it makes it even more meaningful to have you back at Holy Angels to share in this special night." 
Four alumnae from the Class of 1948 gathered for their 75th reunion. Twenty-six members of the Class of 1983, including AHA Principal Jean Miller, commemorated the 40th anniversary of their graduation. This group was the largest of all those in attendance. 
Alumnae Weekend activities included a gathering at a local eatery, a Mass, and dinner and dancing at AHA. The AHA Dance Team greeted the alumnae with spirit as they returned to campus, and the knowledgeable Angel Ambassadors led tours of the campus, including the beautifully renovated auditorium. 
Brussel thanked Father Dan O'Neill for celebrating the Mass with assistance from AHA Campus Ministers Maryanne Miloscia and Nick Fallivene and Choral Director Lisa Marciano. Alumnae Stephanie Dowling, Geraldine Wacker, Jackie Haywood, and Rebecca and Erin Quigley also took part in the service.   
As savvy alumnae know, the alma mater was updated when Holy Angels moved from Fort Lee to Demarest in 1965. In acknowledgement, Brussel announced: "Tonight, we will be honoring both campuses and singing both opening lines beginning with the Fort Lee version, 'With stately dome arising high and golden cross above' and then singing the Demarest lines. I would ask that you rise and join in with our Music Makers in singing the AHA alma mater.