By Sheila Welton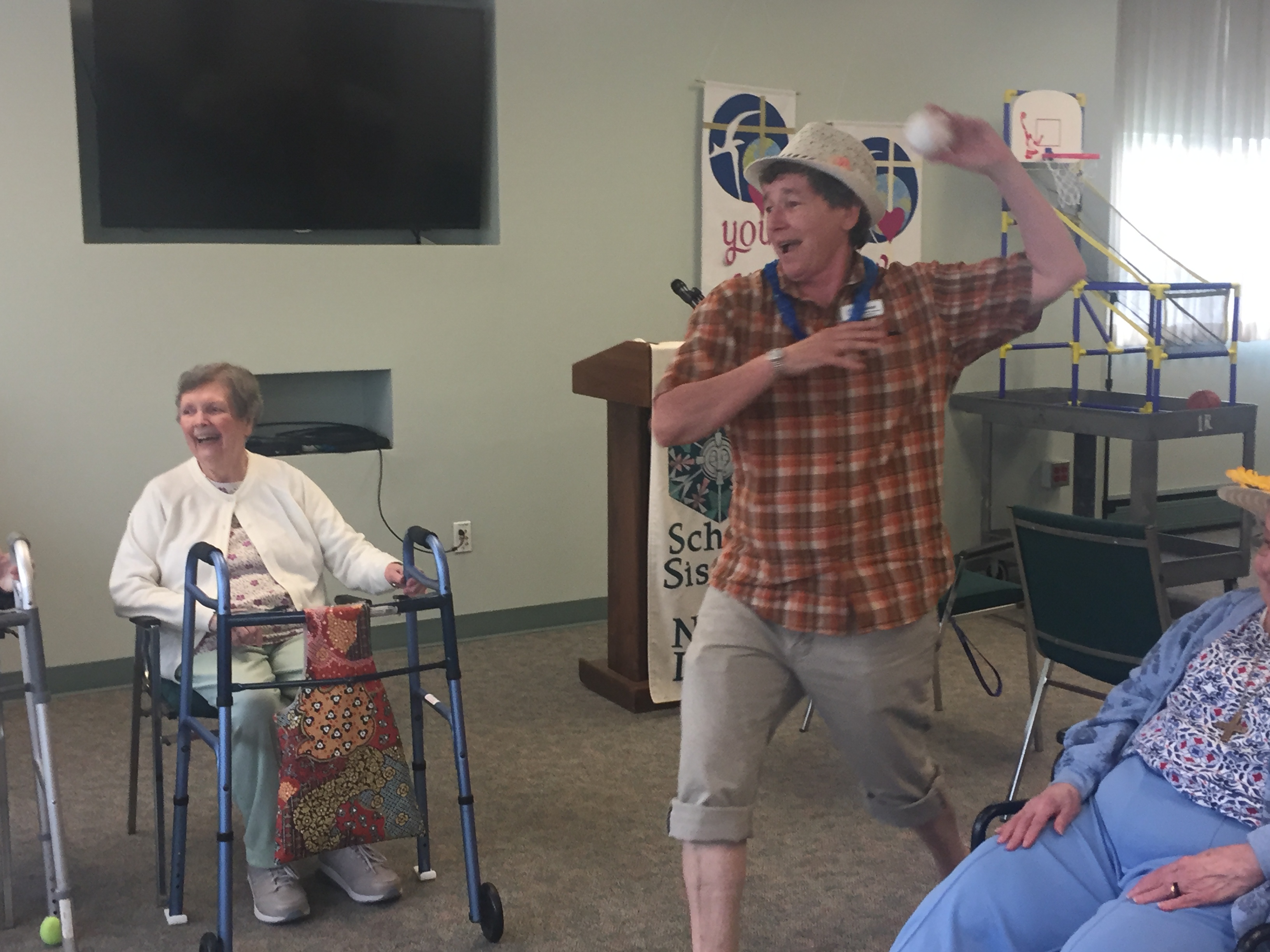 Have you ever witnessed someone in their bliss just doing their daily work?  Where what they do not only makes everything around them more beautiful, but you can tell just doing it makes them feel fulfilled? School Sisters of Notre Dame Associate Angie Kaufman demonstrates this rare quality every day. As Hospitality/Companion Coordinator for Villa Assumpta in Baltimore, Angie handles the full range of responsibilities needed to keep things running smoothly. When asked to be "Interim Activity Coordinator" from February to June, 2018, she even implemented the Activity Program that is now being used in the Rosary Community at Villa Assumpta. She explains that she does "the same thing here as I did as a teacher at school. I do what needs to be done" – and then some.
She has also initiated a Bowling League for the Sisters at Villa Assumpta on Thursday evenings! This was in response to the request being made by the Resident Council in the Maria Health Care Center. She began the monthly ice cream social tradition, where Sisters can choose and enjoy their own ice cream creations. A Sports Club will also be implemented in the near future, once a week, where Sisters can come and enjoy playing volleyball, basketball, golf, and such. She serves as a companion for Sisters, too, going to the doctor, running errands, and helping out wherever she can. Teaching is a passion for Angie, and she says in many ways Villa Assumpta is a big classroom.
When Angie began working for the School Sisters of Notre Dame, she had an overwhelming sense of "coming home." Angie was raised by her grandparents in the Baltimore neighborhood of Belair-Edison and steeped in a traditional Catholic upbringing. She and her grandmother would regularly visit and bring baked goods to the Franciscan Sisters, where her aunt was a member.  She describes her childhood and growing up with grandma and grandpa as "old school – you wanted to make someone smile…That generation no longer exists."
She attended St. Anthony's of Padua, run by the Franciscan Sisters, through the eighth grade, and then went on to The Catholic High School of Baltimore. It was when she entered college at Notre Dame of Maryland University (NDMU) to study music and psychology, and then switched to education, that she first encountered the School Sisters of Notre Dame.
As Angie reflects on how the School Sisters of Notre Dame have impacted her life's journey, a broad smile spreads across her face. She begins to talk about Sister Marie Xavier Looymans, former director of education at NDMU and a close friend.  When Angie was a student at Notre Dame, Sister Marie Xavier noticed her spending quite a bit of time in the Education Department and immediately took her under her wing.
Angie considers herself a "behind the scenes person" and enjoys doing things for others without a lot of fanfare. She played the trumpet all through college, and although she was never keen on playing in concert, she always wanted to conduct…to pass on the knowledge. It was Sister Marie Xavier who understood this about Angie and helped guide Angie's life, suggesting a career as a teacher to help "transform the world through education."
Upon graduation, Sister Marie Xavier pointed Angie in the direction of St. Thomas Aquinas School, whose mission comes from the 1986 SSND Constitution, which states: "Education means enabling persons to reach the fullness of their potential as individuals created in God's image and assisting them to direct their gifts toward building the earth." Angie went on to teach at St. Thomas Aquinas for 27 years.  Of her nearly three decades of teaching, Angie said, "If you enjoy what you are doing, you never work a day in your life."
In addition to the Sisters helping her to discover and pursue her life's passion, Angie describes other ways that her love for the SSND charism and for the Sisters has changed her life. During our conversation, Angie leaned in and held up her thumb and forefinger centimeters apart and confided that she came that close to becoming a School Sister of Notre Dame. "You don't look at what you are giving up but rather what you gain," she said. She began the discerning process but upon learning that she would be away from her grandmother for two years, Angie knew that the timing was not right.
She was invited to live with the Sisters at St. Thomas Aquinas Convent in Hampden following the death of her grandmother, and for three months she did. She returned the favor when another close friend and mentor, Sister Marie Rose Gustatus, then principal at St. Thomas Aquinas, broke her arm, and Angie flung open the doors of her home to Sister Rose to aid in her recovery and provide a place where the stairs would not impede her mobility.
Angie has a special way with the Sisters. She has fond memories of a special friendship with Sister Delia Spitznagel. Sister Delia suffered a stroke, causing communication difficulties and frustration with some of her aides. One day, when Angie and Sister Delia were walking Angie's Shih Tzu dog Teddy, Angie asked her why she didn't fuss when she was out with her, and Sister Delia replied, "because you and I are friends."  Angie recalls when Sister Delia, who would sometimes wander off, was asked where she was going, she answered without hesitation, "to talk to Mary, the Blessed Mother you damn fool." On the grounds of Villa Assumpta stands a statue of the Blessed Mother and a bench with a brass plaque which reads, "In loving memory of Sister Delia Spitznagel."
Angie is a life-long learner and feels she now has the best of two worlds. She says she "always believes the good Lord makes things happen." In 2006, she returned to Notre Dame to earn her master's degree in Leadership. That same year, she completed a twelve-month program to become an SSND Associate. She shares in the SSND charism, feels close to the Sisters, but can also live in her own home with her three dogs.
The School Sisters of Notre Dame are a big part of Angie's life. "They are family," she says. The Sisters helped Angie discover and pursue her life's passion and continue to be a central part of her life, especially in her role as an SSND Associate and Coordinator at her "home away from home" Villa Assumpta.