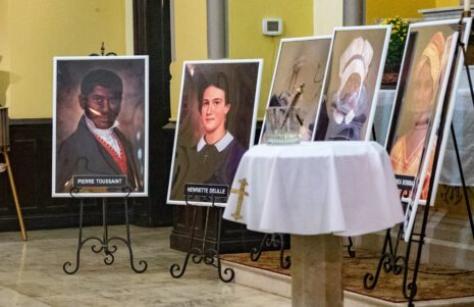 By Delores A. Moore, Associate
Two and a half years ago when we, members of the St. Ann's Social Justice Committee in Baltimore, learned from an advertisement from the Josephite Order that there were six African American candidates for sainthood we were elated! When we later learned that this wasn't common knowledge to many Black Catholics and white Catholics alike, we were astounded! We said we've got to do something to get the word out and so we did. 
Ralph Moore, no relation, suggested we start a letter writing campaign to Pope Francis and so we did. Ralph wrote a suggested letter that people could mail to us or mail directly to the Pope's address. We agreed on its content and then mailed it out to organizations with whom we are affiliated. We received positive responses – but that was just the beginning. 
James Conway, from St. Wenceslaus, suggested we go online with our petition saying that we would probably get an even greater response. So, we did, and the responses came from everywhere! We have no idea how many letters were sent directly to Pope Francis, but we mailed 3,044 insured letters to the Pope ourselves. With the help of several new friends who helped with the process, we enhanced the letters online by offering it in several languages: Italian, French, German, and English. 
Believe it or not, we never received confirmation of receipt! We decided we would no longer be ignored; we had to do something. "Let's go to Rome and speak directly to the Dicastery for the Causes of Saints and to the Pope!" After several meetings, international phone calls, waiting and praying for months, and thanks to Mary Sewell, another member, we had the good fortune of the intervention of Maya Rockeymoore Cummings, politician and wife of the late US congressman Elijah Cummings, the "die was cast". We had a meeting set up with the Dicastery and hopefully with Pope Francis!
On October 29, the three of us – Ralph Moore, Mary Sewell and I – flew United Airlines out of Dulles Airport to Rome. On October 31, we met with members of the Dicastery. The Prefect of the Dicastery Cardinal Marcello Semeraro, Fr. Patrick, and Fr. Frutti treated us to a wonderful lunch and tour of the Vatican by Fr. Willie! Our meeting lasted a little over two hours and we were told we could take the whole day if we needed to! We were told no other group had ever come to state their cause. We were the first and they thought it was wonderful as they had only met with Preceptors in the past.
They were attentive and prepared with sheets on the status of each candidate. That part of the discussion we cannot relay but we were hopeful that some actions are forthcoming. We asked: What could we tell our congregations? They responded: Keep on praying isolated prayers to whichever candidate they choose and keep on doing what you are doing! We just need one verified miracle for each. We'll support your causes to the Pope just keep on doing what you are doing and pray!
We left Rome on Friday, November 3 after a day of sightseeing and then, on Monday, received an email from Pope Francis inviting us to an audience on Wednesday if we were still in Rome! Unfortunately, we could not attend.
Read another article by Ralph Moore in the Black Catholic Messenger.