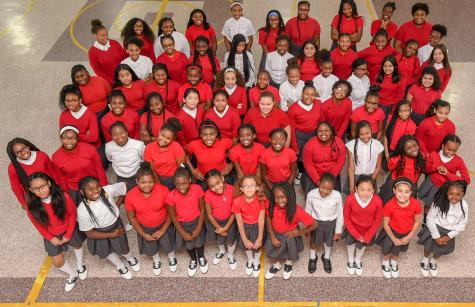 It was 1847 when Mother Theresa Gerhardinger and a few other sisters, including a very young Sister Caroline Friess, came to America from Bavaria and settled in Baltimore. Soon after, with the assistance of Father John Neumann, a Redemptorist priest, they began teaching in Baltimore and before long established many more schools across North America.
Today, the Atlantic-Midwest Province of the School Sisters of Notre Dame sponsors and co-sponsors thirteen educational ministries, most of them situated in areas of urgent need, where the sisters and their lay collaborators "educate with the conviction that the world can be changed through the transformation of persons" (SSND Constitution You Are Sent, C22). One of these co-sponsored ministries is Sisters Academy of Baltimore (SAB), the youngest of all SSND ministries in the province, established in 2004 and sponsored together with three other congregations: the Sisters of Bon Secours, the Sisters of Mercy and the Sisters of Notre Dame de Namur.
The joint values of the four sponsoring congregations – Liberation, Transformation and Influence –  mirror the SSND mission, vision and values in many ways. The following highlights three of them:
Proclaiming the Good News: SAB offers tuition-free education for girls from low-income families living at the periphery of society. The education is faith-based and marked by the highest academic standards and personal expectations that extend beyond the girl to her family. This allows for intellectual, personal, social and spiritual growth of the girl, which liberates her from the confines of poverty; instead, she learns to view herself as a dignified person with endless possibilities of discovering her gifts and developing herself in order to live a purposeful life. Receiving such an education is indeed good news, that is proclaimed by the girl to her family and into the community.
The World Can be Changed Through the Transformation of Persons: A SAB education is designed and structured to be transformative. Faith-based, it is open to the initiative of God in the individual and in the organizational life of the school. SAB's corporate and ministry boards, administration, faculty and staff create a climate and a culture which is sensitive to the needs of the girls and supportive of their growth and transformation. Currently 72 girls are being educated at SAB. Small class sizes allow for close and nurturing relationships among the girls, faculty and staff. This creates a place of both safety and accountability for the girl and is a key element in her transformative process, allowing each girl to maximize her potential and grow towards becoming a responsible citizen, contributing to changing the world in positive and grace-filled ways.
We Risk Innovative Responses as Educators: Our world today is rapidly changing through the impact of globalization and technology; at the same time, our awareness for the care of creation is at an all-time high. An SAB education is a response to the cry of creation, both humanity and the earth. Through a curriculum that includes the tenets of Catholic social teaching, students are – age appropriately – educated about global concerns and formed to develop a world vision and a sense of global responsibility. Our SAB education empowers the girls in their desire to explore and to learn; it animates their critical thinking and strengthens their problem-solving capacity; and it envisions them as influencers, innovators and educators for a better world – whether formal or informal – themselves.
SSND is greatly aware that SAB's many benefactors – those who support SAB financially, in prayer and with volunteering their time, are in communion with SSND and the other sponsoring congregations in support of the mission of SAB. How blessed we all are to be "called and sent" to share our intellectual, spiritual and material gifts with the girls in need, and thus be 'one' with one another.
The time is Now More Than Ever to show your support in educating this generation of girls.