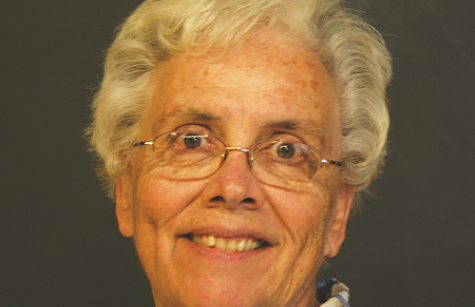 We are sharing reflections from our sisters who live in Florida and experienced Hurricane Irma. Thank you to Sister Danielle Amspacher for sharing. She rode out the storm in St. Petersburg and it was several days before she was able to return home to her apartment.
Sister Danielle Amspacher shared these words with us on Friday, September 15, 2017:
"I just returned to my apartment today. Finally have electric. No flooding so all is well. I spent the storm sheltering with all from Bon Secours Maria Manor and Bon Secours Place where I work as a receptionist. We had to evacuate close to 400 residents from our skilled care, rehab, and assisted living facilities. We moved all to the parish center and school of the Cathedral of  St. Jude here in St. Petersburg. It was quite an endeavor. Bon Secours provided not only for residents and staff, but for the staffs' families and pets as well. It was quite a site to behold. We loaded residents onto school busses, and had a fleet of rented trucks to transport wheelchairs and mattresses. We even transported our entire dietary staff and food supply, and were able to provide hot meals for all. I was deeply honored to serve and help care for our residents alongside a contingent of loving, dedicated nursing and medical personnel, therapists, cooks, maintenance staff, and volunteers. God is Good. Our prayers were answered, the storm turned, and our facilities were not damaged. We evacuated on the Friday before Irma hit, and got the O.K. to return on the Tuesday after. Once back I learned that my personal living space was not damaged, but had no electricity, so I drove to Clearwater and stayed with S. Veronica Visceglia, SSND until I received word that my apartment was functional.
Most restaurants, banks and businesses have been closed because of no electricity. But, thanks to countless volunteers from around the country we are slowly returning to normal. Thanks to all who were praying for us, and who have expressed their concern. It could have been so much worse. We are truly Blessed."