Celebrating 90 Years!
Twenty-five nonagenarians from Villa Assumpta and Maria Health Care Center gathered to celebrate their ninth decade on earth together. The sisters, from their privileged vantage point, shared many words of wisdom and insight. When asked how, in a few words, she would sum up her years, Sister Emmanuella said, "It's a wonderful life." Sister Dorothy R. said of being ninety, "I'm 91 but I still feel like 60." Sister Maria Felipe responded, "I'm 90 but can't remember 60! When I think about being 90, I can't believe it."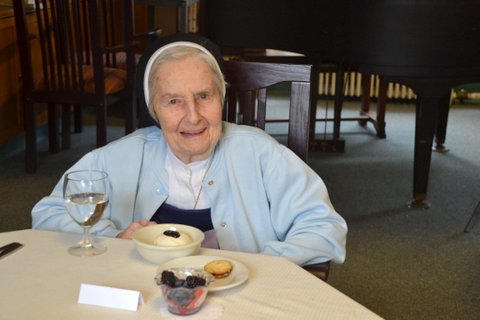 At another table, replete with a miniature fuchsia cyclamen centerpiece and place cards at each setting, Sister Virginia paid homage to the many courageous School Sisters who have come before her, "It's been a privilege to stand on the shoulders of so many loving, talented sisters." Sister Xavier's response to how she feels being a member of the Nifty Nineties was, "Ancient!" But in all earnestness, said, "See if you can scare up the love in the hearts of the young. They're out there but they have a lot of distractions." Sister Mary Ann Wood spoke about the importance of mission work, "I went on mission to South America. I think it's important to remember our mission work. I taught in Bolivia for 27 years." She then continued the conversation in perfect Spanish sharing her love of the children and gratitude for the experience.
Some final words of wisdom came from Sister Marie Louis, who said, "It's worth becoming 90." Sister Trinitas replied, "It's so surprising to me. The celebration makes it different – that people are celebrating us. That's very special and I'm part of it!" Sister Betty added that "It's a wonderful treat for me. You always feel welcome and gather together and don't feel shy. This is a place of sharing." Sister Mary Frances as she bid farewell to her friends, summed up her feelings of gratitude, "I thank God for my good health and for God's gifts and graces to me."
Sister Marianne Roderick, who coordinated the meaningful and much-appreciated event, explained that sisters have been celebrating the "Nifty Nineties" for more than five years now. The celebration has expanded to include sisters from not only Villa Assumpta but from Maria Health Care as well as the other community residents. Please click here , or on the file below to see photos from the event.