My name is Sister Joan Pikiell and I am a School Sister of Notre Dame in my third year of Temporary Profession.
Temporary Profession means that I made my first vows three years ago and God willing, in three years, I will make my perpetual profession. (In baseball parlance, you could say I am in my third year in the minors! At perpetual profession, you are automatically moved to the majors!)
My journey to religious life happened later in life for me, an example of a challenge that has become a blessing. I am the fifth of nine children born to Joe and Mary Faith, both Catholic educators at home and professionally. I am an aunt to 18 nieces and nephews with cousins too abundant to count. I enjoy my relationships with family and friends. I loved my job teaching at a parish elementary school working with a principal and faculty focused on our Catholic mission. I was active in my home parish teaching CCD and volunteering. So, why give all this up? Despite all these blessings, I sensed that God was calling me to be and do more.
After resisting for some time, I began searching online for religious communities that would consider women over 40 - another challenge! Through the internet search, I was blessed to discover a discernment group hosted by vocation directors from various religious communities in West Hartford, Connecticut. At one of these meetings, I met Sister Maria Iannuccillo, former vocation director of the School Sisters of Notre Dame — my first SSND! Although I had gone to Catholic school my whole life, I had never been introduced to the School Sisters of Notre Dame.
Sister Maria presented me with many challenges, all of which led to multiple blessings during my time as an affiliate. She served as the agent of God who asked the challenging questions that led me to take the next steps, while supporting me all along the way. During Postulancy, Sister Patricia Hammond guided me. During Novitiate, Sister Ann Carol Kaufenberg was director and for Temporary Profession, Sister Rosalia Federici accompanies me. In addition to these directors, sisters from Texas, Wisconsin, Minneapolis, Illinois and Maryland lived in the formation communities. Each sister presented me with challenges and blessings to help me develop my relationship with God, my appreciation for religious life, and my understanding of the SSND community.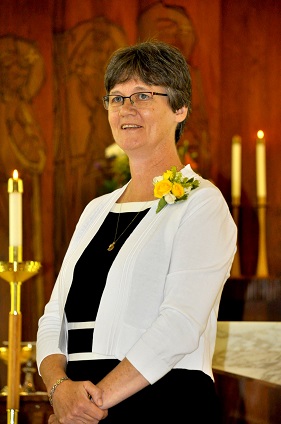 My formation experience took me to Chicago for Postulancy. Here I was challenged to find a job that would allow me flexibility to take classes and participate in other formation experiences. God blessed me with the faculty, administration, and students of Old St. Mary School, who supported my vocation and willingly adapted schedules to accommodate my formation responsibilities. This was an amazing blessing that also came with health benefits!
After a year in Chicago, I moved to St. Louis for the two-year experience in the Novitiate. During this time, I was challenged to experience two ministries outside of the formal school setting I was accustomed to — working in prison ministry and teaching English as a Second Language with adults. Both of these ministries introduced me to new faces of God in the people and places I encountered. I was presented with cultures and beliefs I had never experienced. I discovered the humanity among us.
Following the Novitiate, I professed my first vows at Villa Notre Dame in Wilton, Connecticut. I then moved to Baltimore, and returned to teaching in the classroom. For three years, I have taught at Mother Seton Academy, one of the SSND co-sponsored schools. Our mission states: "Mother Seton Academy, a tuition-free middle school for young men and women, educates in a multicultural environment those with the greatest economic need." Our students come from a variety of educational backgrounds, some have been exposed to poverty and violence. Regardless, my students and their families demonstrate daily the attitude and ability to overcome and become the gift to the world God intends them to be. Teaching math and science to these sixth graders has presented me with innumerable educational, emotional, and spiritual challenges and yet, the blessings have been even more abundant.
Mother Theresa's quote only mentioned the abundant blessings received daily, but she also knew of the daily challenges, especially as a woman who was founding a new religious community. My journey of formation has taught me that challenges uncover our "growing edges" — those places where God is trying to shape our hearts and minds. These challenges will only become blessings if I allow the people and experiences God sends my way to smooth out those edges, so that I can become the gift to the world that God intends me to be.
May God continue to present us with the challenges that will bring about our blessings!