By Associates Audrey Kemp and Hermie Schuster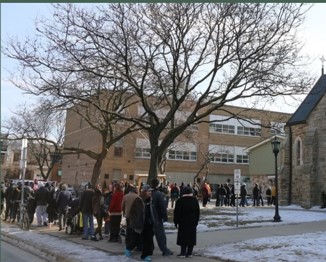 On Saturday April 9, Southern Ontario Associates, along with friends and family, were privileged to have as guest speaker at our Zoom gathering Sherri Ramirez, the DeMazenod Door Outreach coordinator. DeMazenod Door is part of the outreach program at St. Patrick's church, which is in the poorest neighbourhood in Hamilton, Ontario and among the poorest in Canada.
Seven days a week Volunteers serve up to 600 guests who are homeless or unable to afford food for themselves. Every Friday there is a barbecue sponsored by families in memory of loved ones or in celebration of birthdays, anniversaries etc.
Many of the community contribute to the program including 125 regular volunteers plus university, high school and elementary school students. Other parishes often prepare meals and deliver them.
This quote from the website says it well: "In the heart of Hamilton live the poor and marginalized. Many struggle with addiction and illness. Often they are homeless and helpless with so many doors closed to them. There is one door that is open, that welcomes them and provides hope! That is the Demazenod Door, an Outreach Program that provides food and drink 365 days a year!"
Sherri spoke of the importance of listening to the guests to hear what is needed. As a result, the care offered is not limited to food. Each week various organizations are onsite to offer hearing tests, food and checkups for pets, health care, and vaccinations.
A recent initiative of the  Demazenod Door is the Demazenod farm located in Ancaster, Ontario. The Farm will grow produce and raise egg-laying chickens to provide food for the Demazenod Door. "I see Christ in the guests who come to the DeMazenod Door," said Sherri. "Do they see Christ in me?"
Sherri had many stories to share and it was a very inspiring morning for all. We as Associates were deeply touched by her wonderful presentation!