Every time you leave home, another road takes you into a world you were never in.
John O'Donohue
September 23, 2019
Dear Sisters, Associates, and Colleagues,
Today the first five Sisters from Lourdes Health Care Center in Wilton, CT were transferred to Ozanam Hall in Bayside, NY.  Sisters Mary O'Connor, Ellen Fitzsimmons, Genevieve Kelleher, Bernadine Gutacker and Clara Housnell were accompanied by their companion Sisters to the front entrance of Villa Notre Dame, where they were met by many Sisters gathered to send them off with the SSND blessing. As they crossed over the bridge from Lourdes to the front door of VND, Joey, one of the staff members, played the song, "New York, New York!"
It was a bittersweet parting today, but our Lourdes Sisters were willing and ready to "do whatever He tells them" with a smile and a hearty wave good-bye. Will, the medical transport driver, greeted each Sister with a smile and gentle assurance that the trip would be a safe and enjoyable ride. The traffic was light and the trip was smooth.
As they arrived at Ozanam, our Sisters and the Ozanam staff welcomed the Sisters to their new home. Each room had been decorated and organized by many of the VND sisters in advance of their arrival. On behalf of the Provincial Council, I want to thank everyone who assisted in making this first day a smooth day of transition for our Sisters. Please pray that they have a peace-filled and restful night. Tomorrow we begin again with the next five Sisters. Let us continue to keep each other in prayer.
Charmaine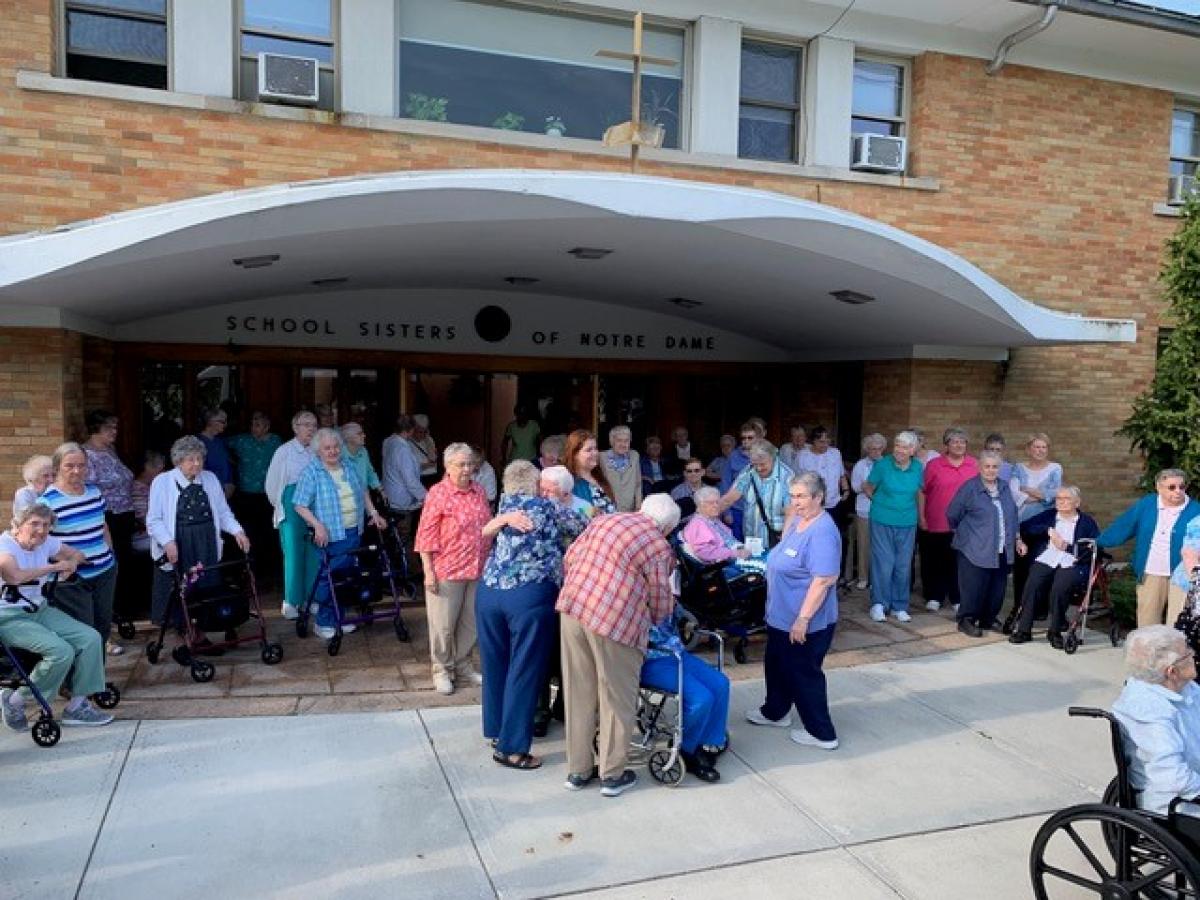 Our living together in faith, a prophetic sign of the Church, is a service to God's people.
(You Are Sent C8)
September 24, 2019
Dear Sisters, Associates, and Colleagues,
 
Today was day two of the transfer of our Sisters from Lourdes to Ozanam Hall. Sisters Yvonne Nadeau, Irene Scarola, Marie Delores Schneggenburger, Loreen Spaulding and Dominican Sister Melanie Hannigan boarded the medical transport with our driver, Will, taking great care to secure their travel. Once again our VND Sisters gathered together to send them to their new home with a special blessing, lots of hugs and many prayers. The SSND community is growing in numbers on the 8th floor of Ozanam Hall, and our companion Sisters are making sure they comfortable in their new space. Special thanks to our Sisters in Woodhaven who have been visiting those who have recently arrived at Ozanam each day. We give God praise and thanks for the beautiful weather, the safe travel, and the wonderful welcome by the Ozanam Staff. Let us pray our Sisters continue to adjust well to their new home.
 
Charmaine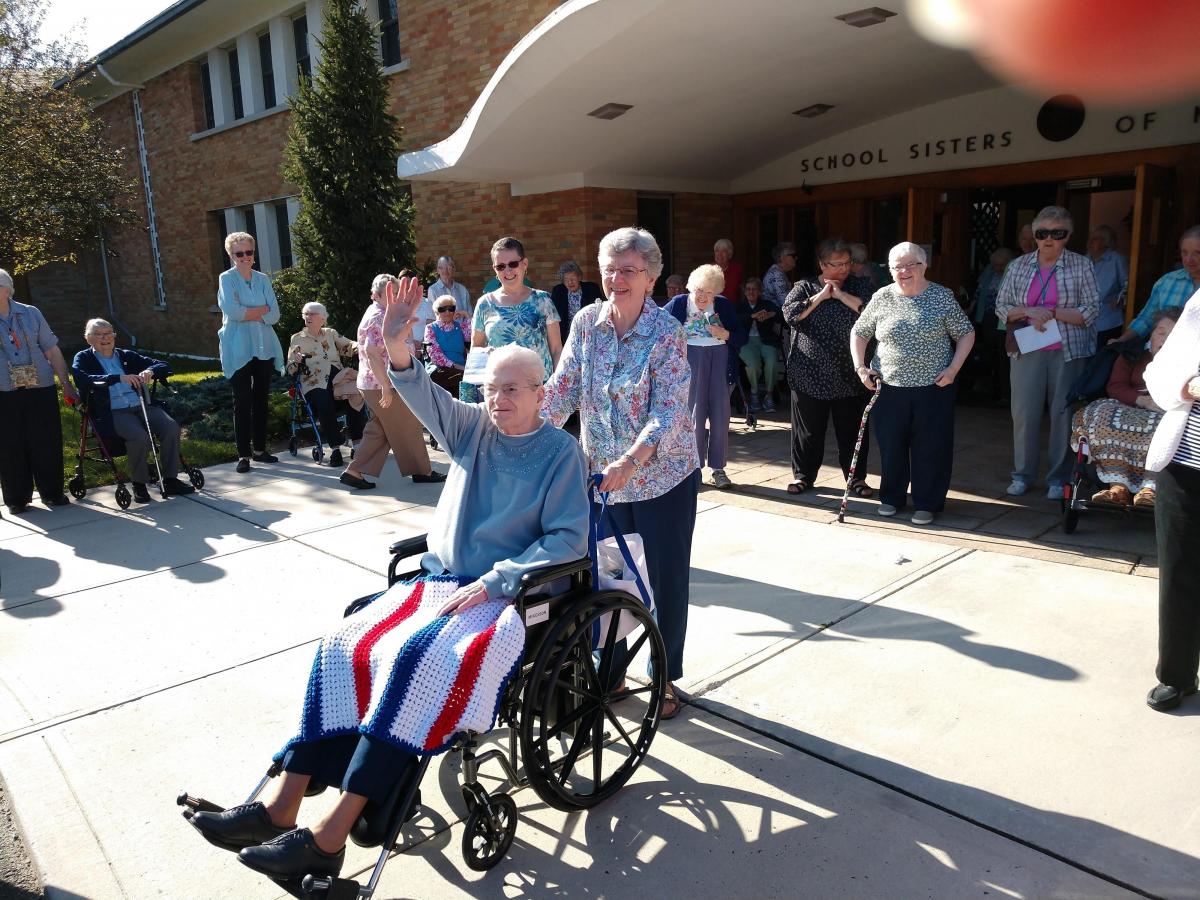 We are called and sent to deepen communion with God and among people wherever we are
in every place, in every time, in every situation.
You Are Sent C9
September 25, 2019
Dear Sisters, Associate and Colleagues,
Today was day three of the transfer of our Sisters from Lourdes Health Care Center to Ozanam Hall in Bayside, NY. Sisters Mary Earle Doohan, Mary McGrory, Peter Colantuoni, Juilanna Poole and Carmelite Sister Jeanne Gonyon were the five Sisters to leave today, with the blessing from our Council and their VND Sisters. Will was once again our driver. He is beginning to join in the singing of our Mother Theresa blessing, and the Sisters are becoming quite attached to him. God has blessed us with a gentle and confident driver.
During these days, I have been following the van to Ozanam to make sure all arrive safely and settle in. Our Council has been present at both VND and Ozanam, as have the companion Sisters. Our Sisters are slowly adjusting to the newness around them and getting used to their surroundings. They have the opportunity to attend Mass on a daily basis. Please continue to keep them in your prayers as the reality of leaving Lourdes and making Ozanam their new home deepens.
Charmaine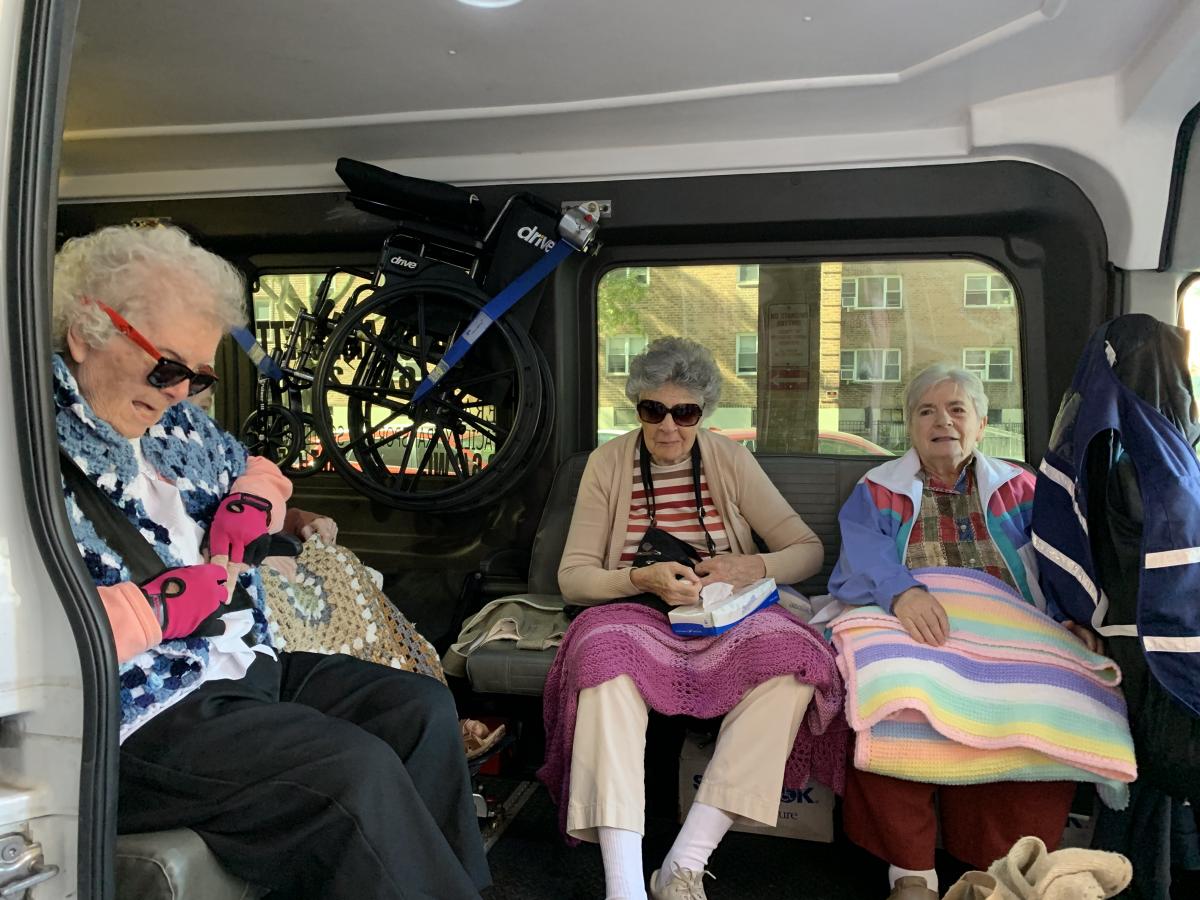 The Triune God impels us into the heart of the world to be women of peace, hope and love.
(24th General Chapter Directional Statement)
September 26, 2019
Dear Sisters, Associates and Colleagues,
Today our Sisters Georganne Pearson, RoseMary Spodnik, and Mary Aveline Smith, as well as Redemptoristine Sister Lyla Lojo-Cruz and Dominican Sister Elizabeth McDonough travelled to Ozanam. Our VND Sisters and staff continue to be present as they board the medical transport for their journey to their new home. Each day those who have been at Ozanam are gradually adjusting to their new surroundings. Will, our exceptional driver, will not be with us on Friday so we blessed him in a special way today. He has been a blessing to all of us. Sisters Jacci Glessner and Eileen Denny, now residing at St. Kevin's Parish, have done an exceptional job being present to our Sisters each day and making sure they are settled for the evening. This on-going presence they are providing by leaving VND and living near our Sisters at Ozanam is "community" at its best. We are grateful for their generosity and love for our Sisters at Ozanam.
As we prepare to take the last five of our Sisters to Ozanam on Friday, we leave behind eight CNDs who are waiting for placement at the Jewish Nursing Home in Bridgeport. Lourdes will remain open until they are placed. The last day for most of our Lourdes staff is September 30. Some staff have agreed to stay until the CNDs are transferred. Over the years, Lourdes has been blessed to have a dedicated and faithful staff. They will be missed. Please keep them in your prayers as they take the next step in their own new journey. They have cared for our sisters well and we will always be grateful to them.  
Let us continue to pray for each other as we transition into these new moments in our history. May our Sisters at Ozanam continue to be women of hope and love in the world.
Charmaine
If God is the center of your life, no words are necessary. Your mere presence will touch hearts.
St. Vincent de Paul
September 27, 2019
Dear Sisters, Associates and Colleagues,
Today we celebrate the feast day of St. Vincent de Paul. The society of St. Vincent de Paul was founded in 1833 to help the poor living in Paris, France. The primary figure behind the Society's founding was Blessed Frederick Ozanam, a French lawyer, author, and professor. Ozanam was 20 years old when he founded the Society. The Society took Saint Vincent de Paul as its patron. Let us pray in a special way to St. Vincent de Paul and Blessed Frederick Ozanam on behalf of our Sisters Marie Vianney, Rosalita McNamee, Margaret Forsyth, Carlann Buscemi and Elizabeth Sharp who were the last of the five sisters to arrive at Ozanam Hall. Today completes the SSND Community now living in their new home in Bayside, NY.
Please keep our sisters in your prayers as they continue to adjust to their new home. Perhaps you could drop them a note occasionally to let them know you are thinking of and praying for them.
The address is:
Ozanam Hall Nursing Home
42-41 201st Street
Bayside, NY 11361
Many blessings,
Charmaine