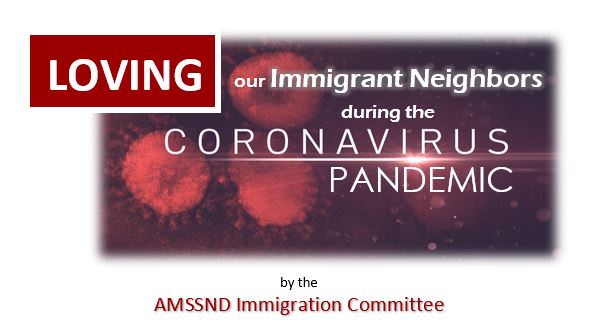 Did You Know...?
10 Things You Can Do to Help Immigrants RIGHT NOW
Contact immigrants you know and check on their needs.*
In the U.S. share Spanish resources from the CDC website.
Order local take-out, purchase restaurant gift cards, or buy fast food. Help to keep immigrant workers employed.
Make yourself available to immigrant neighbors for homework help or tutoring—over the phone or by Zoom.
If you hire an immigrant to clean your home or do yard work for you, continue to pay them even if you are not using their services temporarily due to social distancing.   
Start a virtual food drive:  Go to your local food bank and fill a virtual box. When you are done, share the link with friends.
Join or start a Neighborhood Quarantine Response Team to offer your services, such as buying groceries for neighbors in need. 
In the U.S. as the federal government provides critical aid to American workers, continue to encourage support for low-paid workers who are not Americans, including those who might be undocumented. They, too, have families and children who need food—and they often do pay taxes. 
In the U.S. advocate for safe conditions and healthcare for migrants and asylum-seekers in detention centers to protect them during this pandemic. Or better yet, urge Congress to adopt alternatives to detention and avoid this public health risk altogether.
Tell the Supreme Court to do the right thing — Delay ruling on DACA during a global health crisis!     
*Remember:  Never offer legal advice or advice on dealing with government agencies. You may unintentionally put your friend at risk. If an undocumented immigrant asks you a questions about receiving unemployment, refer them to their lawyer or immigration support like Catholic Charities.