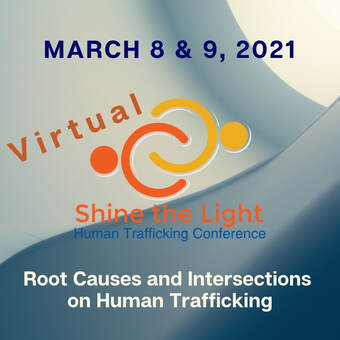 Speakers will discuss human trafficking (both sex and labor) in the U.S. and overseas and will include survivors of trafficking, service providers, policy experts and advocates. They will address both the experiences of survivors along with the root causes of human trafficking.
Register Here: http://bit.ly/2021traffickingconference
Schedule
Day 1 | Monday, March 8 | 12:00 - 3:00 pm EST

Throughout the conference, there will be opportunities for questions with the panelists and to hear directly from Members of Congress.

Introduction / Keynote
Panel 1 on Labor Trafficking
Panel 2 on Sex Trafficking
Discussion of Legislative Priorities

Day 2 | Tuesday, March 9 | 12:00 - 1:30 pm EST

Welcome
Panel 3 on Advocacy
Commissioning of Advocates
Closing

Call to Action Day | Tuesday, March 9 | Afternoon
Join participants and others on this day of action by contacting Members of Congress and spreading the word via social media.